2. Luke Judson (RW/C, Belleville Bulls)
Chosen in the fifth round of the 2007 OHL Priority Selection, 99th overall, by the Belleville Bulls, Luke Judson became Mr. Everything for his team quite rapidly. A native of the small town of Emo, outside of Thunder Bay, Judson played 37 games with the SIJHL's Thunder Bay Bearcats, a stint which saw him score 38 points (17 goals, 21 assists). He was also called up to the Bulls on three occasions, mostly due to World Junior duties of players such as Shawn Matthias, P.K. Subban and Eric Tangradi. In only his sixth OHL game, on October 20, 2007, Judson scored his first OHL career goal against Michael Swick in a game against the Sudbury Wolves. After the Bearcats missed the SIJHL playoffs in 2008, Judson was called up as a black ace for the Bulls during their OHL playoff run which saw them go to the Memorial Cup. The next season, the 2008-09 OHL campaign, saw Judson permanently make the leap to major junior hockey. He scored a goal in the first game of the year but his point production as a whole was sporadic. He scored only 25 points, ten goals and 15 assists, in 67 games; he also recorded 62 penalty minutes. Despite the scattered nature of his point production, he had one truly memorable game on January 17, 2009, against the Sault Ste. Marie Greyhounds; in that game, Judson scored four points, one goal and three assists. In 17 playoff games, he tallied six assists. He was rewarded by an invite to the training camp of the San Jose Sharks.
In 2009-10, the Bulls were hit hard by graduation of their leadership corps, including former captain Tangradi. Head coach/general manager George Burnett opted to name Judson the team's new captain, even over Chicago Blackhawks prospect Shawn Lalonde. He responded by scoring a goal and an assist in the season opener on September 19, 2009, against the Peterborough Petes. On October 14, 2009, against the Oshawa Generals, he recorded his first OHL career Gordie Howe hat trick. In terms of point production, 2009 was not that kind to Judson. He scored only 18 points, 13 goals and five assists, in 38 games. When 2010 came around, though, it was like he was reborn. He had his offensively best month up to that point in January, recording 13 points (seven goals, six assists) in 12 games; this was highlighted by a six-game goal-scoring streak from January 2-14, 2010. He finished the season with 44 points (29 goals, 15 assists) and 93 penalty minutes in 65 games, third in team scoring. The Bulls missed the playoffs that year. Judson was expected to attend Sharks training camp yet again but he was forced to withdraw after suffering an injury.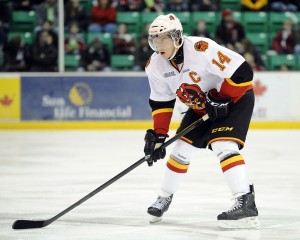 Judson returned for his second season as Bulls captain, his third full OHL campaign, in 2010-11. He immediately picked up the pace offensively, scoring 12 points (six goals, six assists) in 14 games in October. He followed that up with a nine-point November (five goals, four assists), highlighted by two goals and two assists on November 20, 2010, against the Peterborough Petes. December and January, however, were not as productive. He scored only nine points (five goals, four assists) in December, followed by only seven points (five goals, two assists) in January. Things turned around in February, though. He recorded 11 points, four goals and seven assists, in 13 games. Despite the inconsistency, Judson was still having a decent offensive season. He finished the season with 56 points (28 goals, 28 assists) in 67 games, as well as recording 54 penalty minutes. His leadership, though, was indisputable, and while the Bulls made the OHL playoffs, they had to soldier on without their captain. Judson missed the postseason with yet another injury.
In 2011-12, Judson returned to Belleville yet again as captain of the Bulls. He started the season somewhat inconsistently, scoring nine points (four goals, five assists) in 14 games in the first two months of the year. Realizing that was unacceptable, Judson had an incredible November, scoring 12 points (five goals, seven assists) that month alone. Despite showcasing his obvious leadership, Judson's point production once again trailed off in the next three months. He scored only three points in December, three points in January, and five points in February. In March, however, Judson enjoyed two great moments. On March 7, 2012, in a game against the Peterborough Petes, Judson recorded his first OHL career hat trick; in fact, he scored five points in that game as he also recorded two assists. 15 days later, in Belleville's 2012 playoff opener, Judson scored his first — and only — OHL career playoff goal. The Bulls, however, found themselves losing the opening-round series, which was against the Ottawa 67's, in six games.
1. John Cullen (G, Windsor Spitfires)
It was difficult to decide who should be #1 on this list and, believe me, I highly considered Judson. After much contemplation, I concluded that the honour of the most underrated overager during the 2011-12 OHL season was someone else. A native of Hamburg, New York, just outside of Buffalo, goaltender John Cullen signed with the Niagara IceDogs in 2008 as an undrafted free agent out of Maksymum of the Empire Junior Hockey League; he had been named the top goaltender in the EmpJHL in 2007-08, recording a 21-4-2 record in 27 games with a 2.09 goals-against average, a .927% save percentage and five shutouts. At the time, the team had just lost their #1 goalie from the previous season, Sebastian Dahm, to graduation. In 2008, the IceDogs additionally chose a young netminder named Mark Visentin with the 55th overall pick in that year's OHL Priority Selection.
Niagara opted at the beginning of the season to split the netminding duties between their two young goalies. Cullen responded by winning his first two OHL starts: September 20, 2008, against the Ottawa 67's, and September 27 against the Brampton Battalion. Wins, however, were hard to come by for the 5'11", 175-pound netminder as a rookie; he did not record another victory until October 30, 2008, against the Guelph Storm. Cullen eventually found himself the #1 man for a brief time, especially with Visentin away at the Under-17s; he even managed to record his first OHL career shutout on November 13, 2008, against the Owen Sound Attack. Eventually, though, the IceDogs decided to go in another direction, one that would help their franchise. They acquired Nashville Predators draft pick Jeremy Smith in a trade with the Plymouth Whalers in January 2009; they traded Cullen — who had a 9-11-2-3 record, a 3.61 goals-against average and an .898% save percentage in 30 games thus far — to the Kingston Frontenacs. He appeared in eight more games with Kingston as the backup to Mavric Parks, winning his first start with his new team, a 30-save victory against the Peterborough Petes on January 10, 2009. In eight games, he recorded a 2-2-2-1 record, a 3.32 GAA and an .897% save percentage, including a win against his former team on February 20, 2009.
The next season, 2009-10, the Frontenacs made a deal with the Owen Sound Attack for Dallas Stars prospect Tyler Beskorowany which saw the new man in town take over the #1 job. Cullen made the best of his backup role and became one of the more animated players on the Kingston roster. He would constantly chirp opposing players from the bench. He did, however, have a solid season, which saw him register a record of 4-3-0-1, a 3.03 GAA and a .909% save percentage in 16 games. Off the ice, Cullen became an active member of the community. He hosted his own radio show, "Cully's Conspiracy," every Friday morning, offers his views on politics and philosophy, among other subjects.
On June 28, 2010, Kingston made a trade with the Windsor Spitfires to bring in Memorial Cup champion goaltender Philipp Grubauer, who had been chosen by the Washington Capitals in the 2010 NHL Entry Draft only a couple days before; willing to develop rookie Franky Palazzese, Cullen was traded to the Sarnia Sting on August 18, 2010. He took over the #1 job in Sarnia, serving as a mentor to their 16-year-old rookie backup Brandon Hope, and he responded by recording a shutout in his first game of the new campaign, September 24, 2010, against Windsor. Cullen was having some of his best games with Sarnia and, in November, he had one of his best months in his OHL career; he went 3-3-1-0 with a 2.84 GAA and a .911% save percentage in seven games. After registering a 9-11-2-0 record, a 3.70 GAA and an .889% save percentage in 25 games, he, along with Brent Sullivan, was traded to the Windsor Spitfires on January 7, 2011, in exchange for Troy Passingham, who was in his overage OHL season. Cullen became the backup to yet another Dallas Stars-drafted goalie, Jack Campbell, and he managed to appear in 11 games, registering a 6-3-1-0 record with a 2.17 GAA and a .914% save percentage. He also managed to shut out his former team on February 13, 2011, making 23 saves in an 8-0 shellacking of Sarnia.
In 2011-12, Cullen's overage campaign, he found himself back in Windsor, starting the season yet again as the backup to Jack Campbell. He did, however, have more confidence after attending the rookie camp of his hometown team, the Buffalo Sabres, during the summer of 2011. The season, however, did not start on a good note for Cullen, as it opened with three straight losses. He did calm down, though, and recorded a shutout on October 16, 2011, against the Battalion in Brampton. Early in the 2011-12 OHL season, on November 2, 2011, Campbell was traded to the Sault Ste. Marie Greyhounds; that same day, the Spitfires acquired import goaltender Jaroslav Pavelka from the Niagara IceDogs. Windsor managed to bide their time with Pavelka while giving Cullen the majority of the games after the young Czech's arrival. Eleven days after the trades, on November 13, 2011, Cullen recorded another shutout, this time against the Sault Ste. Marie Greyhounds.
http://youtu.be/vg6mSb9Svqk
By the time Pavelka was ready to assert the #1 job, it came at the best time. Cullen was being outplayed by the handsome European and Spitfires head coach Bob Boughner decided to ride the hotter of the two goalies. Despite being relegated yet again to the role of backup, Cullen made the best of it. He remained ever a team player, finishing the season with a 11-14-1-0 record in 29 games, as well as he also endeared himself to the Windsor community. He started an initiative called "Cully's Kids," which encourages young children to read, something Cullen enjoys doing when away from the rink. After the Spitfires were swept out of the playoffs by the London Knights, Cullen signed a tryout contract with the Ontario Reign, the ECHL affiliate of the Los Angeles Kings.
*
On that note, we conclude this list and I know that readers will have differing views on who made it and who did not. I am open to any comments and suggestions. It makes me wonder what the OHL overage class of 2013 will bring.
Good luck to each and every one on this list and, to my readers, you can rest your eyes now.
Margann Laurissa is based out of Kingston, Ontario. She contributes profiles to MyNHLDraft.com on a regular basis.