As the 2011-12 OHL season comes to a close, so do the major junior careers of many young men who must now find a new course of action.  Players who are too old to return to the league in 2012-13, colloquially referred to as "overagers,"  can find themselves playing professionally or in Canadian universities; some go to work and end their hockey careers altogether.  Only one player on this list is NHL drafted. These players' former OHL teams must now look within their organizations, or make trades, to find players who could fill the voids left by these 1991-born graduating members of their franchises.
8. Josh McFadden (D, Sudbury Wolves)
Chosen in the ninth round of the 2007 OHL Priority Selection by the St. Michael's Majors, Josh McFadden had to wait a year until he could make it to the league he would eventually thrive in. A native of Guelph, McFadden played in his first OHL game on September 18, 2008, against the Barrie Colts. After three pointless games in September of 2008, he spent October between two teams in Mississauga, the Majors and their OJHL affiliate, the Chargers. He only played in seven games with the Chargers before he became an OHL mainstay in November 2008, a decision prompted after he scored his first major junior goal on Halloween of that year on Chris Perugini against the Ottawa 67's. McFadden was used sparingly as a rookie in 2008-09, especially since the Majors also had defencemen such as Cameron Gaunce, Brett Flemming and Blake Parlett ahead of him on the depth chart. He finished the season with one goal and six assists, as well as eight penalty minutes in 47 games; he also scored one goal in six playoff games.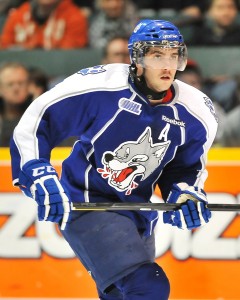 McFadden returned to Mississauga for the 2009-10 season, hoping to make his mark upon the graduation of Gaunce and Parlett. His time with Mississauga, however, was in its twilight. On November 5, 2009, McFadden was traded to one of the Majors' Central Division rivals, the Sudbury Wolves. He started his tenure with his new team going pointless in his first seven games with them. After becoming comfortable with the new system, his point production began to pick up speed. He scored his first goal as a Wolf on November 24, 2009, against Sault Ste. Marie. He followed that up with scoring an assist in each of the next three games. He ended 2009 without much point production but, upon the beginning of 2010, McFadden's point scoring went meteoric. He tallied nine assists in 11 games in January, including two games in which he recorded a pair of helpers. McFadden finished the season with 30 points (four goals, 26 assists) and 28 penalty minutes in 61 games. He also recorded one goal and two assists in four playoff games.
McFadden returned to Sudbury in 2010-11, his first full season with the Wolves, willing to prove that they were right in acquiring him. In only the second game of the season, he scored a goal and an assist. It was the beginning of an unbelievable season of point production. The 6'1″, 207-pound defenceman scored 12 points, three goals and nine assists, in October; he followed that up with eight points, two goals and six assists, in November. While December was, in relation to other months, a bit of a decline in point production (only six assists), the offensive-minded blueliner was determined to make the beginning of 2011 the best of his OHL career. McFadden scored 14 points (four goals, ten assists) in January, including his first two-goal game; he scored 16 points (five goals, 11 assists) in February; and he tallied another 14 points (four goals, ten assists) in March, garnering the top defenceman of the month honours. In total, McFadden tallied 72 points (19 goals, 53 assists) and 74 penalty minutes in 67 games; his regular-season points were third among all OHL blueliners with only Ryan Ellis and Ryan Murphy ahead of him. He also tallied six points (four goals, two assists) in eight playoff contests. Thanks to this point production, McFadden was invited to attend the Montréal Canadiens training camp and that of their AHL affiliate, the Hamilton Bulldogs.
Upon his return to Sudbury from Hamilton, McFadden was named an alternate captain to serve under Michael MacDonald, the new leader of the pack on the Wolves. 2011-12 was to be his overage OHL season and he hoped to make the best of it. He scored in his first game back, October 7th against the Niagara IceDogs. He had a rather forgettable November, where he only tallied four assists, and he followed that up with a seven-point December and a seven-point January. February, however, was one of his best months in his OHL career, which included seven goals. He also recorded ten points in March. His point production was hindered, however, by missing some time with injuries during the year; he did, however, manage to record 41 points (15 goals, 26 assists) and 43 penalty minutes in 47 games. To close out his OHL career, McFadden and the Sudbury Wolves were swept in four straight games by the Brampton Battalion in the first round of the 2012 playoffs.
7. Andrew Agozzino (LW/C, Niagara IceDogs)
Unlike many of the others on this list, Andrew Agozzino was actually a first-round pick in his OHL Priority Selection. Chosen 15th overall in 2007 from the Mississauga IceDogs minor midgets, Agozzino was the first draft pick of the then-newly relocated Niagara IceDogs. The Kleinburg native did not waste much time scoring his inaugural OHL career goal, sniping it on Adam Courchaine of the Ottawa 67's in only his third game in major junior hockey. He also showed quickly that, despite his diminutive stature of being only 5'9″ and 180 pounds, he was not shy from physical play, getting into a fight in his fourth OHL game. It was, however, his offensive production that garnered the most attention in Niagara and around the league. In fact, Agozzino scored his first OHL hat trick in only his eighteenth career game, a 10-2 victory over the Mississauga St. Michael's Majors on November 2, 2007. Thanks to this, he was named to Team Ontario for the World Under-17 Hockey Challenge, scoring seven points in six games en route to winning gold. While Agozzino did go through a rookie slump in the latter parts of the 2007-08 season, he did manage to record 22 points (12 goals, ten assists) and 47 penalty minutes in 50 games as a rookie.
In 2008-09, Agozzino set out to become a more complete OHL player, especially since he was eligible for the 2009 NHL Entry Draft. The season started out on a great note; he scored two goals in the season opener that year. In October of 2009, he had one of the best months of his OHL career up to that point, scoring 15 points in 14 games, including ten goals. His best game was on Halloween against the Sudbury Wolves, a game in which he scored four points — two goals, two assists — albeit in a loss. He followed that with eight points in November and seven in December but, in the new year, everything started to turn around for him. Agozzino celebrated his eighteenth birthday in style, scoring a goal and an assist, as well as the shootout winner, in a 6-5 IceDogs victory; he was also a +3. As well, on January 22, 2009, Agozzino tallied his first OHL career Gordie Howe hat trick in a game against the London Knights. Agozzino finished with 56 points (27 goals, 29 assists) and 88 penalty minutes in 67 games. The playoffs turned things around, though; he scored 11 points in 12 playoff games that year. Despite these stats, Agozzino was not chosen.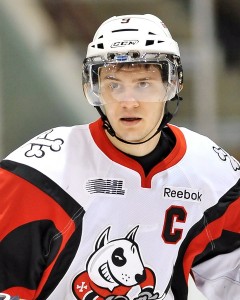 Upon the beginning of his third OHL season, 2009-10, Agozzino was named the new captain of the IceDogs. His third season was one of his most consistent in junior hockey, scoring 66 points (37 goals, 29 assists) in as many games, as well as recording 95 penalty minutes. This point total was highlighted by scoring ten goals in both October 2009 and February 2010. He was also chosen to represent Niagara at the 2010 OHL All-Star Classic in Kingston; he scored five points, four goals and one assist, and he was named the player of the game for the Eastern Conference. On April 12, 2010, after the IceDogs were eliminated from the playoffs, Agozzino was signed by the Peoria Rivermen, the AHL affiliate of the St. Louis Blues, and he played two games for them. He was, however, not drafted to the NHL. Agozzino returned to Niagara for a fourth season in 2010-11 and, again, he was captain. He played in all 68 regular season games that year, recording 74 points (43 goals, 31 assists) and 73 penalty minutes. One of his best games of the campaign was on November 20, 2010, against the Ottawa 67's; in that game, he did not just get his first OHL career hat trick but his first four-goal game during the regular season. He also recorded 13 points in 14 playoff games that season. For a third straight offseason, though, Agozzino was not drafted to the NHL.
For his fifth and final season in the OHL, Agozzino found himself captain of the IceDogs for a third straight campaign. This time, Niagara was expected to be one of the top teams in the league, especially since they had five players from the 2012 Canadian World Junior team on their roster (Mark Visentin, Freddie and Dougie Hamilton, Ryan Strome and Jamie Oleksiak). Agozzino had his best offensive season in his career, despite going pointless in three games in September; he tallied 88 points (40 goals, 48 assists), as well as 67 penalty minutes, in 67 games. His point total placed him fifth in OHL scoring. He scored two hat tricks during the year but his crowning moment came on January 29, 2012, during a game in Brampton; he scored his 30th goal of the year in that contest, his 149th as an IceDog, setting a new franchise record. The previous record of 148 was held by Patrick O'Sullivan who set the mark while the team was still in Mississauga. With Niagara in the second round of the playoffs as of now, time will tell how far Agozzino will lead his team in the postseason; on April 12, he was named as the recipient of the 2012 Leo Lalonde Memorial Trophy for the OHL's overager of the year.
6. Colin Behenna (C, Barrie Colts)
Selected in the fifth round of the 2007 OHL Priority Selection, 94th overall, by the Barrie Colts, Colin Behenna had a reputation for being a two-way playmaker despite his smaller stature. He had scored 104 points in 78 games in minor midgets during his OHL draft year. The depth of talent up front for the Colts, however, impeded his OHL début for a year. Behenna opted to play for the Waterloo Siskins, a junior B team in his hometown, for the 2007-08 season; the next season, 2008-09, Behenna made the Colts out of training camp. His offensive abilities were immediately apparent as he scored a goal and an assist in only his third OHL game, sniping on Brandon Foote, then of the Brampton Battalion; he was named second star. As with many rookies, though, Behenna had to bide his time in his new league as the points suddenly became hard to come by. The 5'8″, 170-pound centreman only managed to score 15 points (six goals, nine assists) in 57 games as a rookie. His sophomore season in 2009-10 found the Colts with significant offensive force, such as Luke Pither, Alex Hutchings, Stefan Della Rovere and Bryan Cameron up front, as well as Nick Crawford, Alex Pietrangelo and TJ Brodie on the blueline. Behenna finished the season with 25 points (seven goals, 18 assists) in 55 games; he also played in 17 playoff games, scoring two goals and four assists, on the Colts' magical playoff run that saw them make it to the OHL championship in which they were swept in four straight games by the eventual Memorial Cup repeat champion Windsor Spitfires. Behenna, however, was not drafted to the NHL in his first year of eligibility.
The Colts were hit hard by graduation in Behenna's third OHL season in 2010-11. The franchise also lost their longtime head coach and general manager, Marty Williamson, after he signed a contract to coach one of Barrie's biggest rivals, the Niagara IceDogs. To replace him, the Colts hired former NHL superstar and Hockey Hall of Fame inductee Dale Hawerchuk. Hawerchuk immediately saw leadership in Behenna and he awarded him an assistant captaincy. In this rebuilding year, the Colts took a gamble during the offseason to trade their #1 goalie from the previous season, Mavric Parks, to Saginaw for one of the Spirit's young prospects, a young man contemplating a scholarship from Cornell University; that young man, who eventually did commit to Barrie, was Mark Scheifele. Despite the fact that the Colts were underachieving, Behenna was thriving. He scored seven assists in the first five games of the season. Behenna had 14 points (four goals, ten assists) in both October and November, which set in motion an incredible point-scoring pace. In December, he recorded 15 points (nine goals, six assists) in 11 games, including his first OHL career hat trick on the 18th against the Oshawa Generals, and it did not stop when the new year started. On January 6, 2011, Behenna recorded four points, two goals and two assists, against the Brampton Battalion; he finished the month with 16 points (seven goals, nine assists) in 11 games. February, however, was his best month in his OHL career, scoring 18 points (six goals, 12 assists) in 12 games; he followed that with seven points in eight games in March. In total, Behenna scored 88 points (33 goals, 55 assists) in 67 games, good enough for 12th best in the entire league.
For his overage campaign in 2011-12, Hawerchuk awarded Behenna by naming him the Colts' new captain. He responded by picking up where he left off the season before. In the Colts' season opener against the Kingston Frontenacs, he recorded four points, one goal and three assists, and he was named the game's third star. He followed that with one of the best months in his OHL career, scoring 22 points (seven goals, 15 assists) in only ten games. Behenna proceeded to score 23 points in the next two months, 14 in November and nine in December. 2012 was not extremely productive in terms of total points; January, however, showed his goal-scoring prowess as he tallied times in 11 games. February was better for all-around scoring as Behenna tallied 13 points (six goals, seven assists) in 12 games. Going into the last few weeks of the regular season, Behenna had never gotten into trouble with the league office but that changed after he was suspended eight games for a hit from behind against Oshawa. He returned for Game 3 of the Colts' playoff series against the Mississauga St. Michael's Majors and he is now hoping to help Barrie go far in the playoffs.