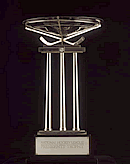 The Vancouver Canucks have won their second Presidents' Trophy in two years, securing the prize with an impressive 3-0 victory over the Edmonton Oilers on Saturday night. Despite not reaching their 117 point total of 2010/11, the Canucks finished with a respectable 51 wins-22 losses-9 otl for a total of 111 points, two points clear of the Eastern Conference champion New York Rangers.
The Canucks started poorly in October, as is becoming an unfortunate tradition but improved greatly through the following months until they hit a small slump, losing 5 games and winning only 3 in the first 20 days of March. Despite the ever-increasing feeling of angst from Canucks fans, the team recovered and finished the final stretch of the season with 8 wins and only 1 loss.
All in all in it was another successful season for the Vancouver team, with more ups than downs and a memorable win against the arch-rivals Bruins thrown in. Goal-tending was a major talking point throughout the season with Schneider playing some great hockey and finishing second in NHL goal-tending with an impressive save percentage of .937. Luongo predictably started poorly but picked up his game as the season progressed and will still be seen as the number one Canucks netminder to start the playoffs.
While the Sedin twins didn't have their best season, Henrik still managed to lead the NHL with 67 assists and the addition of David Booth gave the Canucks the luxury of a true power forward to partner Kesler on the second line. Players like Chris Higgins, Maxim Lapierre, Jannik Hansen and Alex Burrows delivered more than was expected of them and will give the Canucks much-needed depth in readiness for another long playoff run.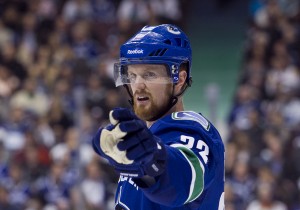 The reward for winning the Presidents' trophy? A meeting with the Los Angeles Kings in the first round of the playoffs, a tough match-up on any day. The Canucks played the Kings 4 times in the regular season, winning 2 and losing 1 in regulation and 1 in overtime. There was no meeting with the Kings during last year's playoff run but in the first round of the 2009/201o playoffs, the Canucks defeated the Kings in 6 games to set up the infamous meeting with the Blackhawks in the second round.
The Vancouver Canucks team of 2011/12 is arguably better on paper than the team that came so close in June of last year and the additions of the skillful David Booth and hard-hitting Zack Kassian bring a new element to the Canucks forward group for the playoffs. Unfortunately the feats of this year won't mean much unless the team can take it one step further than last season and the pressure to deliver from within the organization, the fans and the media will soon become very prevalent to the Canucks players.