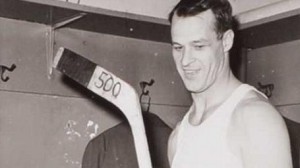 While browsing through the Baseball Reference website, I noticed it was possible to make a list of players with the most home runs at each ballpark. I wondered, could such a list be made for the most goals scored at each National Hockey League arena? It turns out that making a list is possible, with some difficulty. There is no resource for hockey as thorough as Baseball Reference and Retrosheet are for baseball.
I have made this list by using a few different resources. Baseball Reference's sister site Hockey Reference has game information going back to the 1987-88 season. Its "play finder" can be used to produce a list of games in which a player scored at least one goal, at home, while playing for certain teams. The goals can then be added up, in cases where the player has multiple-goal games.
For seasons before 1987/88, the most useful tool is the Hockey Summary Project. HSP has game logs for the 1917-18 to 1925-26 seasons, and 1952-53 to the present, as well as for 1938-39, 1942-43, and the Philadelphia Quakers' 1930-31 season. It's time-consuming, but easy enough to go through all the game logs and counting the goals.
For the seasons missing from the HSP, the only resource is the game logs in newspaper reports. Through Google News' archive, I found game results using the Montreal Gazette, the Ottawa Citizen, the Border Cities Star/Windsor Daily Star, the Pittsburgh Post-Gazette, the Pittsburgh Press, the Calgary Daily Herald/Calgary Herald, and the Saskatoon Phoenix/Saskatoon Star-Phoenix.
This list also counts goals scored by players who were playing a road game for a different team. As one notable example, Wayne Gretzky's total in Edmonton includes the goals he scored while playing for Los Angeles. Sometimes, goals have been subtracted when a player scored at a home game away from their usual home rink. This includes, for example, the "neutral site" games of the early 1990s, and the NHL Premiere games in Europe.
I have included only regular season NHL games, from 1917-18 to the present, played a team's regular home rink. I haven't included all the "neutral" sites in this list, as they generally don't have a top scorer, only a long list of players who scored one or two goals. In future posts I will include all the other arenas used for regular-season games. I will also go into greater detail with top-10 lists for each arena.
The list is up-to-date as of the games of April 7, 2012, the end of the 2011-12 regular season.
| Arena | Home Team | Years | Player | Goals |
| --- | --- | --- | --- | --- |
| Air Canada Centre | Toronto Maple Leafs | 1999-present | Mats Sundin | 140 |
| America West Arena | Phoenix Coyotes | 1996-2003 | Keith Tkachuk | 98 |
| American Airlines Center | Dallas Stars | 2001-present | Brenden Morrow | 107 |
| Arena Gardens | Toronto Arenas/St. Pat's/Maple Leafs | 1917-1931 | Babe Dye | 106 |
| Aréna de Québec | Quebec Bulldogs | 1919-1920 | Joe Malone | 26 |
| BankAtlantic Center | Florida Panthers | 1998-present | Olli Jokinen | 113 |
| Barton Street Arena | Hamilton Tigers | 1920-1925 | Joe Malone | 30 |
| Bell Centre | Montreal Canadiens | 1996-present | Saku Koivu | 101 |
| Border Cities Arena | Detroit Cougars | 1926-1927 | Duke Keats | 9 |
| Boston Arena | Boston Bruins | 1924-1928 | Carson Cooper | 29 |
| Boston Garden | Boston Bruins | 1928-1995 | John Bucyk | 297 |
| Brendan Byrne Arena | New Jersey Devils | 1982-2007 | John Maclean | 175 |
| Bridgestone Arena | Nashville Predators | 1996-present | David Legwand | 100 |
| Buffalo Memorial Auditorium | Buffalo Sabres | 1970-1996 | Gilbert Perreault | 260 |
| Capital Centre | Washington Capitals | 1974-1997 | Mike Gartner | 228 |
| Chicago Coliseum | Chicago Blackhawks | 1926-1929 | Dick Irvin | 17 |
| Chicago Stadium | Chicago Blackhawks | 1929-1994 | Bobby Hull | 342 |
| Colisée de Québec | Quebec Nordiques | 1979-1995 | Michel Goulet | 242 |
| Consol Energy Center | Pittsburgh Penguins | 2010-present | Evgeni Malkin | 35 |
| Cow Palace | San Jose Sharks | 1991-1993 | Pat Falloon | 28 |
| Duquesne Gardens | Pittsburgh Pirates | 1925-1930 | Hib Milks | 50 |
| Expo Hall | Tampa Bay Lightning | 1992-1993 | Brian Bradley | 19 |
| First Niagara Center | Buffalo Sabres | 1996-present | Thomas Vanek | 130 |
| Great Western Forum | Los Angeles Kings | 1967-1999 | Marcel Dionne | 288 |
| Greensboro Coliseum | Carolina Hurricanes | 1997-1999 | Keith Primeau | 30 |
| Hartford Civic Center | Hartford Whalers | 1980-1997 | Ron Francis | 157 |
| Honda Center | Anaheim Ducks | 1993-present | Teemu Selanne | 236 |
| HP Pavilion | San Jose Sharks | 1993-present | Patrick Marleau | 217 |
| Jobing.com Arena | Phoenix Coyotes | 2003-present | Shane Doan | 97 |
| Joe Louis Arena | Detroit Red Wings | 1979-present | Steve Yzerman | 330 |
| Jubilee Arena | Montreal Canadiens | 1918-1919 | Joe Malone | 29 |
| Kemper Arena | Kansas City Scouts | 1974-1976 | Wilf Paiement | 26 |
| Long Beach Arena | Los Angeles Kings | 1967 | Ted Irvine | 3 |
| Los Angeles Memorial Sports Arena | Los Angeles Kings | 1967 | Brian Smith | 7 |
| Madison Square Garden | New York Rangers | 1925-1968 | Andy Bathgate | 154 |
| Madison Square Garden | New York Rangers | 1968-present | Rod Gilbert | 150 |
| Maple Leaf Gardens | Toronto Maple Leafs | 1931-1999 | Darryl Sittler | 235 |
| McNichols Sports Arena | Colorado Rockies/Avalanche | 1976-1982, 1995-1999 | Joe Sakic | 73 |
| Mellon Arena | Pittsburgh Penguins | 1967-2010 | Mario Lemieux | 373 |
| Met Center | Minnesota North Stars | 1967-1993 | Dino Ciccarelli | 187 |
| Miami Arena | Florida Panthers | 1993-1998 | Scott Mellanby | 63 |
| Montreal Arena | Montreal Canadiens | 1917-1918 | Newsy Lalonde | 7 |
| Montreal Forum | Montreal Canadiens | 1926-1996 | Maurice Richard | 324 |
| Mount Royal Arena | Montreal Canadiens | 1920-1926 | Billy Boucher | 50 |
| MTS Centre | Winnipeg Jets | 2011-present | Andrew Ladd | 18 |
| Nassau Veterans Memorial Coliseum | New York Islanders | 1972-present | Mike Bossy | 315 |
| Nationwide Arena | Columbus Blue Jackets | 2000-present | Rick Nash | 147 |
| Oakland Coliseum Arena | California Golden Seals | 1967-1976 | Joey Johnson | 51 |
| Olympia Stadium | Detroit Cougars/Falcons/Red Wings | 1927-1979 | Gordie Howe | 430 |
| Omni Coliseum | Atlanta Flames | 1972-1980 | Eric Vail | 115 |
| Ottawa Arena | Ottawa Senators | 1917-1923 | Cy Denneny | 101 |
| Ottawa Auditorium | Ottawa Senators | 1923-1934 | Cy Denneny/Frank Finnigan | 53 |
| Ottawa Civic Centre | Ottawa Senators | 1992-1995 | Bob Kudelski | 29 |
| Pacific Coliseum | Vancouver Canucks | 1970-1995 | Stan Smyl | 145 |
| Pepsi Center | Colorado Avalanche | 1999-present | Milan Hejduk | 186 |
| Philadelphia Arena | Philadelphia Quakers | 1930-1931 | Hib Milks | 13 |
| Philadelphia Spectrum | Philadelphia Flyers | 1967-1996 | Bill Barber | 231 |
| Philips Arena | Atlanta Thrashers | 1999-2011 | Ilya Kovalchuk | 166 |
| PNC Arena/RBC Center | Carolina Hurricanes | 1999-present | Eric Staal | 128 |
| Prudential Center | New Jersey Devils | 2007-present | Zach Parise | 75 |
| Reunion Arena | Dallas Stars | 1993-2001 | Mike Modano | 138 |
| Rexall Place/Northlands Coliseum | Edmonton Oilers | 1979-present | Wayne Gretzky | 327 |
| Richfield Coliseum | Cleveland Barons | 1976-1979 | Dennis Maruk | 38 |
| Rogers Arena/GM Place | Vancouver Canucks | 1995-present | Markus Naslund | 187 |
| Scotiabank Place | Ottawa Senators | 1995-present | Daniel Alfredsson | 222 |
| Scotiabank Saddledome | Calgary Flames | 1983-present | Jarome Iginla | 263 |
| Scottrade Center/Kiel Center | St. Louis Blues | 1994-present | Pavol Demitra | 124 |
| Springfield Civic Center | Hartford Whalers | 1979-1980 | Blaine Stoughton | 18 |
| St. Louis Arena | St. Louis Blues | 1967-1994 | Brett Hull | 202 |
| Stampede Corral | Calgary Flames | 1980-1983 | Kent Nilsson | 76 |
| Staples Center | Los Angeles Kings | 1999-present | Alex Frolov | 89 |
| Tampa Bay Times Forum | Tampa Bay Lightning | 1996-present | Vincent Lecavalier | 197 |
| TD Garden | Boston Bruins | 1995-present | Glen Murray | 101 |
| Thunderdome | Tampa Bay Lightning | 1993-1996 | Petr Klima | 32 |
| United Center | Chicago Blackhawks | 1994-present | Tony Amonte | 139 |
| Verizon Center | Washington Capitals | 1997-present | Alexander Ovechkin | 170 |
| Wells Fargo Center | Philadelphia Flyers | 1996-present | John Leclair | 135 |
| Winnipeg Arena | Winnipeg Jets | 1979-1996 | Dale Hawerchuk | 198 |
| Xcel Energy Center | Minnesota Wild | 2000-present | Marian Gaborik | 110 |