The 2013-14 regular season is nearly upon us.  While we at THW can hardly contain ourselves, some of us decided to pass the time by compiling our own predictions of the top 200 scorers in the NHL.  Four writers submitted their own lists and the final product is an average of their results.  With over thirty extra skaters showing up in lists, some got left out.  Then again, when choosing 200 scorers, there is bound to be variation!
A special thanks to Chris Wassel, Nathan Kanter, and Andrew Forbes for their contributions!
[table id=129 /]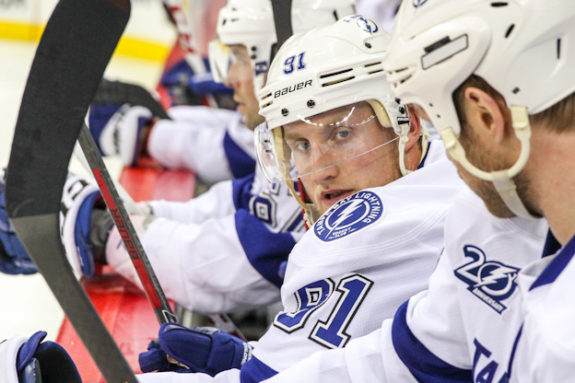 Fast Facts: Top 200 Scorers
Sidney Crosby returns to the top of the scorers' table after finally playing a full season.  Crosby gets over his nagging injuries and blows the league away.  He will lead the Penguins like he always does and the Penguins' offense will once again be among the best in the NHL
Jon Tavares, wearing the C on his sweater will crack the top five.  Following up a breakout year, he will carry the Islanders to a second consecutive playoff birth
The Sedin twins both will fall out of the top 10, but with John Tortorella's focus on the defense, the Canucks' famous pair will account for most of the offense on a defensively-minded team
Logan Couture will explode as an elite scorer.  He will crack the top 25 as he leads the offensively-challenged Sharks.  His captain, Joe Thornton, will slow down substantially in terms of goals, but will provide many assists to young rookie Tomas Hertl, who scrapes his way to top 200 list in his first season
Scoring in Nashville is going to be very hard.  The Preds' top scorer, is Shea Weber.  He has only cracked 50 points once in his career, but then again… he is a defenseman.
Third-overall pick, Jonathan Drouin, will be the top scoring rookie from the draft as he makes a decent impact in Tampa Bay.  Playing behind offensive giants like Steven Stamkos and Martin St. Louis has its perks
Speaking of Stamkos, the Lightning's offensive power plant will lead in goals this season with 57
Bryan Bickell, the man who clinched the Stanley Cup in Chicago, gets a slight reward by scratching together enough points to claim the 199th spot
Steve Ott, Slava Voynov, and Tomas Kopecky find themselves just outside of the list as victims of logistics.  They score 36 points, like the bottom-dwellers of the list, but by rule of a "Top 200 Scorers" list cannot be included
Martin Brodeur doesn't qualify for the list as he only adds up for a meager three points this season.  A shameful way for the future Hall-of-Famer to go out
Let us know who we left out!  Prove us wrong!