There definitely aren't many Montreal Canadiens roster spots up for grabs heading into 2014-15, which may be for the best, seeing as this team did just reach the Eastern Conference Final.
However, even though the Habs' focus is clearly on winning in the present, there's little reason not to take a look at the future, especially the potentially immediate future. Here are the top five prospects most likely to make the Montreal Canadiens out of training camp.
5. Nikita Scherbak
Drafted just this past summer, 18-year-old Nikita Scherbak could potentially exploit Montreal's organizational weakness on the right side and convince the Habs he's ready for the NHL out of training camp.
It's not as unlikely as it sounds, seeing as in 2013 Alex Galchenyuk technically made the team out of training camp in his first season since being drafted. However, he had the benefit of a lockout-shortened season that began nearly four months later as well as a World Junior Championships tournament to showcase his skills.
Even then, it's not as if Galchenyuk was able to enjoy the same success in the NHL right off the bat, with his rookie season rife with the ups and downs you'd expect from a just teenager.
Scherbak does have an outside chance of making the team out of training camp, but he's definitely far from being a shoo-in.
4. Jacob De La Rose
Jacob De La Rose does have a few things going for him that Scherbak does not. He was drafted one year earlier (although he's just five months older). He's almost NHL ready in terms of size (listed as 6'2", 190 lbs on the Habs website). He's also got a French last name.
True, De La Rose is actually Swedish (according to him, via The Hockey News, his great, great grandmother was French), but this is a team that signed a 39-year-old, less-than-mobile (and American-born) Francis Bouillon to a professional tryout agreement, after all. They'll take them wherever they can get them.
While he could reportedly compete for a roster spot based on his well-rounded defensive and checking game, he unfortunately plays center and left wing, two positions at which the Habs are set.
He's also only poised to make his North American debut this coming season: One more reason it will likely only come with the Hamilton Bulldogs. He needs some seasoning, but the exact number of seasons is likely on the lower end.

3. Jarred Tinordi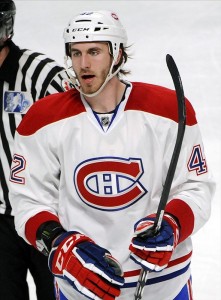 Technically, Jarred Tinordi is not a prospect.
He's played 30 NHL regular-season games (five playoff games) and is a veteran of two American Hockey League seasons. However, that just means he has yet to establish himself in the NHL.
At 6'6", 227 pounds, Tinordi looks like a man amongst boys in the AHL. Hell, he looks like a man amongst slightly larger boys in the NHL. Line him up with the 5'10" Mike Weaver on the third pairing and he looks like… well, still a man, just beside a really old-looking, shorter boy with a five-o'clock shadow and thinning hair. *shudder*
It's about time for him to take the next level in his development. Unfortunately, if he ends up with the Habs it will likely only be as a seventh defenseman or a call-up due to injury. There are just too many players ahead of him on the depth chart at this point, with one in particular blocking him from making the team permanently this time around.
2. Nathan Beaulieu
Despite the signing of Bouillon to a PTO, one gets the sense the final spot on the blue line is Nathan Beaulieu's to lose. He may be one year younger than Tinordi, but he's got the offensive skillset and wheels that Tinordi (and Bouillon) does not. At 6'2" (194 lbs), he's not exactly undersized either.
The fact that he got in seven playoff games last season (two assists) is undeniably a good sign in regard to his chances this fall. Of course, Tinordi played in all five playoff games for the Habs the previous season and that didn't work out all that well for him.
As a left-handed shot (admittedly like Tinordi), Beaulieu would in theory fit right in on the man advantage opposite P.K. Subban or Tom Gilbert (not so much the case with Tinordi). Beaulieu's perhaps the missing piece of the puzzle towards improving what was an impotent power play last year.
 1. Jiri Sekac
Despite just signing on this summer, Jiri Sekac already seems like the heir apparent to the right-wing spot left open with the departure of the 5'7" Brian Gionta to the Buffalo Sabres (enter your own "big skates to fill" joke here).
It may only be training camp, but the 6'2" forward is already being tried out on a line with Tomas Plekanec, Gionta's former center. They also both come from the same hometown of Kladno, Czech Republic.
He may be a left-winger, but, according to Montreal Gazette writer Pat Hickey, he also knows how to play on the right, which makes him all the more of a great fit. At 22 with three Kontinental Hockey League seasons (and two in the United States Hockey League prior to that) under his belt, he also has enough experience, both professional and in North America, to warrant a long-lasting look with the Habs.
It's likely up to him just how long that look lasts.
.