Jonathan Drouin Suffers Hand Injury: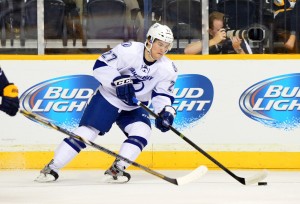 News broke early Tuesday morning that Lightning forward and top prospect Jonathan Drouin had suffered an injury to his right hand. An X-ray confirmed the injury late on Monday, a fractured thumb, an injury sustained during a two-on two drill at a rookie camp practice.
Drouin, a Calder Trophy favorite, told reporters this past Thursday that he had fallen after a collision in practice, yet didn't think it was a serious injury, noting that he had simply fallen awkwardly following contact with a fellow teammate.
"It wasn't a big hit or anything. I was off balance and just fell on my hand."
Lightning management had originally stated Drouin had suffered an infamous "upper body injury", and were expecting the swelling in Jonathan right thumb to decrease having thought it was simply a sprain or similar injury. With an expected recovery time of 3-4 weeks, it is likely that Drouin will miss the Tampa Bay Lightning's season opener on Thursday October 7th against the neighboring Florida Panthers.
Future Expectations
Given Drouin's injury is a thumb fracture, rather than a break, a 3-4 week time period is a highly flexible expectation. Drouin could return earlier than expected given his tolerance to the pain associated with the injury, or later, if the injury is slow to heal and brings Jonathan considerable discomfort.
However, given Drouin will more than likely be injured to start the season, there is no need to rush him back to play. A stint in the AHL would likely do Drouin some good, allowing himself to get acclimated with professional hockey and to get back into game shape for when he does make the jump to the NHL.
Short-term Replacement
In the mean time, Calder Trophy nominee Ondrej Palat will likely replace Drouin at left wing on the team's top line, centered by Steven Stamkos. Palat, who registered 23 goals and 59 points this past season, will be a good fit as he has prior experience and chemistry from playing with Stamkos this past season.