On May 7, 2014, Ron Hextall was named the new General Manager of the Philadelphia Flyers. With the title, he brought with him a new foundation and thought process, mainly regarding prospects. When the move was announced, Hextall had this to say about the future of drafting and developing:
"I don't think there's a whole lot of difference.  I think it's funny… I think I've been back eight or nine months, and Homer and I have talked about draft picks, and how we've got to keep our draft picks and draft well.  Not only do you have to keep them, you've got to make them count.  We've got to continue to try to keep our picks and make good picks.  They're part of this development.  It's kind of new; I think baseball's been doing it for a long time.  We're going to strengthen that part of it and hopefully develop a lot of players.  It's important in a cap world to develop players from within.  I think home-grown players, players who have a tattoo of the Flyers on their shoulder… it's important.  So we're going to try to build from within and keep the pieces that we draft, and hopefully develop them into real good players."
The Flyers have done a great job of drafting talent in the draft prior to Hextall arriving, but now they are looking to hold onto it rather than mortgaging their future by trading said pieces away. If anyone has paid attention to development camp and rookie camp, you'd be able to see that the Flyers are on the brink of reaping the benefits of some of their scouting. Here is a look at their top five prospects.
Criteria:
Skaters can not have played more than 42 games.
Goalies can not have played more than 25 games.
5. Travis Sanheim – WHL – Calgary Hitmen – D
It was a stretch at the time, but Travis Sanheim didn't look out of place in his camps with the Flyers. Sanheim was chosen high because of his trajectory throughout the season. The lanky blueliner is one of the most fluid skaters you will see. His turning is top notch and can get back into the play with ease. He started development camp somewhat shaky, but came on strong by the end of it. He has two-way ability, but is smart about when he needs to stay back or join the rush. The biggest knock is his lack of muscle, so it will be a few years of training before he will find a concrete spot on the Flyers. Sanheim was sent back to the Calgary Hitmen and already has three goals and two assists in four games for the club.
4. Shayne Gostisbehere – AHL – Lehigh Valley Phantoms – D
You can't help but get excited when you see Shayne Gostisbehere with the puck on his stick. A pure offensive defenseman, Gostisbehere is always looking to create opportunities from the backend, oftentimes doing it without thinking too much about it. He's not the biggest, but he's one of the fastest. The kid they call "Ghost" has a rocket of a shot with pinpoint accuracy. He's used it countless times. Gostisbehere turned heads last season when he pushed Union College to a National Championship victory over Minnesota. I'm still under the belief that Gostisbehere needs two years of AHL action before he'll fight for a spot with the Flyers long-term. He's not physically mature enough to handle bigger opponents and gets knocked off the puck. The NHL/AHL is much different than college, so this will year will be telling for Shayne and his development.
3. Robert Hagg – AHL – Lehigh Valley Phantoms – D
He doesn't have the flash of a Shayne Gostisbehere or the meanness of a Samuel Morin, but Robert Hagg plays a straightforward style of defense which makes him a valuable asset for the Flyers down the road. Of the 'Big 4' (Morin, Sanheim, Gostisbehere, Hagg), Robert is the most steady and NHL-ready defenseman who will likely have a few opportunities with the Flyers as the season progresses. Swedes teach their players to be great skaters and Hagg is no exception. Positionally sound in his own end, it's difficult to beat him cleanly. He closes down passing lanes and makes smart plays and crisp passes to move the puck out of the zone. My guess is Hagg will be one of the first call-ups if any Flyers defenseman goes down with an injury.
2. Samuel Morin – QMJHL – Rimouski Oceanic – D
Just yesterday it was announced that Samuel Morin was being sent back to the QMJHL for another full season with the Rimouski Oceanic. The hulking defenseman was given every opportunity to make the Flyers this year, but at the end of the day it was determined he is still very raw in his style of play. A bruising blueliner, Morin is a monster in the corners and tries to use his body to win puck battles whenever he can. For a 6'7″ defenseman, Morin is an elegant skater with phenomenal edgework and agility. Takes him a few powerful strides to get to top speed. While he has the size, toughness, and shot of an NHL player, the basic stickhandling and instincts need some work. He'll never be 'go-to' point scorer, but in his prime, he has the potential to be one of the most physical shutdown guys in the entire NHL.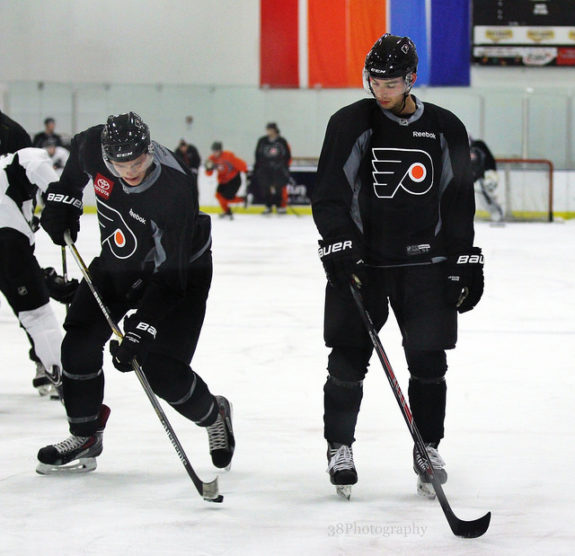 1. Scott Laughton – AHL – Lehigh Valley Phantoms – C
It's been a long road for the former 2012 1st round pick of the Flyers. Pundits and columnists have been arguing whether it's better for Laughton to spend another year in the AHL or play 4th line minutes for the Flyers. His junior numbers indicate that he is a point scorer, but watching him play shows that he brings much more to the table. His defensive abilities make him the Flyers' best forward prospect by a longshot. Having seen him during the development and rookie camps, Laughton stood out as the best all-around player. He's not fancy, but he is elusive. Laughton knows where the play is going to be and finds open linemates constantly. A very quick release and powerful snap shot allows him to score goals, as well. The Flyers sent down Laughton to be the premier center on the Lehigh Valley Phantoms, where he will get ample opportunity to shine. A half season – full season, at most – is what Laughton will need before he can join the Flyers full-time.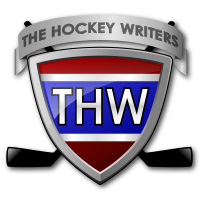 The archives of THW contain over 40,000 posts on all things hockey. We aim to share with you some of the gems we've published over the years.