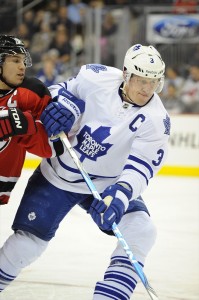 After a long up and down ride, the 2011-2012 regular season is over. That gives us all a great chance to look back on the season that was and reflect on all that went down.
It was a rather eventful campaign for the Toronto Maple Leafs; one that went from triumph to devastation. Now we must take a close look back and examine not only what went wrong, but also what went right.
We now start a three-part series on the Leafs' 2011-2012 campaign, kicking things off by looking in the mirror at what was expected of the team heading into the season, to what everyone experienced as it progressed.
Expected
Playoffs 
After another playoff-less season in 2010-2011, Leaf fans were beginning to grow disgusted and restless with their team's lack of success over recent years. Now with James Reimer in net and a play maker to centre Phil Kessel, things looked promising.
Strong goaltending
Reimer gave Leaf fans hope as the new season approached after posting a .921 save percentage and a 2.60 goals against average in his rookie season. The only question mark seemed to be at the backup role, where Jonas Gustavsson had struggled in his NHL career up to that point.
An exciting season
A young squad with some high-flying players and a team that appeared to be on the upswing after a season that brought many improvements just one year prior, there was enough reason to expect an exciting and eventful season in 2011-2012.
A consistently successful team
This one may come as somewhat of a head scratcher, although a strong start had fans thinking this year's team would be consistently successful. That made sense given how the Leafs had been playing at the time.
40 goals from Phil Kessel
Now playing with Tim Connolly and Joffrey Lupul full time, why wouldn't to expect to see Kessel score 40 after three straight seasons of at least 30 goals?
Experienced
No playoffs
As it turned out, this season ended up just being another playoff-less campaign that contributed to many Maple Leaf jokes. This time around there were many factors that contributed to the Leafs' inability to qualify for the post-season, stemming from a rather weak penalty kill for portions of the season to a lack of stability between the pipes.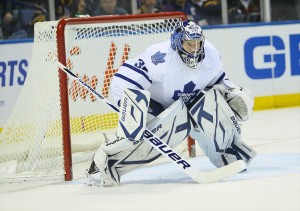 Not counting the lockout of 2004-2005, the Leafs have now spent seven consecutive seasons outside of the playoffs.
Shaky goaltending
Things looked great between the pipes early on for the Maple Leafs; James Reimer posted a season-opening shutout and won his first three games in net. He went down with a head injury on October 22, though, and that's where it all went downhill in terms of goaltending.
Jonas Gustavsson and Ben Scrivens took over from there, although neither one was able to post statistics similar to those of Reimer's. They managed to hold down the fort while Reimer was out however, but Reimer just wasn't the same when he returned.
Many would tell you that the Leafs' struggle to find consistency in net was the main contributing factor to their poor result in the standings this season.
A huge collapse
Each team has good and bad moments throughout the course of the regular season, but this season both sides of the spectrum really shone through for the Maple Leafs. It all started out great for the Leafs; they found themselves first in the NHL at one point and sat inside the top eight for much of the season. Once the All-Star Break rolled around, though, everything began to slip.
At one point in the season, there wasn't one player on the Leafs' roster who could find their way. Even rookie Jake Gardiner, who had been very impressive, began to struggle. Even once the team gained traction again, though, they just weren't the same. No wonder; the playoffs were well out of reach.
37 goals from Phil Kessel
For what seems to be the first time in the history of Leaf fans, people are happy with how a player produced despite the fact that player didn't reach the expectations they had set for him. That's the case of Phil Kessel, who fell three goals short of reaching the 40-goal plateau, but did manage to set new career highs in goals, assists and points.
Even though people were happy, there was still a bit of disappointment. Why? Kessel finally had the chance to play with an established NHL play maker in Tim Connolly. However, we must keep in mind that Connolly did not produce to the level we know he is capable of, which may have limited Kessel's production.
Twitter: @LukasHardonk | Email: lukas.hardonk@gmail.com | Lukas' archive
For every Leafs article on THW, follow @THW_MapleLeafs on Twitter.