Coming off another disappointing season in 2014-15, 'there will be pain' seems like it will be the slogan for the 2015-16 Toronto Maple Leafs.
For a team with such a deep historical background and fan expectations heavily weighted on their shoulders, the Maple Leafs have experienced one of the toughest decades in franchise history. Since the lockout that plagued the 2004-05 season, there's been a mere seven playoff games for fans of the franchise to indulge in. Even then, their series against the Boston Bruins in 2012-13 (following the shortened season) left Leafs Nation in a pool of speechlessness and disappointment.
Now, the team's seen two more seasons pass by without playoffs. They've been rained on by jerseys thrown from their home crowds and tensions seem to be rising in Toronto surrounding their beloved Maple Leafs.
Enter Brendan Shanahan. With his plan currently in the works, the Leafs could finally be on the road to recovery and contention in an extremely talented NHL. No, it won't be as simple as a one season rebuild, but the Leafs are looking to take the steps toward returning to their former glory.
They've moved some of their top assets. They've gathered numerous draft picks. And they've hired a coach geared towards accepting a challenge that he says scares him – but a challenge that he's accepted nonetheless.
With a new front office and a new coaching staff headed by Mike Babcock, the Leafs have a new outlook on building a contender. Babcock's enforcement of accountability is exactly what this young team needs as it looks to make noise in the NHL's Eastern Conference over the next few seasons.
---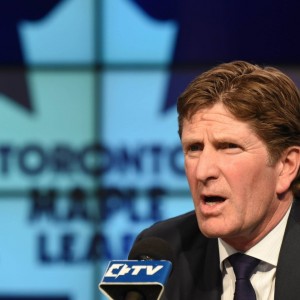 2014-2015 RECORD (FINISH)
Record: 30-44-8
NHL: 27th
Conference: 15th
Division: 7th
GF: 24th
GA: 26th
PP: 26th
PK: 22nd
---
KEY ADDITIONS
F Mark Arcobello
F Zach Hyman
F Kasperi Kapanen
F Mitch Marner
F Shawn Matthias
F P-A Parenteau
F Nick Spaling
D Scott Harrington
D Matt Hunwick
D Martin Marincin
---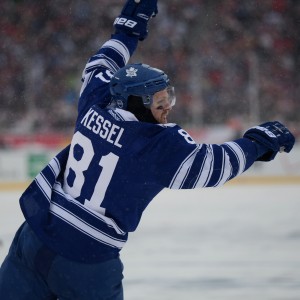 KEY LOSSES
F Phil Kessel
F David Booth
F Greg McKegg
D Korbinian Holzer
---
FORWARDS
Tyler Bozak – The first line in Toronto is sure to be different in 2015-16 with the loss of Phil Kessel. But that might not be the only change. While Bozak remains one of the best face-off guys for the rebuilding franchise, the signing of Mike Babcock this offseason gives every player a fresh start and could create a battle for the number one centre position. That being said, Bozak will still be heavily relied on to produce offensively regardless of where he slots into the lineup.
---
James van Riemsdyk – The final piece to last year's top line in Toronto, JVR will likely be the mainstay for an offensively deprived Maple Leafs squad. His underrated speed will help 26-year-old on the rush and his size up front should be a skill that Babcock uses to cause distractions in front of the opposing net. With 56 points in 2014-15, the Leafs will look for JVR to aim high offensively.
---
Nazem Kadri – A fresh start under a new coach may be just what Nazem Kadri needs to show just how useful he can be as an NHL centre. Regardless, he has one year to show the new Leafs front office the skills that he possesses. While he'll be relied on in a bigger way this season, there's no reason that Kadri can't step into the spotlight and head this Maple Leaf rebuild along with the eventual prospect core that they should have.
---
Joffrey Lupul – Health will be the big question – as it always seems to be – with Joffrey Lupul. While he certainly has the ability to put the puck in the net and play the body without it, Lupul's inability to stay in the lineup has led to questions surrounding his overall value to the franchise. The 32-year-old is yet to exceed the 69-game mark in a single season during his time with the Leafs, but if he can stay healthy he'll be an important piece to this rebuilding lineup.
| | | |
| --- | --- | --- |
| #21 James van Riemsdyk | #42 Tyler Bozak | #41 Michael Grabner |
| #19 Joffrey Lupul | #43 Nazem Kadri | #15 P-A Parenteau |
| #23 Shawn Matthias | #33 Mark Arcobello | #26 Daniel Winnik |
| #24 Peter Holland | #16 Nick Spaling | #47 Leo Komarov/Richard Panik |
*New additions bolded
---
DEFENSE
Morgan Rielly – Still a prospect by some standards, Morgan Rielly is the future of the Maple Leafs back end. Heading into his third full season with the big club, the 21-year-old is one step away from surpassing the 30-point plateau in a single season. He's learning the tough side of a rebuild early, but has an important role in the Leafs long-term plan. He'll be the go-to for young guys like Travis Dermott and Viktor Loov as the team moves forward with the rebuild.
---
Jake Gardiner – After signing a long-term deal with the Leafs and seeing his offensive numbers drop off, 2015-16 will be an important season for Jake Gardiner. Surpassing the 30-point plateau in two of his four seasons with the Leafs, the team knows what he's capable of. The key for Gardiner is to find a way of incorporating all aspects of his game while remaining consistent on both sides of the puck. If any coach is able to pull that out, Babcock might be the perfect fit for Gardiner long-term.
---
Dion Phaneuf – One of the most criticized players on the Leafs 2014-15 roster, captain Dion Phaneuf will also get a fresh start with the hiring of Babcock. A player that was looked at by Detroit near the trade deadline last season, Phaneuf is a good fit for Babcock's system. While the 30-year-old will look to continue his growth in his own end, the team is looking to him as an offensive threat at even strength and on the powerplay in 2015-16.
| | |
| --- | --- |
| #44 Morgan Rielly | #3 Dion Phaneuf |
| #51 Jake Gardiner | #46 Roman Polak |
| #52 Martin Marincin/Matt Hunwick | #12 Stephane Robidas |
*New additions bolded
---
GOALTENDING
Jonathan Bernier – Don't expect Babcock to head down the same road as Randy Carlyle did entering last season. While he will look for the goaltender who offers him and the team the most success, Babcock will likely have a number one and number two goalie depth chart. After signing a two-year deal with the club, expect Bernier to take the reins as the starting goalie for the Leafs in 2015-16. While his career numbers are similar to James Reimer, Bernier was acquired from the Kings with the belief that he would take on that number one role. That being said, if Bernier can't live up to the contract the Leafs front office gave him this offseason, expect Reimer to be ready to go. In 175 career regular season games, Bernier is 76-67-20 with nine shutouts, a 2.63 goals against average and a .916 career save percentage.
---
BREAKOUT PLAYER
Michael Grabner – Up until recently, the name under this category was a different one. But with the Leafs trading away a handful of prospects for the offensive skills of Michael Grabner, it's not hard to see that he will be one of those players that Toronto will look upon to put the puck in the net. Grabner's career high is 52 points (34g-18a) in 2010-11 and he's seen a steady decline since. However, after sitting out most of last season with injuries, Grabner will be looking to reignite his game under Babcock in Toronto. Look for him to get significant time – a step towards reaching that 50-point plateau once again.
---
PLAYER WITH MOST TO PROVE
Nazem Kadri – His one-year contract the Leafs signed him to prior to this season is a message to Kadri from Toronto's front office. Show us what you can do. A former seventh overall pick, Kadri has hit the 50-point plateau once in his five full seasons with the Leafs. He has yet to score 25 goals in a single season and hasn't really shown the face-off prowess of an NHL centre. With that said, he'll be given more ice time under the Babcock regime and without the likes of Kessel in the Leaf lineup, expect him to be at the centre of their offensive game plan with the delicate hands he possesses.
---
SEASON OUTLOOK
If it wasn't already, it should be clear to Leafs Nation and all of hockey that the Toronto Maple Leafs are in the very early stages of a complete rebuild. It's been a long time since this franchise was forced into a facelift of this magnitude, but without it the Stanley Cup drought will undoubtedly continue.
With that being said, the Leafs have put a decent prospect pool into place with the likes of Mitch Marner, Kasperi Kapanen and William Nylander leading the way. The 2015-16 season will be one run by the veteran core of this roster – a core that the front office has signed to low-risk deals with the expectation of turnover to happen following this season.
With Kadri and Bernier both on short-term deals, expect their futures with the club to be determined by their ability to grow with the rebuilding franchise and mentor the players that are looking to climb the ranks in the Toronto system. While there will be pain, as Babcock pointed out early in the offseason, the Leafs are finally taking the right steps in building a team from the draft out and it wouldn't be a complete failure if the team found themselves in a lottery spot again come 2016.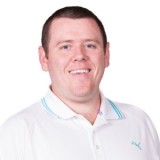 Andrew is in his 8th year reporting for The Hockey Writers covering the Toronto Maple Leafs. He began his broadcasting with CBC's Hockey Night in Canada team as well as being part of their coverage of the 2014 Winter Olympic Games in Sochi. He's the former play-by-play voice of the London Jr. Knights for Rogers TV and currently hosts the Sticks in the 6ix podcast. You can follow him on Twitter at @AndrewGForbes.