In 2015-16, the first official year of the Toronto Maple Leafs' rebuild, the team iced a lacklustre team that was doomed for failure. In fact failure was what Toronto, and all of it's fans, wanted this year.
For once, everyone bought in to the idea of a complete rebuild. And they knew that with failure comes strong draft picks. The thought of the first overall pick in the 2016 NHL Draft is what got the players, management, and Leafs' fans through the painful eight months of losing.
Finally on April 30, the 2016 NHL Draft Lottery was held. After months of ridicule, the Leafs would find out if their plan would pay off. Luckily, it did.
Toronto was awarded the first overall pick for 2016, and with that, the right to select Auston Matthews.
Not only do the Leafs hold the first pick, but thanks to the work of team management, they hold a grand total of 12 draft picks, including two in each of the first four rounds.
Top 10 Prospects:
Mitch Marner
William Nylander
Connor Carrick
Nikita Zaitsev
Connor Brown
Kasperi Kapanen
Brendan Leipsic
Zach Hyman
Jeremy Bracco
Nikita Soshnikov
Team Needs:
High-end depth at center
Top-end goaltending prospect
Potential top pairing defenceman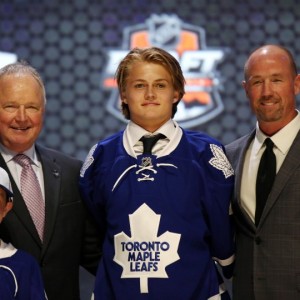 Although the Leafs have certainly garnered a plethora of solid prospects, there remains a lack of potential first or second line centers. While Nylander looks like he could become a top-six center, after that the talent drops off dramatically. With the first overall pick, and likely Matthews, that department should be shored up.
While Carrick and Zaitsev certainly have promising potential as defenders, Toronto does not have a sure-fire, blue-chip defensive prospect. With three picks in the first 31 at this year's draft, one should be used to select an all-around defenceman.
In the crease, the Leafs don't boast a potential starting goaltending prospect. Sure, Garrett Sparks and Antoine Bibeau have shown flashes of talent, but neither look like franchise stoppers. Like any great team, Toronto needs to have a goaltender who can carry the team when needed.
Team Strengths:
A couple of potential superstars
Good bottom-six depth on the wings
Lots of top-six potential on the blue line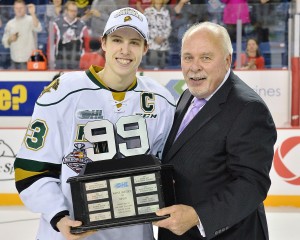 Marner and Nylander represent two of the best prospects in the NHL right now, both with the potential to become game-changers and be among the league leaders in points. They, along with the 2016 first overall pick, will be relied upon to lead the Leafs to success.
Toronto has multiple prospects along the wing which look to be bottom-six forwards with some offensive edge. Brown, Kapanen, Leipsic and Bracco to name a few, represent a plethora of prospects who could be future second or third line wingers.
On the blue line, the Leafs have several prospects who could play a lesser role, say 15 to 18 minutes a night. They are solid, two-way defencemen with good size and NHL potential.
Draft Tendencies:
The Leafs certainly draft their fair share of North American prospects, but aren't afraid to take a risk on a couple European prospects, especially from Sweden. Over the years, they have drafted a relatively even number of forwards and defencemen. With a transition in management, there has also come a transition in player types drafted. Toronto has recently moved towards more skilled players, placing less importance in size and strength. They love creative players who can play a responsible, two-way game.
Probable 1st and 2nd Round Picks: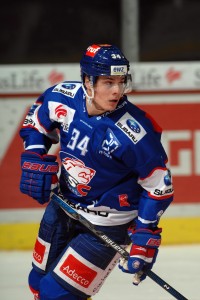 1st overall – Auston Matthews
Matthews is the easy decision at first overall. He has the potential to become a franchise center for the Leafs, and the team's prospect to rebuild around. Matthews offers a complete game with no holes. He has an electric shot which he fires through traffic. His game revolves around his tremendous hockey IQ which allows him to have incredible vision of the ice and read developing plays almost immediately. Matthews is a strong skater as well, reaching top speed in just three strides.
Of course, he would offer the Leafs a generational type player which their roster could be built around. He certainly has the ability to be a game changer and could come into the lineup in 2016-17 and make an immediate impact.
30th overall – Samuel Girard
The Leafs would consider themselves very lucky to have Girard slide to the end of the first round, as he could easily go in the 20s. Girard is a dynamic offensive defenceman who has the ability to be a difference maker. He shows tremendous knowledge of the game in all zones, reading plays well and being proactive to cut down opponents' scoring chances. Although he stands at just 5 feet 9 inches, 165 pounds, Girard plays a big man's game using his body positioning to solidify his own end.
Girard would instantly become the Leafs' top defensive prospect, offering some exciting talent in his two-way game. Girard suits the smart, skilled game that Toronto has been developing during their rebuild and could fit into their top pairing for many years to come.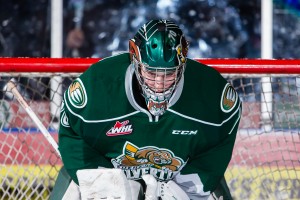 31st overall – Carter Hart
Toronto is lacking a promising goaltending prospect who could represent their future between the pipes. While their is a relatively tight top group of goaltenders, Hart seems to have the highest ceiling of them all. He is a very complete goalie who excels in his positioning and rebound control, two essential parts of the game. He has excellent flexibility and provides solid butterfly coverage. He is aggressive in his crease, cutting down shooting angles and forcing low quality shots.
Hart would be the face of the future for the Leafs once their rebuild was nearing completion. He has all the makings of an elite NHL goaltender and certainly has the potential to be the man who brings Toronto back to the glory days.
57th overall – Noah Gregor
The Leafs would be ecstatic to select Gregor near the end of the second round. He is a talented center who plays a responsible game and has some promising offensive edge. Gregor piled up 28 goals and 73 points in 72 games for the Moose Jaw Warriors this season, driven through his outstanding understanding of the game and awareness of the players around him. He is a smooth skater who can find lanes through traffic with ease. He also has a deceptive release, making him a dangerous goal scorer as well.
Gregor would quickly become one of the Leafs more exciting prospects due to the potential offensive upside. Being a natural center would also give him the flexibility to move around all three forward positions if needed. He would also shore up Toronto's need for depth at center.