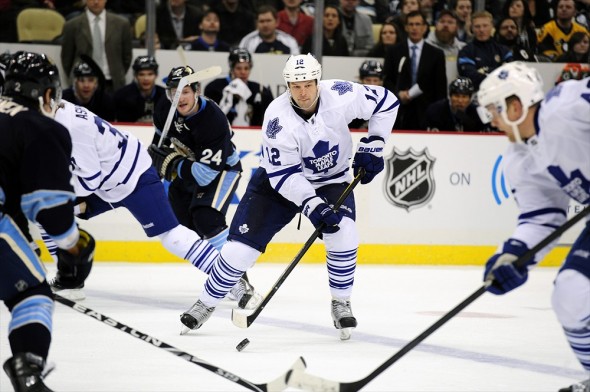 Like any professional sports team, the Toronto Maple Leafs have signed various players to contracts that, in the end, have worked out in a rather negative manner for the franchise. Unfortunately for the Maple Leafs, many if not all of these contracts are partially at fault for the team's lack of success over the last few seasons.
To be fair, not all of the players that will be mentioned in this column were signed by Brian Burke, nor any other general manager of the Maple Leafs. Some were acquired through trade, while the Leafs can certainly be held accountable for others.
Needless to say, there are a handful of contracts on the Leafs' current roster that don't exactly please the fan base. Below are the top five, ranked from worst to, well, let's just say a little better.
No. 1 – Tim Connolly (two years, $9.5 million)
$4.75 million cap hit, modified no-trade clause.
There's no doubt that GM Brian Burke signed Connolly because plan A, Brad Richards, had gone to the New York Rangers. Everyone knew about the chance Burke had taken by signing Connolly; he had played in 70 regular season games just once since the previous lockout in 2004-2005, meaning his health wasn't really known. Knowing what Connolly was capable of, however, the team took that chance and ran with it.
Now Connolly finds himself well into the Leafs' bottom-six forward group. In fact, there are some who even think Connolly will need to battle hard for a roster spot when hockey resumes. With the likes of Matt Frattin and Nazem Kadri waiting in the wings and considering the Leafs have the ability to send him to the AHL's Toronto Marlies, don't be surprised if Connolly isn't with the blue and white once a new collective bargaining agreement is reached.
The good news for the Leafs is that if the lockout lasts the entire season, barring some bizarre rule in the new CBA, Connolly will have burned a year of his lucrative contract without even playing hockey.
No. 2 – Mike Komisarek (five years $22.5 million)
$4.5 million cap hit, no-movement clause, modified no-trade clause.
From the high of anchoring the Leafs' blue line in his first game to the low of being merely an afterthought on the Leafs' roster, Komisarek's time with the Leafs has been, for lack of a better term, unenjoyable. Now, as some would see it, his time is finally coming to an end in Toronto.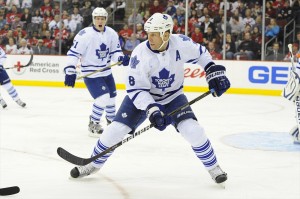 You can't fault Burke for signing Komisarek back in July of 2009. The Leafs were in desperate need of a makeover and Komisarek had recently been playing some very impressive shut-down hockey as a member of the Montreal Canadiens. Now Leaf fans are crying for a trade that would see him depart from Toronto.
Just for the sake of having fun, let's take a look at an excerpt from the TSN story on the Komisarek signing.
Every September, Komisarek will be asked by Toronto to submit a list of 12 teams he would accept a trade to. This will allow Toronto to control his contract in the event things don't work out the way both sides anticipate they will.
As it turns out, the deal has proven to be such a poor one that no team, not even almost half of the league, is willing to take on the rather expensive sheet of paper that comes along with Komisarek's services.
No. 3 – Matthew Lombardi (three years, $10.5 million)
$3.5 million cap hit.
It's easy to ask why Lombardi would be included on this list when he was acquired simply to relieve the Leafs of a much worse signing, Brett Lebda. This is true, Lebda's time in Toronto was near catastrophic and trading him for a bag of pucks would've been considered a victory by some Leaf fans, but one still has to wonder if taking on Lombardi's contract was worth it.
First of all, we must wonder what exactly made the Nashville Predators dish out this type of money to a player who hadn't notched 50 points in a season until the campaign prior. Sure he can play well at both ends of the rink but is that along with 19 goals and one 50-point campaign enough to garner almost four million a season?
Regardless, Lombardi has struggled as a member of the Buds. Perhaps he never fully recovered from the injury he suffered that wiped out all but two games of his 2010-2011 season but we can no longer concern ourselves with that.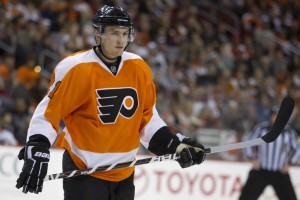 Similar to the Connolly situation, the Leafs may benefit from the lockout lasting an entire season as this would be the final one of his current contract.
No. 4 – James van Riemsdyk (six years, $25.5 million)
$4.25 million cap hit, modified n0-trade clause beginning in 2016-2017.
Van Riemsdyk's contract is nothing short of puzzling.
Prior to signing a six-year, $25.5 million deal with the Philadelphia Flyers following the 2010-2011 season, van Riemsdyk had just 153 games of regular season experience, during which he notched 36 goals and 75 points. Perhaps it was the career highs he set in 2010-2011, but one still has to wonder why the Flyers handed JvR that type of money so early into his career.
Still, the Leafs' trade for van Riemsdyk was viewed as a smart one. It helped fill a void up front and assuming van Riemsdyk continues on the right track during his development as an NHL forward, he will provide more scoring depth up front.
Unlike the other deals, this contract doesn't immediately have a negative affect on the Leafs' money situation. No one knows how van Riemsdyk will play in Toronto, so only time will tell. However, it does remain, as noted above, puzzling.
No. 5 – Mikhail Grabovski (five years, $27.5 million)
$5.5 million cap hit, modified no-trade clause.
There's no doubt that Grabovski is a very talented player. His offensive finesse is second-to-none and he is slowly becoming a more improved player in his own end. However, the fact remains that Grabovski wouldn't be a first line centre on many teams in the NHL, meaning his $5.5 million cap hit is sure to be viewed in a much more adverse way once the Leafs end up landing a true number one to play down the middle.
A second line centre should get paid second line money. It's really as simple as that. In Grabovski's case, it's clear that he and his agent were able to talk the Leafs up to a higher number using the simple argument that he is undoubtedly crucial to the team's offensive attack. Now he needs to really earn that money and hold down a spot on the first trio.
All contract information courtesy of Cap Geek.
Twitter: @LukasHardonk | Email: lukas.hardonk@gmail.com | Lukas' archive
For every Leafs article on THW, follow @THW_MapleLeafs on Twitter.
Check out Maple Leafs Central, a THW Network site.