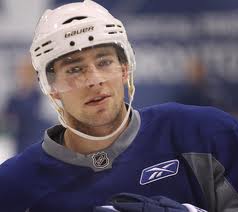 Toronto Maple Leafs forward Joffrey Lupul has signed with Avtomobilist Yekaterinburg of the KHL. David Pagnotta of The Fourth Period tweeted a deal was done on Tuesday and reported that Lupul will join the KHL in the next 7-10 days.
Lupul, 29, scored 25 goals and added 42 assists through 66 games with Toronto last season. A separated shoulder derailed what would surely have been an 80-90 point season for Lupul, which would have put him in very elite company in the scoring race.
Like most of the KHL contracts being signed by NHL players, the terms of Lupul's deal were not released, which begs the question— what the heck are these KHL teams paying these guys?
Most reports suggest that NHL players can earn up to 65 percent of their NHL salaries in the KHL. Estimates have Alexander Ovechkin making as much as $5.7 million on his KHL salary, although I was unable to confirm this.
Former NHL player and longtime Detroit Red Wing, Sergei Fedorov, is said to be making $14 million to play in the KHL this season. If that is true, what could the likes of Evgeni Malkin, Ilya Kovalchuk or Alexander Ovechkin expect to be paid if they decided to forgo their NHL contracts and stay in the KHL?
Better yet, what could Sidney Crosby, the face of the NHL, command from a KHL club? $40 million? $50 million?
With the NHL owners looking to pinch every penny, the obvious question is how in the world can a KHL team afford to pay the likes of Fedorov $14 million a season?
Admittedly, there are plenty of players in the KHL that are earning peanuts compared to Fedorov and whatever Ovechkin is actually making, but clearly the KHL has money to spend, especially for all-star calibre players.
Citing their displeasure for the current labor squabbles, many KHL players are said to be considering staying in the KHL should the NHL impose rollbacks to player contracts. While many believe their words to simply be posturing, you get the feeling the longer the lockout goes on the more likely these players will stay with their clubs, at least for this season.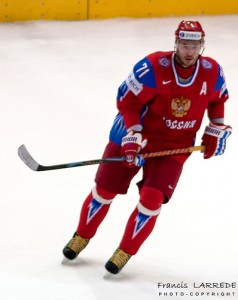 Here's what Kovalchuk said in an interview with Sportbox.ru:
"What we are offered now isn't serious," Kovalchuk said. "Alexander Ovechkin and I agree on this. I already discussed this matter with him as well as with Evgeni Malkin, Pavol Datsyuk and Ilya Bryzgalov. We'll wait for other proposals. In the meantime, we are all happy here (in the KHL). If the conditions in the NHL will be unclear, many guys will think twice whether to return there or not."
With more and more NHL players making the trip to Mother Russia, it is becoming very clear that many NHL players do not see an end to the lockout coming anytime soon.
The players want to play, and it seems they are willing to take less money with the KHL clubs to do it. Too bad they are not willing to take less (whatever that is) to remain in the NHL.