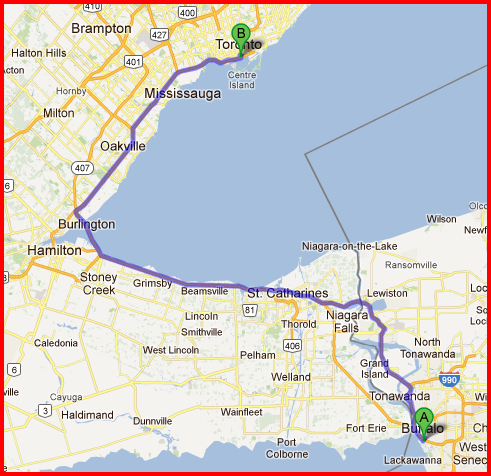 Tonight hockey fans once again get a chance to witness a battle of the QEW.  The Queen city travels to Toronto and faces off against Luke Schenn and the Leafs in Hogtown in what is sure to be a stellar hockey game.  Well it's sure to be a hockey game at least.
If the Toronto Maple Leafs thought they were in tough against the Flyers on Thursday night they might want to think again.  The Buffalo Sabres who currently sit in 9th in the East, are fresh off of a defeat at the hands of the Pittsburgh Penguins, their first regulation defeat since March 8th.  Over that stretch they are 7-2-2 and every one of their final 4 games are must wins.  2 of those games are against Toronto.
Make no mistake; both teams have something to play for.  The Sabres are looking to use the Leafs as a stepstool into the Stanley Cup Playoffs and the Leafs are playing for their fan base, trying to prove to ticketholders that they are 'trying' to win and that although they are mathematically out of it, they do have something to build on here and that all is not lost.  The ironic part is that a bulk of Leafs nation will be rooting for the Sabres tonight.  Firstly so that the Leafs can continue to tumble down into the depths of the top 5 draft choices and secondly because there is still a hope that with a Sabres win, the Ottawa Senators could still get bumped from the playoffs.  No Leaf fan will turn down a chance to see the Ottawa Senators get bounced.  For the Sabres, 8th is not enough.
Head to Head: this season is evenly split at 2-2 with a home and home remaining.  The Leafs lost the first game of the season by a 5-4 score and then went on to back to back wins.  Following their 2-0 victory over Buffalo on January 10th, The Leafs were in 7th and were inching towards 6th.  Meanwhile, the Sabres had lost 9 of 11 and there was a real sense of disappointment creeping into the queen city.  But when all seemed lost, the Sabres came back and won the last game by a 3-2 score in a close one on Jan 13th.  Since that time, the Sabres have gone 20-11-5 to escape the basement of the Eastern conference and are now embroiled in a race for 7th or 8th.  The Leafs have plummeted off the face of the earth and find themselves only 3 measly points up on their arch rival Montreal Canadiens for the absolute bottom of the conference.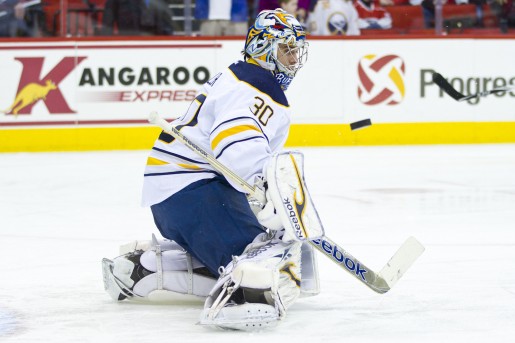 Head to Head All Time:  In 38 seasons since the Sabres joined the NHL, The Leafs have had a lot of trouble with Buffalo.  In 182 games, the Leafs are 63-101-18.  Yikes.  That's a winning percentage of .346 which is absolutely unacceptable.  It's even more terrible if you consider that the Leafs won 10 of the first 12.  In 38 seasons, the Leafs have only won 9 season series and split 2.  The Sabres have won 27, split 2 and swept 3.
Longest Leafs Losing Streak:  8 Games – Jan 1st, 2009 – December 18th, 2009.  The Sabres defeated the Leafs 8 times, outscoring them 30-13 over that stretch.
Longest Leafs Winless Streak:  11 Games – April 4th, 1976 – October 15th, 1977.  For a year and a half, the Sabres had the Leafs number with 9 wins and 2 ties.  During that time, the Sabres outscored the Leafs 47-22.
Longest Leafs Winning Streak: 5 Games – This happened twice and it is also their largest undefeated streak.  Unfortunately for Leaf fans, it hasn't happened since the first two seasons of the Sabres existence.  The Leafs won the first 5 games in the battle of the QEW outscoring the Sabres 16-5.  They also won 5 straight in year 2 of Buffalo's existence by a cumulative score of 22-8. The largest winning streak they have mustered since has been 3 on 2 separate occasions.  Once again, Yikes.
Goals Scoring Head to Head:  The Sabres have outscored the Leafs by a total cumulative score of 663-502.
Largest win for Toronto: 8-1 pounding of Sabres on December 18th, 1971.
Largest win for Buffalo: 14-4 Shellacking of Leafs on March 19th, 1981.  Surely Leaf fans Hope they don't ever have to witness one of these again.
Stanley Cup Finals: As it has been well documented, the Toronto Maple Leafs have not made it back to the Stanley Cup final since their Cup win in 1967, although they did come close on a few occasions.  One of those occasions came in 1999 when the Leafs were ousted by none other than the Buffalo Sabres.  The Sabres who have not yet won a Stanley Cup for their faithful fans of Western New York, have been to the Cup Final on 2 occasions.  Unfortunately, on one of these occasions, despite getting by the Leafs, the Sabres succumbed to the Dallas Stars in 1998-99 by 4 games to 2.  This is a Cup final that will forever be marred by the alleged foot in the crease incident.  In triple overtime, the Stars scored but Brett Hull had his foot in the crease.  Oh well, there's always this year.
What leg do the Leafs have to stand on? I did a little back checking and although Toronto has not done well historically against the Sabres or at all for that matter, there was this one magical comeback game which strikes a chord for many Leaf fans.  In this video, you'll notice some great ex Leafs and it will make you wonder why they didn't get a chance with that group.  The video features the likes of Mats Sundin, Brian Leetch, Ron Francis, Owen Nolan and even one ex larger than life ex-Sabre; Alexander Mogilny.  Have a look.
Buffalo has to Win: If the Buffalo Sabres can rise above and defeat the Toronto Maple Leafs tonight, they will not only advance their all-time standing over the Buds but they will also make it that much more difficult on the Washington Capitals and Ottawa Senators who are also in action tonight.  They will be facing off against a goalie tandem that a week ago was featured on the Leafs' AHL affiliate team.  This game should be a sinch for the Sabres, they should come in and just crush Toronto.  But that's why they play the games.   The Leafs will be playing for personal pride against the wishes of their fan base who want a high draft pick.  A young goalie will be trying to prove that he belongs in the big leagues.  And the Hockey gods will take note that the Leafs have not won at home since Monday February 6th against the Edmonton Oilers, and will surely give the blue and white a bounce they didn't otherwise deserve.  Speaking of bounces, count on the Sabres to get their fair share (insert Thomas Vanek's goal last night against the Pens)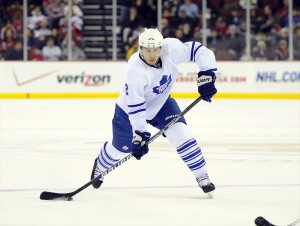 What will the fans chant at this game? Well it's clear that Leaf fans are disappointed. It's been a very long time since the Club has won a Stanley Cup, but it's now been 7 straight seasons without a post-season berth.  This year's team looked like it was going to be a force and a post season contender until they hit the skids in February and just haven't been able to get out of their funk.  All the power to you Leaf fans, cheer on the Blue Jays, the Sabres or even a first round draft choice like 'Filip Forsberg' which has a nice ring to it, but be loud.  As it stands right now, Stubhub has 58 tickets available for tonight's game starting at $58.00 so you can bet that many Sabres fans will be taking the 104 mile trek from First Niagara place to the ACC for tonight's game.  If I was a betting man, I'd say that "Let's Go Sabres" will resonate loudly.  What I just don't know which fan base will start the cheering.
Note: The Rochester Amerks are hosting the Toronto Marlies tonight in a regular season matchup that matters to both sides.  You may also want to tune in there.
Don't forget to also have a read of Lukas Hardonk's piece on The Toronto Maple Leafs' Bottom Six – https://thehockeywriters.com/toronto-maple-leafs-bottom-six-consists-of-too-much-diversity/
Twitter: @StonemanStephen | Email: stoneford@yahoo.com | Stephen's archive
For every Maple Leafs article on THW, follow @THW_MapleLeafs  on Twitter.