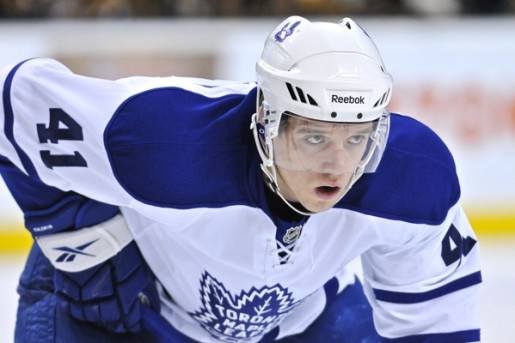 This is part three of a three-part series grading the Toronto Maple Leafs by position. To view other editions and the date they are set to be published, click here.
Depending on who you talk to, it has been the Toronto Maple Leafs' biggest issue and the Maple Leafs' biggest weakness for years: the forwards.
No, the Maple Leafs don't yet have that elusive top line centre that will push Phil Kessel to the 40-goal plateau or a large, physical winger playing on the first or second line. What they do have, though, is depth. That, depth, is what makes the Leafs' group of forwards what it is─good enough.
What many people don't realize is how underrated the Maple Leafs' forwards are. A large part of that is thanks to the team's collapse mid-season in 2011-2012, but that doesn't mean they have a poor group of forwards.
Kessel scored at a point-per-game pace last season with 82 points, 37 of which were goals, in just as many games; Joffrey Lupul had 25 goals and 67 points before his season was cut short at 66 games; Mikhail Grabovski had another solid season with 51 points in 74 games. That's just the top line.
Both Tyler Bozak and Clarke MacArthur played a solid two-way game all season long while finishing with 47 and 43 points respectively. Both played in 73 of 82 games and kept their penalty minutes relatively low. The only thing the Leafs missed from the second line last season was a repeat performance from Nikolai Kulemin, who managed just seven goals after notching 30 markers one season prior. That was acceptable, though, as Kulemin wasn't too shabby defensively.
Now with James van Riemsdyk a member of the blue and white and likely to skate on the second line, it's expected that Kulemin will land a spot on the third line with Jay McClement and an undetermined winger. At this point in time, it seems as though Kulemin will benefit from the addition of van Riemsdyk despite his demotion. Although Kulemin currently looks somewhat awkward on the third line, such a role will suit him better if he isn't able to regain his 30-goal form.
The Leafs' forward depth chart is a lot less clear than the defencemen and goaltenders.
Lupul – Grabovski – Kessel
MacArthur – Bozak – van Riemsdyk
Kulemin – McClement – Connolly
Frattin – Steckel – Lombardi
Wildcards: Brown, Orr, Kadri
We aren't entirely sure how Tim Connolly, Matt Frattin, David Steckel and Matthew Lombardi will stack up this season. Neither Frattin nor Steckel blew anybody away last season, but they succeeded in their given roles and don't cost very much money. Connolly and Lombardi are almost the exact opposite in both senses, but they bring a wealth of experience and leadership to the room.
If all four make the Leafs' lineup out of training camp, that leaves Nazem Kadri essentially out of the picture and right back with the AHL's Toronto Marlies. Such a move wouldn't come as much of a surprise following the body fat drama. Still, Kadri was expected to be a large part of the Leafs' success this season. That's still a possibility, but it appears less and less likely each day.
Then we have to wonder about team toughness. Without Jay Rosehill, do the Leafs have to find a way to add strength and grit to their lineup? Not necissarily, although Colton Orr and Mike Brown would be useful against certain teams. Unlike Orr, though, Brown has also played a solid checking role for the Leafs since he joined the team. The good news for the Leafs is that toughness seems to be becoming less and less important each season, so it's not much to worry about.
Current overall forward grade: B
The Maple Leafs' current forward group is certainly good enough to get the to the playoffs. Whether they actually will achieve that mark when they get their next chance is debatable. This columnist believes they can, but that's another story for another day.
The point is that the Leafs have a select group of NHL all-stars up front. Namely Kessel and Lupul, but van Riemsdyk and Grabovski have the potential to reach that height in their careers. The Leafs' forward lines are well-rounded with a solid bottom-six, giving them the ability to play a nice two-way game.
Despite all of that, there is still plenty of room to grow offensively, which is exactly why the Toronto Maple Leafs are not A-OK up front.
Twitter: @LukasHardonk | Email: lukas.hardonk@gmail.com | Lukas' archive
For every Leafs article on THW, follow @THW_MapleLeafs on Twitter.
Check out Maple Leafs Central, a THW Network site.
Lukas, a student at the University of Ottawa, covers the Toronto Maple Leafs on a part-time basis for The Hockey Writers. Contact Lukas at lukas.hardonk@gmail.com or follow him on Twitter, @LukasHardonk.