Friday, the Providence Bruins will open the season at home against the Manchester Monarchs. After missing the playoffs just twice in their first seventeen years of existence, the P-Bruins failed to make their way to the postseason in each of the past three.
Still, optimism reigns for the denizens of the Dunk. This season, Providence added three of the Bruins top-six prospects to their roster (Jared Knight, Ryan Spooner and Torey Krug) while retaining a half-dozen sophomore's from last season's young club.
That youthful energy (and the NHL lockout) fueled spirited battles for jobs during training-camp. With 35 campers competing for some twenty-odd jobs, the competition was fierce. Twenty-four players remain and more cuts could be in the pipeline
P-Bruins' Forwards
Additions: Chris Bourque, LW; Ryan Spooner, C; Jared Knight, RW; Justin Florek, LW; Christian Hanson, C
Subtractions: Josh Hennessy, C; Jamie Arniel, C; Kirk McDonald, RW; Zach Hamill, C; Calle Ridderwall, LW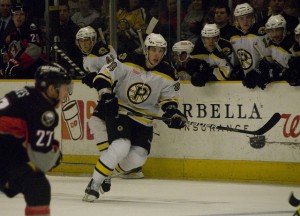 The P-Bruins offense struggled mightily in 2011-12, finishing with the AHL's fourth-worst goal total (after finishing with the third and fourth worst in '10-'11 and '09-'10 respectively). They had only one twenty-goal scorer and no players with as many as fifty points. In a whopping thirty percent of their games they scored a goal or fewer.
However, this season expectations are high. The team brought-in Chris Bourque – last season's AHL scoring-leader and son of the Bruins' venerated Ray. The offensively-gifted Spooner will take to the ice for his first pro season, along with best bud and two-way threat Knight.
Returning second-year forwards Carter Camper and Craig Cunningham look to replicate the production that made them (as rookies) the team's goals and points leaders. Thanks to the lockout, Jordan Caron is back from Boston after an impressive second-half last year. The talented Max Sauve will seek to rebound after (another) injury-riddled campaign.
The P-Bruins' bottom six has several options for fistic contributions from the likes of Bobby Robins, Lane MacDermid and Tyler Randell. Additionally, there's considerable veteran leadership in the visages of captain Trent Whitfield, alternate Jamie Tardif plus the recently-acquired Christian Hanson.
The P-Bruins powerplay failed miserably last season – scoring 42 times on 294 man-advantage situations for a league-worst 14.3% conversion rate. The addition of the small 'n skilled duo of Spooner and Bourque should help to bolster their special teams' success but the secondary scoring must return if they want to climb out of the cellar.
All told, this is a lineup that shouldn't struggle to put goals on the board. Despite lacking size and grit in their top-six the P-Bruins' forwards have the skill to erase memories of last season's disappointments.
Player to Watch:  Justin Florek – In a lineup with so much high-end skill, you might point to recognizable names like Spooner, Knight and Caron; but Justin Florek is a big man who moves well and can finish around the net. If he develops his physical game and strength during the season he could become a real force – and 20-20-40 finish within reach.
Projected Lines:
Bourque-Spooner-Sauve
Caron-Camper-Cunningham
Florek-Hanson/MacKinnon-Knight
MacDermid-Whitfield-Tardif
P-Bruins' Defensemen
Additions: Tommy Cross, LD; Zach Trotman, RD; Torey Krug, LD; Garnet Exelby, LD
Subtractions: Andrew Bodnarchuk, LD; Zach McKelvie, LD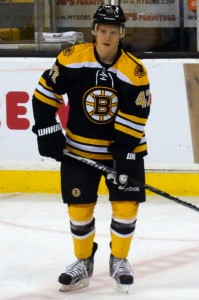 Unlike the offense, the P-Bruins defense was fairly middle-of-the-road in 2011-12, finishing fourteenth in the AHL allowing 214 goals-against. This marked a stark turnaround from the previous year, when the Baby-B's finished with the seventh-worst defense in the League. It was the franchise's best defensive performance since their division-winning '07-'08 campaign.
Consequentially, there was decidedly less turnover on the Bruins' blue line this offseason. The club added veteran defenseman Garnet Exelby, whose leadership (he was named captain of his last two AHL clubs) and physicality will factor-in nicely for Providence this year. The team also supplemented their corps with rookies: Torey Krug, Tommy Cross and Zach Trotman, fresh out of college and brief pro stints last spring.
These supplemental bodies will join a trio of second-year pros (Ryan Button, David Warsofsky and Kevan Miller) and third-year blueliners Matt Bartkowski and Colby Cohen. Hoping to rebound solidly from inconsistent performances last year, Cohen and Button need to get off to a good start. Miller and Warsofsky each saw solid rookie performances and expect to take the next steps in their respective careers.
Right now the B's have eight D left from camp – really an untenable total. Tommy Cross will start the season with the Bruins' ECHL affiliate, the South Carolina Stingrays at least to start the season, with the team looking at in-season production and injuries to guide further call-ups and cuts.
Player to Watch:  Kevan Miller – Few players experience rises like the P-Bruins shutdown man, Kevan Miller, who rapidly went from AHL tryout player to NHL contract in the span of a few months. If he continues to rise, he could earn some time in Boston before you know it.
Projected Pairings:
Bartkowski-Miller
Warsofsky-Exelby
Button/Krug-Cohen/Trotman
P-Bruins' Goaltenders
Additions: Niklas Svedberg, Adam Morrison
Subtractions: Anton Khudobin
In 2011-12, the Bruins pair of Anton Khudobin and Michael Hutchinson stopped 2118 of the 2297 shots they faced for a combined .922 Sv%, making them arguably the top duo in the AHL. This year, Khudobin would've played in Boston if not for the lockout, so he's playing for Atlant Mytishchi of the KHL.
Hutchinson will take the reins and grab the lion's share of Providence's starts after his excellent 2011-12 campaign. He finished with the fourth-best save percentage among AHL qualifiers in 29 games as Khudobin's backup. Despite offseason hip surgery, the P-Bruins starter looked solid in camp.
Hutch can't rest on his laurels: Swedish 'tender Niklas Svedberg is coming off a huge run, leading Brynäs to the Elitserien title and he's impressed in limited action throughout the summer and early fall. Similarly, Adam Morrison appeared strong – though he's destined to start the year in S.C.
It will be hard for the Svedberg/Hutch combo to match last year's numbers if the P-Bruins' shot-denial defense doesn't improve to some degree but this is a talented pair with NHL potential.
Starter: Hutchinson
Backup: Svedberg
Fearless 2012-13 Predictions:
P-Bruins MVP: Carter Camper
P-Bruins Comeback Player: Ryan Button
P-Bruins Defenseman of the Year: Kevan Miller
P-Bruins Leading Scorer: Chris Bourque (70p)
P-Bruins Leading Goal-Scorer: Jordan Caron (29g)
P-Bruins Rookie of the Year: Torey Krug
P-Bruins Goalie of the Year: Michael Hutchinson
P-Bruins Seventh-Man: Jared Knight
Predicted Record: 37-28-4-7, 85 points, 2nd Atlantic; 7th East
Season Outlook
With the cutting of Kelsey Wilson, the Providence Bruins seemingly assured the fact that this team will have a 'youthful majority'. Twelve of the twenty-four remaining players are in their first or second year of North American pro hockey (with several other third-years). Unlike many of the teams around the AHL, the P-Bruins will only dress one player who played the majority of his 2011-12 season (Caron). That sounds like a recipe for disaster.
Fortunately for the Bruins, the young talent they received this offseason represents some of the best in the organization. Seven of the B's eleven best prospects will lace 'em up at the Dunkin' Donuts Center this year. Veteran additions like Exelby, Bourque and Hanson will provide additional 'oomph' to the lineup. This team has depth, strength and some skill on top.
Their primary goal should be a postseason berth and some valuable experience for the young guys. It won't be easy, but it's certainly attainable.
With all of the turbulence in the North American hockey landscape, it's difficult to project where the chips will fall. Still, after three years of disappointment, things are looking up in Providence.