Earlier this morning Quebec City unveiled the first images of its future arena. The state-of-the-art architecture of the future sports arena took inspiration from the Consol Energy arena, home of the Pittsburgh Penguins. During the information session, Quebec City Mayor, Régis Labeaume, indicated the arena: "was very beautiful and looked like the people of Quebec City."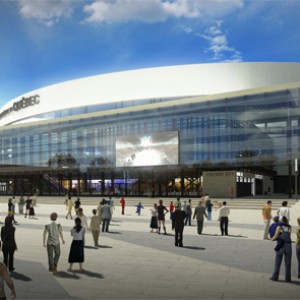 The model and the architectural concept was unveiled to the press at the city hall exactly 40 years after the Quebec Nordiques played their first game in the World Hockey Association (WHA) on October 11, 1972. Coached by the Rocket, Maurice Richard, the Nordiques lost 2-0 on the road against the Cleveland Crusaders.
The new state-of-the start arena will be ready in the fall of 2015 (planned opening date of August 28th, 2015) and will have a capacity of 18,000 seats. The $400 million arena will occupy approximately 64,000 square metres of space. A television studio for Quebecor, valued at approximately $40 million, will be constructed within the arena. On March 1, 2011 Quebecor purchased the naming rights and management of the arena.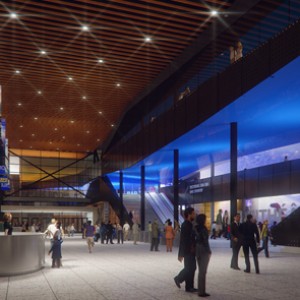 The amount they will pay will depend whether an NHL team moves in, and is expected to be between $33 million and $63 million up front, plus between $3.15 million and $5 million in annual rent. The government of Quebec is going to invest $200 million, and Quebec City will invest $187 million. The last $13 million are to be raised by a private sector group J'ai Ma Place.  The building will be divided in three separate areas: the arena, the entrance hall and the administration, and the sports restaurant. According to Labeaume "this will be the most beautiful arena in North America." The arena plans also include 6 VIP seats next to players' bench (if players there are obviously), which would a unique concept in the world.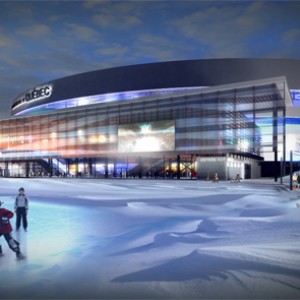 The current Colisee, which opened in 1949, is outdated by new-arena standards, despite some retrofitting to the boards during the past summer. With a capacity of more than 15,000 fans, the old Colisee Pepsi could temporarily welcome an NHL team for a couple of seasons if the league decides to move of the struggling franchises to Quebec City before the construction is completed two years from now.
In the meantime, La Tournée des Joueurs (The Players' Tour) will stop at the Colisee tonight when Team Quebec will face Team Montreal.
More than 30 NHL players will participate in the game. You can find the line-ups here.
A long-time Joe Sakic fan, Fred, 35, is a freelance sports writer and translator. Fred earned a Bachelor of Translation in 2002 at Laval University in Quebec City. He also writes on the Montreal Canadiens for HabsAddict.com and he is an associate editor and a baseball columnist on Dobberbaseball.com. He is also fluent in English, French and Spanish.