With 29 games of the 2018-19 NHL season now behind the team, there's even more to say about the Toronto Maple Leafs than when I graded the Maple Leafs' forwards a few days ago. Unlike the adulation laid on the Maple Leafs' strong, young forward corps by the team's fans, the defense doesn't get much love.
Furthermore, the goalies (or goalie – Frederik Andersen is the star) don't raise much conversation. Maple Leafs' fans just seem to accept that Andersen will face 40+ shots and will stop 38.5 of them.
In this post, I offer my first-third of the season grades for the defense and the goalies. Let's look at each of these two groups of Maple Leafs players' body of work – position by position – starting with the Defensemen.
Defensemen
Jake Gardiner, Grade B+
Gardiner has recently played better – at least more offensively. His five points in the last three games remind us that Gardiner has yearly been a 40-45 point scorer. Gardiner gets plenty of five-on-five minutes, which is great. However, playing so many minutes with so much offensive skill, shouldn't we expect more offensive production? Gardiner's a nice plus-nine, but look at Hainsey (plus-16) and Rielly (plus-14).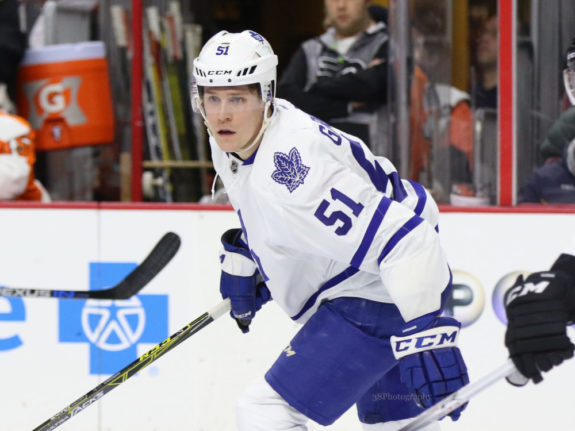 Morgan Rielly, Grade A+
Rielly has 31 points (nine goals, 22 assists) in 29 games. He is, as Jim Parsons noted in his Nov. 5 post, making a strong case to be considered for the Norris Trophy – at least a nomination. He's playing at a higher level this season and has become the defender the Leafs desperately need. It's a treat to watch Rielly play.
Related – Morgan Rielly: Way-Too Early Candidate for Norris Trophy
Nikita Zaitsev, Grade C
This 27-year old has played 29 games, scoring zero goals with two assists. But who's noticed? He's obviously doing his job, which is meant as a compliment; but, I haven't really noticed him much this year.
Igor Ozhiganov, Grade C
For much of the year Ozhiganov and Travis Dermott have been paired on the third unit; so, it's a bit surprising that – similar to Zaitsev – I haven't noticed him much this year. Although it's not a knock, in Ozhiganov's case, it isn't a compliment either.
Ron Hainsey, Grade B+
People who read my posts already know what I think of Hainsey. In my mind, he's a veteran's veteran. He might not be the speediest skater, but his play is strong at both ends of the ice. In 29 games, he's scored three goals and nine assists to complement a plus-16 rating and 19:04 average ice time. He's probably never been graded with an A anywhere he's played, but he's the kind of player coaches often see differently than fans. In my mind he's a solid B+.
Related: The Old Prof's "Maple Leafs 'Just-a-Guy' Awards" for November
Travis Dermott, Grade B+
Dermott was briefly demoted to the minors – not because of poor play, but because the Maple Leafs needed roster flexibility to sign William Nylander. Now that Dermott is back from AHL, the club traded fan favorite Josh Leivo to Vancouver. My point is that Dermott seems involved in the action, even if it isn't all on-ice.
How do you not like Dermott? He's the defensive's version of Kasperi Kapanen. He's seems confident, but not cocky – which boils down to "level-headed." I, for one, look forward to watching Dermott grow as an NHL defensemen.
Goaltenders
Frederik Andersen, Grade A+
Andersen's most recent game was like most of his other games. He's the King of 40-shot-against-him nights, and against the Sabres he allowed only three goals on 41 shots. Facing a hard-working Sabre offense, Andersen made stop after stop – especially in overtime, which gave Auston Matthews a chance to score a highlight-reel goal less than three seconds before a shootout.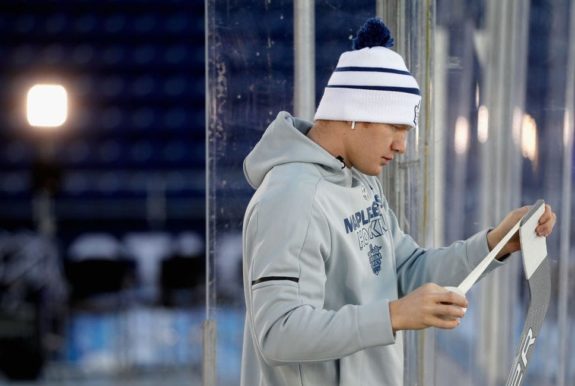 Andersen is on a personal four-game win streak, where (as always) he's faced 40 shots plus each game. As I wrote in an earlier post, I think Andersen is the Maple Leafs' best player at this point in the season – especially with Matthews missing games. Andersen didn't have the sort of early season issues some fans feared. He's been "Steady Freddy."
Related: Frederik Andersen: Toronto Maple Leafs' Best Player By Far
Garret Sparks, Grade B
In the 5-4 overtime loss to the Detroit Red Wings, Sparks was shaky during the first period, and the Red Wings took a 4-1 lead. But, he turned his game around enough to give the Maple Leafs a chance to tie 4-4 before overtime. Although Sparks didn't show well that night, his 4-1-1 record is good enough for a back-up goalie. Here's hoping his confidence increases so he can provide the relief Andersen needs to stay rested.
In Summary
To have the second-best record in the NHL, the entire team must be playing well. The Maple Leafs' fans appreciate their talented forwards, but fans also believe the defense must be better. Gardiner seems particularly easy to target; however, to my mind he's not alone. The entire defense must be better. And, no question, the goaltending is really strong.
The more important question might be: What does Mike Babcock think about his defense? I'm wondering if, as the year rolls on, Babcock and Kyle Dubas will put their heads together and rent some defensive help. It might be wise as the team moves towards the playoffs.
The Old Prof (Jim Parsons, Sr.) taught for more than 40 years in the Faculty of Education at the University of Alberta. He's a Canadian boy, who has two degrees from the University of Kentucky and a doctorate from the University of Texas. He is now retired on Vancouver Island, where he lives with his family. His hobbies include playing with his hockey cards and simply being a sports fan – hockey, the Toronto Raptors, and CFL football (thinks Ricky Ray personifies how a professional athlete should act).
If you wonder why he doesn't use his real name, it's because his son – who's also Jim Parsons – wrote for The Hockey Writers first and asked Jim Sr. to use another name so readers wouldn't confuse their work.
Because Jim Sr. had worked in China, he adopted the Mandarin word for teacher (老師). The first character lǎo (老) means "old," and the second character shī (師) means "teacher." The literal translation of lǎoshī is "old teacher." That became his pen name. Today, other than writing for The Hockey Writers, he teaches graduate students research design at several Canadian universities.
He looks forward to sharing his insights about the Toronto Maple Leafs and about how sports engages life more fully. His Twitter address is https://twitter.com/TheOldProf