On Monday night, Frederik Andersen was amazing leading the Toronto Maple Leafs to yet another victory. Except for two goals by the Boston Bruins' young star David Pastrnak, Andersen stopped 38 of 40 shots in Monday's 4-2 win. That's a lot of shots, and that's a lot of saves – a save percentage of a nifty .950. But, as good as that seems, it is typical of how the 29-year-old Andersen has played this season. He is, without a doubt, the Maple Leafs' MVP. And, one can make a case that he has been their MVP since he signed with the Leafs before the 2016-17 season.
Andersen's record for November was 7-3-0, with a .944 save percentage – not far below his stellar save percentage for the Bruins' game. Only his exceptional goaltending held the fort against a Bruins team that fired 40 shots at him. But, as I noted, that's not new. In 2017-18, Andersen led the NHL in wins when facing 40 or more shots. He also started and finished the most games and faced the most shots among all goalies.
About Frederik Anderson: The Backstory
Before Andersen played for the Maple Leafs, he had a successful three-year stint with the Anaheim Ducks. And, during this year's 2018 IIHF World Championship held in his home country, he led Denmark's national team to a strong finish. My point: Andersen's success this year has not come out of the blue (and white).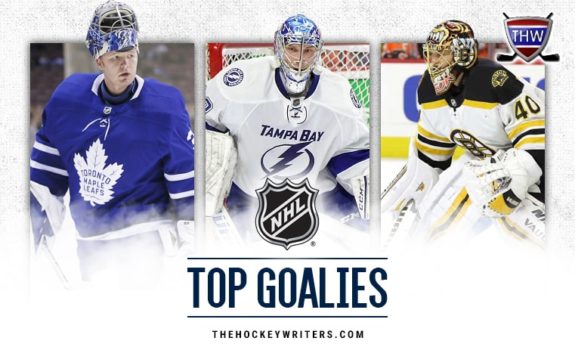 Denmark, an international hockey force? Put that on Andersen (Winnipeg Jets' forward Nikolaj Ehlers is also from Denmark, but he didn't play in the World Championships). Perhaps (unlike his home country) Andersen is the best "big" goalie in the NHL, although that's a tough call. The Jets' Connor Hellebuyck and the Sharks' Martin Jones (also 6'4") have also been strong goalies for a few seasons.
As noted by NHL.com Andersen was drafted by the Carolina Hurricanes in the 7th round (No. 187) of the 2010 NHL Draft. But, because Cam Ward was the go-to guy and because the 'Canes had goaltending depth, Andersen stayed in Denmark. When the Ducks picked him in the 3rd round (No. 87) of the 2012 NHL Draft, Andersen signed and made his NHL debut on Oct. 20, 2013, when he replaced Jonas Hiller to start the second period in a 6-3 victory against the Dallas Stars. In a foreshadowing of what was to come, Andersen made 24 saves to shut out the Stars during the final two periods.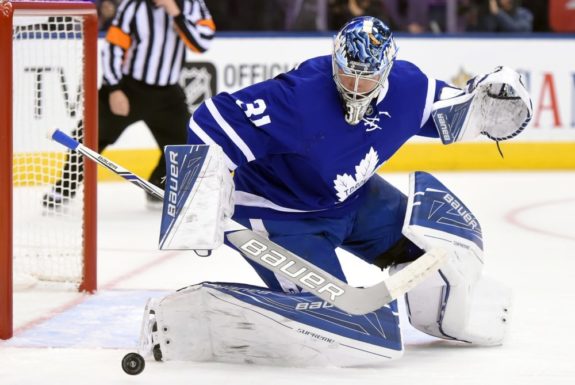 In the 2014-15, Andersen and John Gibson became goaltending partners in Anaheim, where Andersen led the tandem with a 35-12-5 record, a 2.38 goals-against average, and a .914 save percentage. The Ducks advanced to the 2015 Western Conference Final. On Mar. 3, 2015, Andersen tied legendary Canadiens' goalie Bill Durnan's long-held record as the fastest goaltender to reach the 50-win mark in NHL history with his 50th NHL victory in his 68th game.
In 2015-16, Andersen and Gibson teamed to win the William M. Jennings Trophy by allowing the fewest goals (192) during the regular season. As Andersen's contract was ending, the Ducks decided to keep Gibson as their #1 goalie and traded Andersen to the Leafs. The rest is Maple Leaf history.
Andersen immediately became Toronto's No. 1 goalie, playing 66 games in each of his first two seasons, winning 33 games in 2016-17 and 38 in 2017-18. His strong goaltending helped Toronto make back-to-back Stanley Cup Playoff appearances for the first time since 2003 and 2004.
RELATED: NHL Rumors – Flames, Maple Leafs and More
Andersen is Thriving in Toronto
Andersen both likes and willingly carries the responsibility of playing in Toronto. As NHL.com's Pat Pickens reported on Sept. 24, 2018, Andersen's donned a new mask that honors Denmark, Toronto, and (of course) Batman. The mask, designed by David Gunnarsson of DaveArt, is called "The Blue Knight of The Blue and White." It incorporates Batman from the Denmark-based Lego Group, which Andersen notes, "every kid in Denmark has played with Legos." For Andersen, "The Lego theme has been a classic for me and something that's personal." Similar to his 2016-17 mask, Batman overlooks the skyline of Toronto like Andersen watches over the ice of Scotiabank Arena.
He is one of the league's most aggressive goalies. He attacks shooters, steals their angles, and uses his size to block even the toughest shots. Even after recent consecutive losses, Andersen leads the NHL with 13 wins.
Related: Maple Leafs' Matthews Ready to Return Tomorrow
No doubt, the Maple Leafs have good young players and veterans. A case can be made that Mitch Marner, whose 33 points tie him for third in the NHL, has done his fair share carrying the Leafs. And, it is not like Morgan Rielly has not played well.
But, at this point in the season, Andersen is the man, the Maple Leafs' MVP and best player. And, like Team Denmark's success in this year's international tournament, if the Leafs hope to make a long playoff run, they need Andersen to keep being their best player.
The Old Prof (Jim Parsons, Sr.) taught for more than 40 years in the Faculty of Education at the University of Alberta. He's a Canadian boy, who has two degrees from the University of Kentucky and a doctorate from the University of Texas. He is now retired on Vancouver Island, where he lives with his family. His hobbies include playing with his hockey cards and simply being a sports fan – hockey, the Toronto Raptors, and CFL football (thinks Ricky Ray personifies how a professional athlete should act).
If you wonder why he doesn't use his real name, it's because his son – who's also Jim Parsons – wrote for The Hockey Writers first and asked Jim Sr. to use another name so readers wouldn't confuse their work.
Because Jim Sr. had worked in China, he adopted the Mandarin word for teacher (老師). The first character lǎo (老) means "old," and the second character shī (師) means "teacher." The literal translation of lǎoshī is "old teacher." That became his pen name. Today, other than writing for The Hockey Writers, he teaches graduate students research design at several Canadian universities.
He looks forward to sharing his insights about the Toronto Maple Leafs and about how sports engages life more fully. His Twitter address is https://twitter.com/TheOldProf