On Nov. 22, the Pittsburgh Penguins announced that they had placed starting goaltender Matt Murray on injured reserve with a lower-body injury. Head coach Mike Sullivan said that he was expecting Murray to be out "longer-term" and that it was an injury that had been plaguing Murray for some time.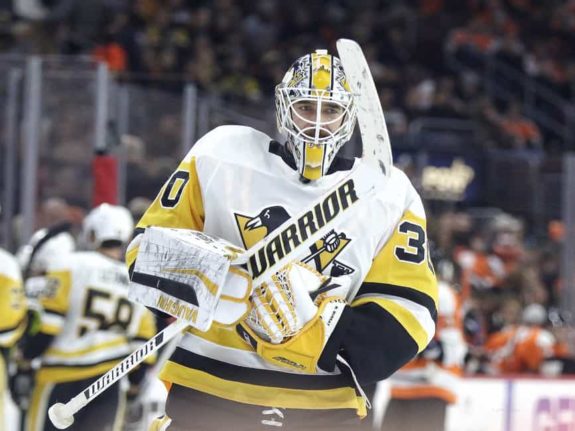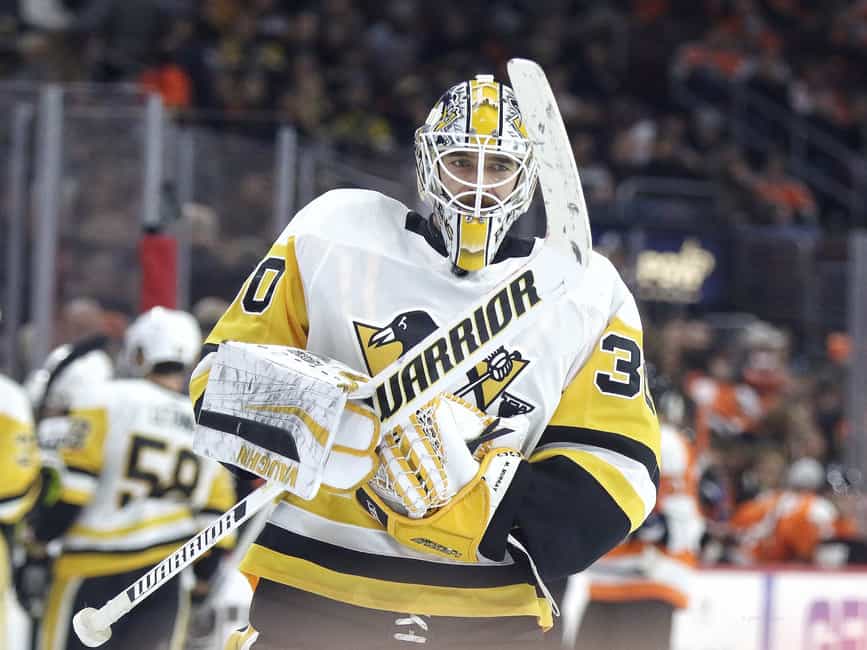 The announcement seemed to come out of nowhere, but it would make sense that Murray had been dealing with some sort of ailment this season, as he has struggled between the pipes. In 11 games, he has a 4-5-1 record with a 4.08 goals-against average and a .877 save percentage.
Murray Out, Jarry In
With Murray out, Casey DeSmith will take over the starting duties, and Tristan Jarry has been called up on an emergency basis in order to backup DeSmith. The Penguins, who have never been shy about starting their backup, will need to rely on Jarry to get them back into the playoff picture. In his first start this season, on Nov. 23 against the Boston Bruins, Jarry turned away 35 of 37 shots in an overtime loss. It was an impressive showing for the 6-foot-2 goaltender from Surray, BC, and I believe he will continue to prove his worth.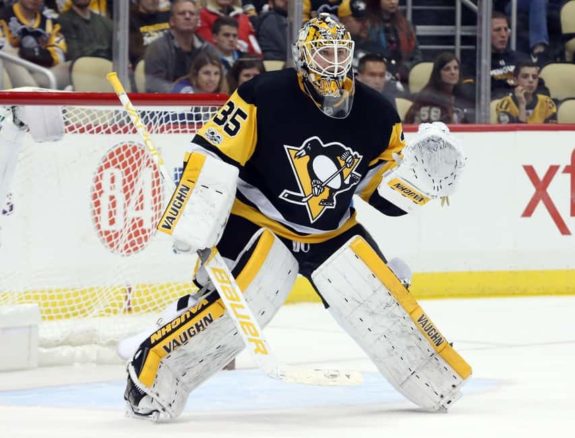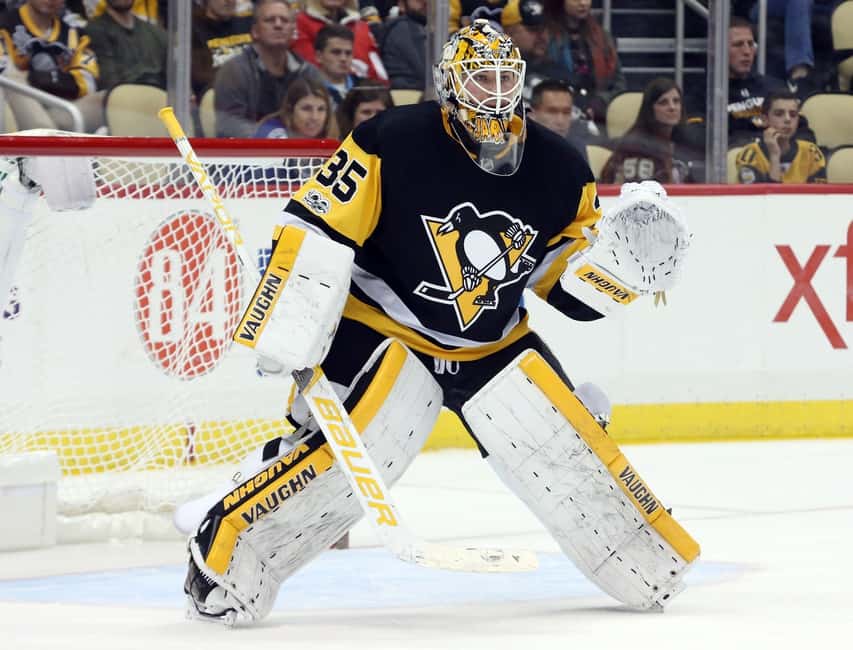 Impressive AHL Background
Jarry is average size for an NHL goaltender, but he often looks a lot bigger by moving way outside his crease to challenge shooters. He was in heavy competition with DeSmith for the backup position in the preseason, but an injury in the Penguins' final preseason game forced the team to place him on their injured non-roster prior to the beginning of the season. He was eventually assigned to the Penguins' AHL affiliate, the Wilkes-Barre/Scranton Baby Penguins.
As mentioned, Jarry has had success in the few games he's played in the NHL, but he is one of the more accomplished AHL goaltenders since playing his first professional game in 2015. In 105 career games with Wilkes-Barre/Scranton, he has a 58-38-5 record and his impressive season was in 2016-17 when he won the Hap Holmes Memorial Award (along with DeSmith) for being the goaltender (minimum 25 games) on the team that leads the AHL in goals-against average.
Oh, and I should probably mention that he's scored a goal this year:
🚨GOALIE GOAL ALERT🚨

Tristan Jarry gets a goal for the @WBSPenguins, the first goalie goal in WBS history! pic.twitter.com/cvMwvFqP61

— American Hockey League (@TheAHL) November 14, 2018
It takes a lot of confidence for a goalie to attempt to score on an open net, and Jarry will bring that confidence into a Penguins locker room that desperately needs it right now. With that goal, he now has more goals this season than Olli Maatta, Daniel Sprong, and Derek Grant. His ability to play the puck will help the Penguins take control on dump-ins – a sometimes underrated part of being an NHL goalie – as well as allow him to start the rush and try to catch the opposing teams on a bad line change. Since starting his professional hockey career in 2015, he has one goal and five assists.
A Good Problem To Have
When all three goalies are healthy, Murray is the best of the three, but having Jarry capable of playing well at the NHL level will allow the Penguins to ease Murray back into the lineup and not feel forced to rush him. Considering the injury has been troubling Murray for some time now, he can take his time rehabbing back to 100 percent while DeSmith and Jarry take care of the Penguins' cage.
Jarry has more than proven himself at the AHL level, and while you never like to see anyone go down with an injury, this is a great opportunity for him to prove that he deserves to be in the big leagues. At 23 years old, he already has years of experience and is far from hitting the peak of his potential.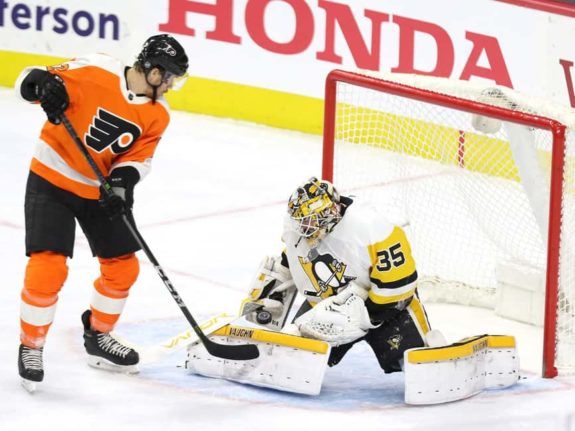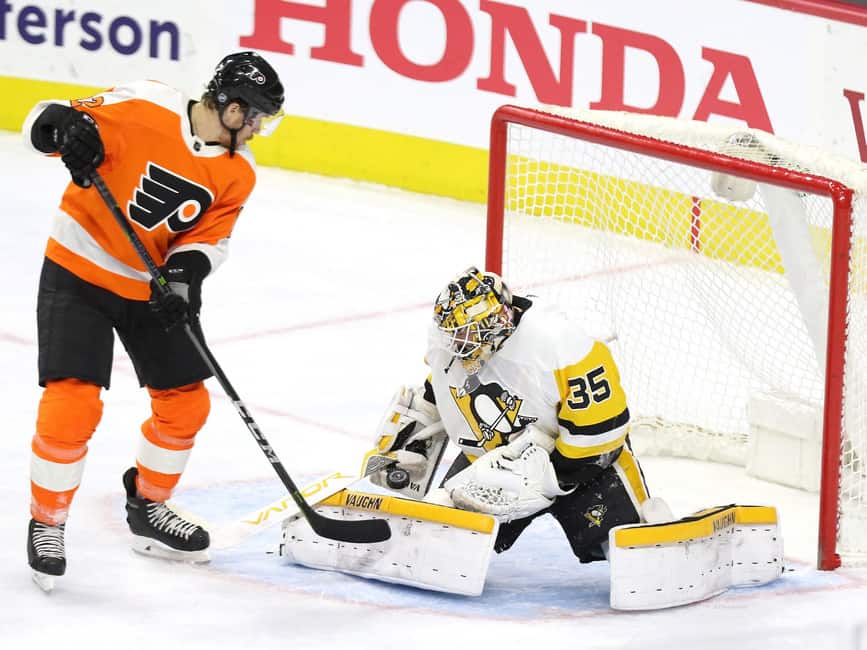 The problem facing the Penguins is trying to figure out what to do with Jarry when Murray returns to the lineup. If DeSmith continues to play well, Jarry will likely be the odd man out, but the Penguins won't want to simply ship him back down to Wilkes-Barre/Scranton. By the time Murray returns, the Feb. 25 trade deadline will be rapidly approaching and if Jarry plays well in his time with the Penguins, both he and DeSmith could be used as trade bait to try and acquire a lockdown defenseman in order to make a run at a third Stanley Cup in four years.
After his successful stint with the Penguins last year, I believe that Jarry had already proven himself as a capable NHL goaltender. An untimely injury proved costly and the Penguins front office went with DeSmith instead. I believe this time around he wis playing with a chip on his shoulder and will be eager to prove to the Penguins and the  NHL, that he is too good to be stuck in the minor leagues.
I am a proud Ohio University graduate, where I got both my bachelor's and master's degree in journalism; I also played on the club hockey team for four years. I have been blogging about the NHL for about the last ten years and am an avid Pittsburgh Penguins fan. I currently live in Columbus, OH with my wife and 2-year-old son, Graham. As a hobby, I compete in strongman competitions and still get on the ice once or twice a week. Hockey is the greatest sport on earth!