After an abysmal start to the season, including a 1-7-2 record during a 10-game stretch, the Pittsburgh Penguins have picked up six of their last possible eight points. They are still on the outside of the playoff standings but are finally trending in the right direction.
Over the course of the last month, the Penguins found creative ways to lose. Whether it is was taking bad penalties or struggling to find consistent goaltending, they couldn't get their game together. Their most recent victory over the Columbus Blue Jackets, who were leading the Metropolitan Division at puck drop, perhaps signaled a turnaround for the Pens.
BIG WIN IN PITTSBURGH, GUENTZELVANIA!

Pittsburgh defeats Columbus 4-2 after a Jake Guentzel hat trick. Now THAT is a good Saturday night. pic.twitter.com/bOraEqoNbS

— Pittsburgh Penguins (@penguins) November 25, 2018
The return of Sidney Crosby to the lineup has certainly rejuvenated the locker room, but he is not the sole reason for the Penguins' turnaround. There have been a handful of players who have stepped up at crucial moments, but here are the three Penguins who have made the biggest difference in getting their team back in the playoff picture.
Casey DeSmith
It all starts in goal, and from opening night, the Penguins have been disastrous in the cage. Matt Murray has struggled all season and was recently placed on injured reserve with what's being described as a lower-body injury. Head coach Mike Sullivan said that the injury is something that Murray has been dealing with for a couple of weeks and he will be out for a while. It makes sense that Murray has been dealing with some sort of physical issue because he has been awful.
Enter Casey DeSmith, who has quietly put up some respectable numbers this season. His 5-3-3 record doesn't stand out too much, but he was stellar in his last two games against the Dallas Stars and Columbus Blue Jackets when he only allowed three goals on 58 shots (.948 save percentage) and finally made some big saves at key moments.
For most of the season, the Penguins have surged for five or so consecutive minutes to earn quality scoring chances, only to have the opposition score on their next shot. The goal might be the result of an odd-man rush or some other type of defensive breakdown, but the best teams in the NHL get clutch goaltending when they need it most. DeSmith is finally making these clutch saves. If the Penguins are going to continue to pick up points and move up the standings in the Metropolitan Division, it will mostly be thanks to DeSmith.
Tanner Pearson
There have been plenty of reasons for the Penguins' four-game point streak, but one of the main ones is the play of newly-acquired forward Tanner Pearson. Pearson, who was traded to Pittsburgh on Nov. 14 for Carl Hagelin, has fit in nicely on the team's second line alongside Evgeni Malkin and Phil Kessel. After no goals and just one assist in 17 games with the Los Angeles Kings, Pearson has three goals and one assist in his first six games with the Penguins.
At 6-foot-1 and 201 pounds, Pearson has been able to be a net-front presence and torment opposing defenders while Malkin and Kessel go to work. Over the last five games, that line has combined for 17 points, and with Crosby back in the lineup, the Penguins will continue to create matchup nightmares for opposing teams.
While Pearson is more of a power forward, he is loaded with a wicked shot that was on display in the team's 5-1 victory over the Stars on Nov. 21.
NSFW. pic.twitter.com/umTpIXuWdF

— Pittsburgh Penguins (@penguins) November 22, 2018
I was reasonably skeptical about the trade, and I'm still not completely sold on Pearson, considering he is on a line with the Penguins' top two scorers, but he has managed to add some offense when the team has needed it. He doesn't have Hagelin's speed or penalty killing ability, but if he can find a way to manage a 40-point season, the trade will be worth it.
Jamie Oleksiak
It'd be easy to say that Crosby's return or Jake Guentzel's recent hat-trick are key reasons for the team's recent success, and both are key, but Jamie Oleksiak has been outstanding and rarely gets the credit he deserves. In the Penguins' last four games (2-0-2 record), Oleksiak has a plus-5 rating and has finally shown the defensive consistency that the team needs to be successful.
As a team, the Penguins have far too many turnovers, but Oleksiak has done a nice job of making the safe play instead of trying to force breakout passes.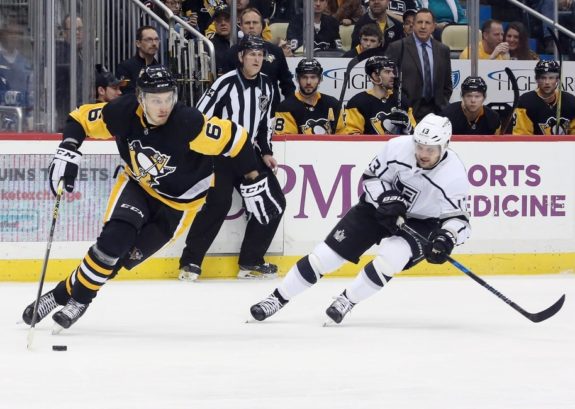 Ever since the injury to Justin Schultz, the Penguins have struggled defensively. Their backend has been a revolving door of players as Sullivan tries to find defensive pairings that work. Chad Ruhwedel, Olli Maatta, and Jusso Riikola have all had ample opportunity to show their worth, but it's Oleksiak who has stepped up his game as of late and been a key reason for their success.
I am a proud Ohio University graduate, where I got both my bachelor's and master's degree in journalism; I also played on the club hockey team for four years. I have been blogging about the NHL for about the last ten years and am an avid Pittsburgh Penguins fan. I currently live in Columbus, OH with my wife and 2-year-old son, Graham. As a hobby, I compete in strongman competitions and still get on the ice once or twice a week. Hockey is the greatest sport on earth!