We're only five games into the regular season but fans still have a lot of thoughts about the Toronto Maple Leafs. The team is off to a 4-1-0 start and is poised to be one of the top teams in the Eastern Conference this season. But is the hot start just that, or is it a sample of what the rest of the season will look like?
Will the Scoring Continue?
Toronto is icing one of, if not the best forward lineups. They lead the league in goals for per game by a goal, at an incredible 5.20 per game. Of course, those numbers aren't going to stay that high but at the same time, there's something to be said about scoring 26 goals in five games.
Given the Leafs' top three lines, there's no reason that the team shouldn't keep scoring goals. Other than maybe Matt Martin, it's not a surprise when any member of the forward group scores and though there are players producing more than others, the scoring has been fairly spread out. Unless all three of Toronto's top lines hit a slump at once, it would be bold to predict that the Leafs won't finish near the top of the league in scoring.
Moore or Fehr?
When Dominic Moore was signed in the offseason, it seemed clear that he would be the fourth line centre. However, when training camp began, Miro Aaltonen impressed just about everyone and created a legitimate battle for the position.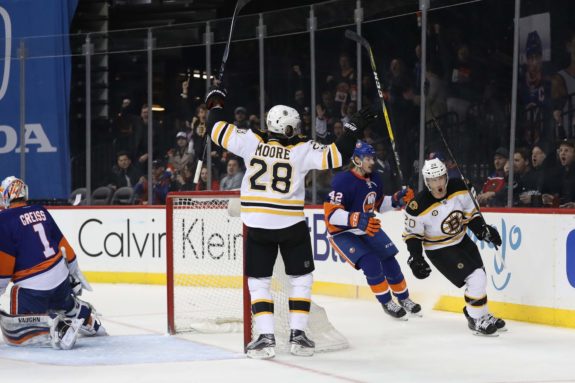 Then came Eric Fehr, somewhat out of nowhere, to claim a roster spot and start the season by rotating games with Moore. From what we've seen, Moore should take the spot, not because he has two goals to Fehr's none but because he's someone Connor Brown can play with. Having Moore on the team creates a fourth line that will actually produce.
Even though Fehr may be a decent penalty killer, his stamina is nowhere near where it needs to be and having Martin, Fehr and Brown on the fourth line isn't a threat. It's a waste to have Brown playing there. Moore, though not perfect, creates a line that presents an actual scoring threat.
Will Morgan Rielly Reach His Potential?
Last year was supposed to be Morgan Rielly's breakout year. It wasn't. Coming into this season, many saw Rielly as Toronto's clear-cut number one defenceman and would be willing to start a Twitter war if anyone said otherwise. He's a minus-4 to start the year, which is the worst of any defenceman on the Leafs. It's time to consider that maybe he isn't ever going to become the star that everyone envisioned when he was drafted fifth overall.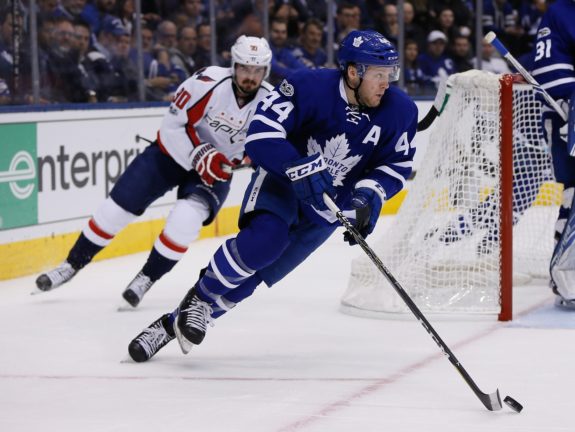 In his career, Rielly has never ended a season with a positive plus/minus rating and he continues to lack consistency is his own end. This isn't to say he isn't a great player and a huge asset for the Leafs because he is an undisputed top-four defenceman. But, he may not be Toronto's best defenceman.
Borgman or Rosen?
Andreas Borgman and Calle Rosen, the two highly anticipated Swedish signees, have experienced their ups and downs since entering the league. In and out of the lineup, both defencemen have taken turns in the spotlight due to Connor Carrick's absence, with Borgman playing four games and Rosen playing three.
Before the season began, many assumed Rosen would take the last spot because he's a year older and was more productive in the SHL last season. It turns out, Borgman may be more NHL ready while Rosen is experiencing some growing pains.
Borgman has an even rating in four games and has shown he's able to throw massive hits, while also joining the rush and showing an offensive side. Rosen has been decent but lacks confidence and is prone to bad mistakes. Both have a ton of NHL potential, but if there's only going to be one spot between the two of them it should go to Borgman.
Andersen's Rough Start
Say what you want about whether Andersen has played poorly or has lacked help from his teammates, but there's no way to justify his inconsistency. After a superb start in Winnipeg against the Jets, he struggled in the last three games giving up 14 goals, with a save percentage of .839. He rebounded with a decent game in Montreal against the Canadiens on Saturday, but it isn't enough to stop his play from being a topic of conversation. Of course, Andersen had a poor start last year but was able to turn it around and was one of the key reasons for Toronto's success.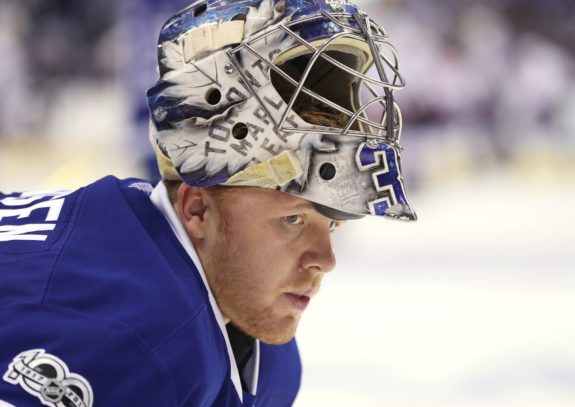 What's clear, is that most of Andersen's starts are either great or poor with little room in between. When he's on his game Andersen is one of the best goalies in the league but sometimes he loses focus. As of now, there's no reason to be concerned about the Leafs' goaltending and look for him to bounce back in the next few games.
Is Zaitsev for Real?
Earlier I mentioned that Rielly may not be Toronto's best defenceman. I know that might get me in hot water with some readers but it's worth pointing out that someone else may be emerging as Toronto's top guy on the backend.
Nikita Zaitsev has been incredible so far and looks almost as if he's a different player from last year. He looks more confident and has been extremely solid in playing defence — something he was often criticized for last year. He's started the year with two goals and five points in the first five games and has a ridiculous plus-8 rating, just shy of the league lead.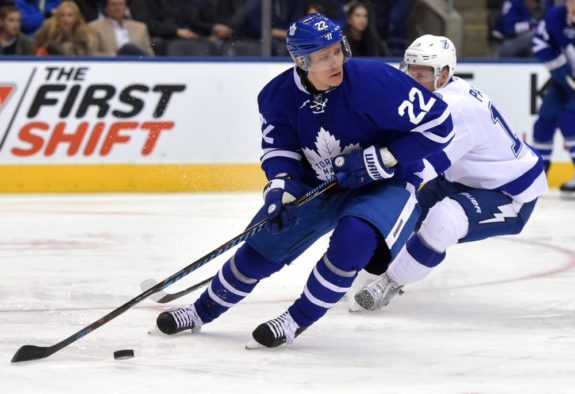 If Zaitsev can keep up his play, maybe all of the speculation about trading for a top-pairing, right-handed defenceman can finally go away, ending speculation that Mitch Marner would be traded for Drew Doughty or James van Riemsdyk for an Anaheim Ducks defender. From what he's shown so far, Zaitsev could be Toronto's best all-around defenceman.
It's safe to say the Leafs are off to a great start and signs point to a successful campaign. Watch for these storylines to be some of the main topics of discussion in the next few weeks.
Ben is a journalism student at Ryerson University and covers the Toronto Maple Leafs.