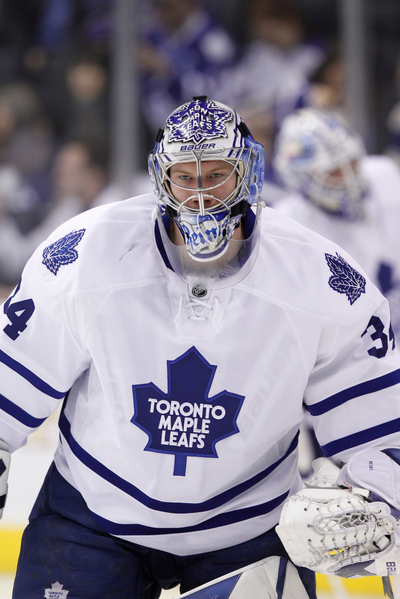 Whether the 2012-13 NHL season starts on-time or is delayed due to the ongoing CBA discussions, the Toronto Maple Leafs will have plenty of question marks where their roster is concerned.
Since his arrival in Toronto in November of 2008, Maple Leafs general manager Brian Burke has failed to address the clubs glaring need for a first line centre. While Burke will ask new arrival James van Riemsdyk to attempt to fill the first line centre role this fall, there is no guarantee he can handle the job.
Burke's only other option would be to promote second line centre Mikhail Grabovski  to fill the role of the first line centre or to go back to Tyler Bozak, who played with wingers Phil Kessel and Joffrey Lupul on Toronto's first line last season, registering 18 goals and  29 assists for a total of 47 points in 73 games played.
When you consider Burke's current roster there are few guarantees where the lineup is concerned. Kessel and Lupul will man the wings on the Maple Leafs top line, but after that expect to see a lot of line juggling by head coach Randy Carlyle in an attempt to find some chemistry on the second line and beyond.
Speculation has the oft-criticized Nazem Kadri arriving in training camp in the best shape of his young NHL career. Should Kadri make the big club out of training camp he is expected to get serious consideration for a top-six role, meaning one of Nikolai Kulemin or Clarke MacArthur might get bumped off the second unit.
Should Kadri make the club a virtual landslide may take place as players are bumped from familiar roles into defensive roles or just plain bumped from the lineup all together.
The most at-risk forwards to be bumped from the lineup are big-ticket players such as Tim Connolly and  Matthew Lombardi. Both players struggled last season and both players are seen thought to be overpaid. Newcomer Leo Komarov may also have a tough time adjusting to the NHL, which means he may see his fair share of the press box before the season is through.
The Hockey News Yearbook lists Joffrey Lupul, Phil Kessel and Tyler Bozak as the Maple Leafs first line followed by a second line of James van Riemsdyk, Mikhail Grabovski and Nikolai Kulemin. Matt Frattin, Jay McClement and Clarke MacArthur are expected to man the third line, while David Steckel, Mike Brown and the aforementioned Komarov are slotted in on the fourth line.
While it is hard to argue with The Hockey News' selections, a case could be made for any number of line combinations. Carlyle demonstrated he would not hesitate to make changes to his lineup should he feels his troops are not gelling. And with Kadri and JVR  both quagmires, it is tough to make any predictions up front until we know where these two players stand.
On the backend Dion Phaneuf, Carl Gunnarsson, Jake Gardiner and John-Michael Liles are expected to get the lions share of the duties, but after that it really is anyone's guess who will be selected as the fifth and sixth defensemen.
Mike Komisarek, Korbinian Holzer, Jesse Blacker and restricted free agent Cody Franson are all believed to be in the running for a spot on the roster next season, with Holzer and Franson getting the nod over Komisarek on my list.
While the pairings are not written in stone it appears as if Phaneuf and Gunnarsson will lineup on the first line with Gardiner and Liles manning the second unit. Holzer, Franson and Komisarek will likely be rotated in and out of the lineup as Carlyle sees fit, while Blacker will have to be very impressive if he is to make the big club out of training camp.
Between the pipes Burke will have to go with a duo of James Reimer and Ben Scrivens, unless he makes a trade for Los Angeles Kings netminder Jonathan Bernier or the Vancouver Canucks Roberto Luongo.
Should Burke roll the dice on Luongo he will have a legitimate 60-70 game goaltender, making one of Scrivens or Reimer disposable. If Burke makes a deal for Bernier the crease will be even more crowed with all three of Reimer, Scrivens and Bernier fighting for the number one role.
Any way you slice it, with Reimer coming off an injury-filled season and Scrivens' unproven at the NHL-level Burke has question marks in net, which has more than a few fans worried about the upcoming season.
Systematically the Maple Leafs will need to be better if they are to compete for a playoff spot. The Blue and White finished the 2011-12 season with the 28th ranked penalty kill (77.3 percent). They also finished the 2011-12 season with the 29th ranked (3.16 GAA) defense.
Carlyle's defense-first system and penchant for asking his players to bring a measure of snarl to the rink should help bring the goals against down, while free agent acquisition Jay McClement should solidify the penalty kill. McClement cannot do it all by himself so look for the likes of Lupul, Kessel, Bozak, Kulemin and Grabovski to be asked to expand their roles and chip-in on the PK and during five-on-five play.
Another question mark the Maple Leafs will need to address is which defenseman will make up for the loss of Luke Schenn? Schenn's ice time may have shrunk dramatically from 18:38 per game in 2010-11 to last seasons 14:37 per game but nobody ever questioned Luke's heart or the effort he brought to the rink each night. Schenn may have struggled in his own end from time-to-time, but he was a warrior in terms of hitting (270) and blocked shots (115), which ranked Schenn first and third on the team, respectively.
The plan is to have Korbinian Holzer step into Schenn's role, with an outside hope of Mike Komisarek stepping up—neither option is awe inspiring, neither option is likely to replace Schenn's considerable numbers.
On the farm there will be plenty of players looking to make the jump to the big club. Carter Ashton and Joe Colborne will push the forwards while Jesse Blacker, Stuart Percy and Morgan Rielly are expected to push for minutes on defense.
Leadership will also be in question in Toronto. Current captain Dion Phaneuf has been given mixed reviews for his leadership and with veteran forward Colby Armstrong being axed from the organization there is a void that needs to be filled.
Last week we debated which players would be best suited to take over the alternate captains role and the need to strip Mike Komisarek of his letter. One thing is for certain, the Buds could benefit from an injection of leadership, with free agent forward Jason Arnott emerging as my first choice to help lead this team.
Of course, we have been talking about bringing Arnott into the fold for months now and still Burke has not made it happen. Hopefully he is right and the Maple Leafs have enough leadership from within, but I have my doubts and I think it is a mistake to enter the season without the benefit of a veteran/Stanley Cup winner in Arnott.
It doesn't take long to see that, despite all of his hard work, Burke still has a number of holes to fill on his roster. Once the CBA talks end Burke will have a better idea of where he stands in terms of cap space and he will react accordingly.
Here's hoping Burke sees what I see and that he finds a way to answer the questions throughout his lineup before people start asking Burke about his future with the club.
Until next time,
Peace!