The Toronto Maple Leafs are trending in the right direction.
Despite failing to reach the Stanley Cup Playoffs in 10 of their past 13 NHL seasons, the Leafs have now claimed a postseason berth for two consecutive years — a feat capped by a franchise-best 105-point season in 2017-18.
However, this success would not have been possible were it not for Toronto's recent selections in the annual NHL Draft. In fact, the current edition of the Leafs has been built through the draft, as the team's main core of forwards and defencemen were largely drafted and developed within the organization. Yet, if Toronto wishes to push on to a potential Stanley Cup championship in the immediate future, the franchise will need to improve its team depth while creating versatility within its ranks.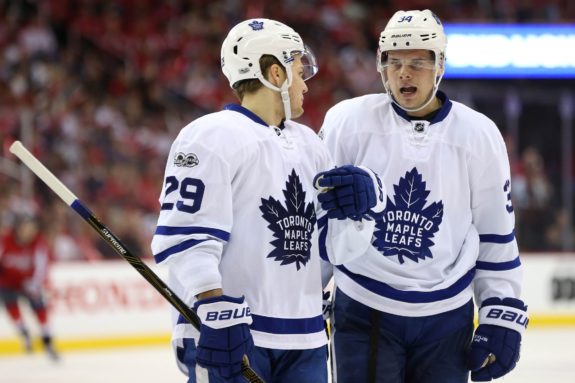 Fortunately, the 2018 NHL Draft will afford the Leafs ample opportunity to achieve exactly such, as a wealth of talented prospects stand poised for selection despite Toronto's low standing within the draft. In order to address these organizational deficiencies, I have taken it upon myself to ease Kyle Dubas' transition to his new role as General Manager.
Below, I have projected who the Leafs could, and should, select with each of their seven picks in the 2018 NHL Draft.
First Round
Selection: 25th Overall
Projected Pick: Mattias Samuelsson (U.S. National U18 Team, USDP)
Draft Rankings:
NHL Central Scouting: 21st (NA Skaters)
TSN's Craig Button: 33rd
While the Leafs boast a bevy of excellent young defence prospects in their pipeline, the franchise would do well to add a bruising yet capable defender to their already impressive repertoire.
In the likes of Timothy Liljegren, Travis Dermott, and Calle Rosén, Toronto owns nimble and fleet-footed defenders with the ability to play a sound two-way game. However, what these youngsters all lack is exactly what prospect Mattias Samuelsson can bring to the blue line — physicality and tenacity in combination with high-end skill and ability. Fortunately for Toronto, their first-round selection lays in the perfect position to nab Samuelsson.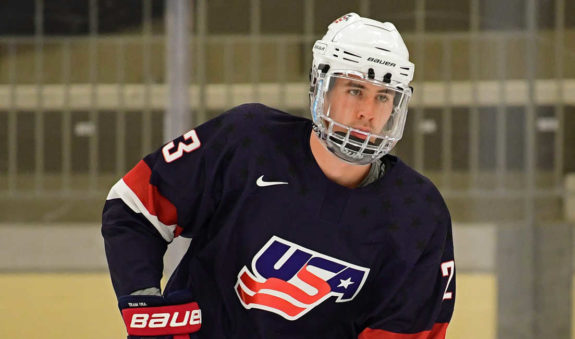 During the 2017-18 season, Samuelsson manned the blue line for the U.S. National U18 Team. In his 58 games played for the USDP, Samuelsson netted 11 goals, 31 points, and a whopping 113 minutes in penalties — a level of production which accurately reflects his breadth of abilities on the ice. What's more is that Samuelsson is an intimidating force on the ice, as the native of Voorhees, New Jersey stands a towering 6-foot-4 tall and already weighs in at 215-pounds.
Committed to Western Michigan University for the 2018-19 season, Samuelsson would provide the Leafs with a unique edge on their blue line if drafted — a presence which the franchise currently lacks. Although he will need additional seasons of development before ascending to the professional level, Samuelsson could become a minute-munching force for Toronto in the immediate future.
Second Round
Selection: 52nd Overall
Projected Pick: Allan McShane (Oshawa Generals, OHL)
Draft Rankings:
NHL Central Scouting: 50th (NA Skaters)
TSN's Craig Button: 57th
Allan McShane is a dynamic talent bursting at the seams with high-end skill and capability. However, for unknown reasons, McShane is widely projected to fall in the second-round of the 2018 NHL Draft — a reality which will make him a steal to the team which selects him.
So, if available, the Leafs should pounce on McShane with the 52nd overall selection.
In his second season of play with the OHL's Oshawa Generals, McShane tallied 20 goals and 65 points in 67 regular season games. Although he didn't lead the Generals in scoring, the native of Collingwood, Ontario's output stood as Oshawa's second-greatest — an impressive feat considering the high-end talent featured by the team this past season.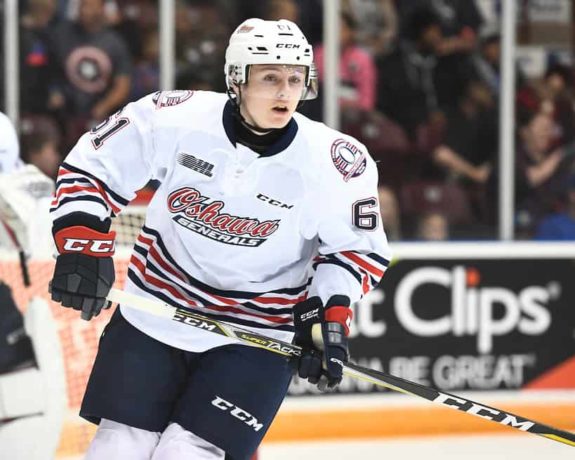 For McShane, his game is founded upon excellent skating abilities which are second to none on a nightly basis. Capable of darting throughout the ice with absolute ease, McShane is a lethal force when his wheels are spinning — McShane's ability to combine his lightning-quick hands and blistering speed make him a versatile and unpredictable offensive presence.
As an excellent two-way centre in the making, McShane could develop into a top-nine forward for the Leafs at the NHL-level. Although he would do well to attain greater consistency, McShane's amazing skill-set and track-record of production will make him a can't-miss prospect for Toronto should he be available late in the second-round of the draft.
Third Round
Selection: 83rd Overall
Projected Pick: Alec Regula (London Knights, OHL)
Draft Rankings:
NHL Central Scouting: 72nd (NA Skaters)
TSN's Craig Button: 79th
Strength, vision, and intelligence are the names of the game for Alec Regula — a stable defender whose play progressed significantly during the 2017-18 season.
Standing 6-foot-4 and weighing well over 200-pounds, Regula is an intimidating presence who knows how to use his size to his advantage. Capable of protecting the puck with ease before gifting possession of the puck to a fellow teammate, Regula's ability to see the ice and move the puck within it stands as a staple of his growing game. Further, mix in nimble skating and an improving shot, and Regula has the makings of a dynamic two-way defenceman.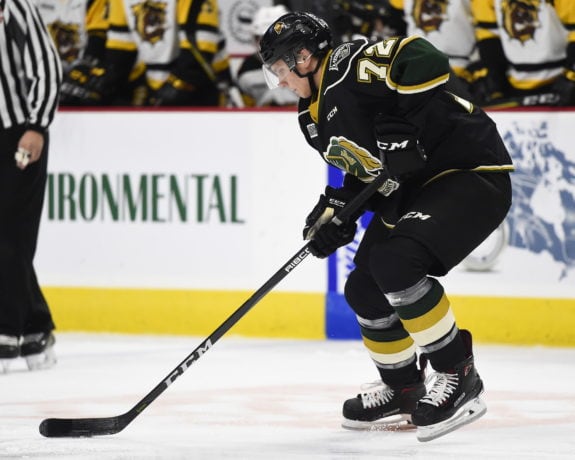 Once projected to be made a second-round selection in the 2018 NHL Draft, Regula's stock fell throughout this past season, and especially so during his transition to the OHL-level. However, with this being said, Regula could prove to be a steal for the Leafs if drafted with the 83rd overall selection. Although his game still requires greater fine-tuning, Regula could become a unique talent on what is currently an offensively-minded Toronto blue line.
Fourth Round
Selection: 118th Overall
Projected Pick: Joey Keane (Barrie Colts, OHL)
Draft Rankings:
NHL Central Scouting: 111th (NA Skaters)
TSN's Craig Button: NR
Although he is entering the 2018 NHL Draft as a second year eligible player, Joey Keane's steadily progressing game should fetch the attention of the Leafs in the fourth-round.
After recording 19 points in 67 regular season games for the Barrie Colts in his rookie OHL season and first year of NHL eligiblity, Keane exploded out of the gate to begin the Colts' 2017-18 campaign. In 62 contests, Keane became a dynamic offensive force — filling the net with 12 goals while passing the puck well enough to garner an additional 32 assists.
RELATED: THW's 2018 Draft Guide
What's more is that Keane's game in his defensive end improved dramatically. After playing to a dismal -28 plus/minus rating as a rookie, Keane played to a jaw-dropping +45 rating as a sophomore — a total which served as a glaring indication of his ongoing maturity and on-ice intelligence. Although he — like most — would do well to strengthen his slender frame, Keane's play this past season could represent a significant spike in his developmental curve.
Fifth Round
Selection: 149th Overall
Projected Pick: Alexis Gravel (Halifax Mooseheads, QMJHL)
Draft Rankings:
NHL Central Scouting: 3rd (NA Goalies)
TSN's Craig Button: 99th
As it stands, Toronto is relatively thin in the goaltending department.
First and foremost stands Frederik Andersen — a native of Herning, Denmark who stood on his head for the vast majority of the Leafs' 2017-18 season and was the driving force behind the franchise's most recent playoff push. However, outside of Andersen, Toronto's goaltending depth is meagre at best. Yes, the Leafs boast Garrett Sparks and Joseph Woll, however, the organization would do well to add another promising young goaltender to its system.
Enter Alexis Gravel.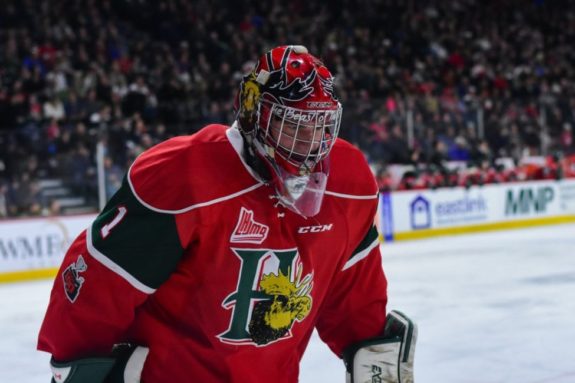 Voted as the best North American goaltender in NHL Central Scouting's Midterm Ranking, Gravel slipped to third-best in the final evaluation of the season and, potentially, into Toronto's reach. Plagued by inconsistency throughout his most recent campaign, Gravel's high-end skill was often masked by his relative inability to piece together strong starts. In all, Gravel played to a 3.38 goals against average and .890% save percentage in 39 games played for the Halifax Mooseheads of the QMJHL.
If Gravel can prove himself capable of competing at an elite-level on a nightly basis, Toronto could steal one of the 2018 NHL Draft's best netminders.
Seventh Round
Selection: 209th Overall
Projected Pick: Linus Karlsson (Karlskrona HK J20, SuperElit)
Draft Rankings:
NHL Central Scouting: 39th (EU Skaters)
TSN's Craig Button: NR
Every year, an undeniable young talent slips late into the NHL Draft only to fill franchises with immense regret once ascended to the NHL-level.
In 2018, that player could very well be Linus Karlsson — a lethal sniper who skated for Karlskrona HK J20 this past season. Despite playing as one of the youngest players in the SuperElit, Karlsson pronounced himself as a dynamic offensive force by scoring 27 goals and 52 points in 42 games played. Although his team was one of the SuperElit's least successful, Karlsson's output ranked as the league's second-highest — trailing only projected first-round pick Jonatan Berggren.
Despite these impressive totals, Karlsson found himself ranked as the 39th-best international player in NHL Central Scouting's Final Ranking. As a smooth-skating centre which soft hands and ample creativity, Karlsson's low standing is difficult to comprehend, and especially so once one considers his remarkable consistency and durability.
Although Karlsson may not fall this deep within the 2018 NHL Draft, it goes without saying that Toronto would be more than wise to select the young 'Swede if available at 209th overall.
Selection: 211th Overall
Projected Pick: Riley McCourt (Flint Firebirds, OHL)
Draft Rankings: 
NHL Central Scouting: 161st (NA Skaters)
TSN's Craig Button: NR
Believe it or not, there will be a wealth of incredibly talented prospects available to the Leafs when they prepare to make their seventh and final selection of the 2018 NHL Draft.
And, with their second selection in the seventh-round, Toronto should highly consider nabbing their fourth defenceman of the event: Riley McCourt. In his rookie OHL campaign this past season, McCourt split time between the Hamilton Bulldogs and Flint Firebirds, although it was in Flint where McCourt's game began to gain traction and attention.
In his 30 regular season games played for the Firebirds, McCourt totalled 13 points — while his nine points recorded while with the Bulldogs amounted to a 22-point rookie season. Although his -13 plus/minus rating emphasized a need to improve his defensive game, McCourt's willingness to use his size to his advantage and growing on-ice intelligence combine to make the youngster a steadily improving two-way defender.
Mock Draft Review:
With depth on defence one of Toronto's most glaring organizational needs, I have predicted that the Leafs will aim to address this deficiency through the 2018 NHL Draft. Of the franchise's seven total picks, I anticipate four being utilized to select defenders, with the other three selections used to nab two centres and one goaltender.
Specifically, Toronto lacks a reliable, minute-munching defender who can play an in-your-face style of game. In Samuelsson, I believe the Leafs will be able to add exactly such, as the hulking blueliner would inject strength and tenacity into a primarily talent-driven Toronto roster. Outside of Samuelsson, the acquisitions of Regula, Keane, and McCourt would afford the Leafs with an arsenal of two-way defenders capable of playing a mature and poised yet growing game.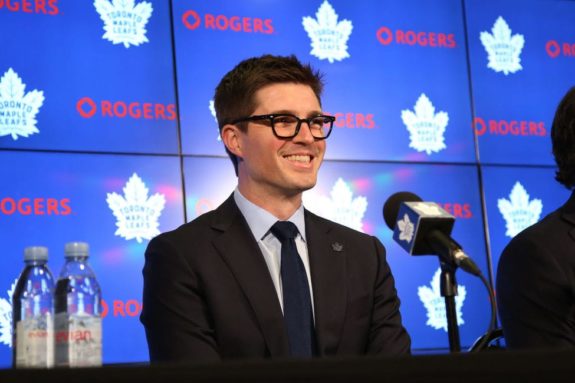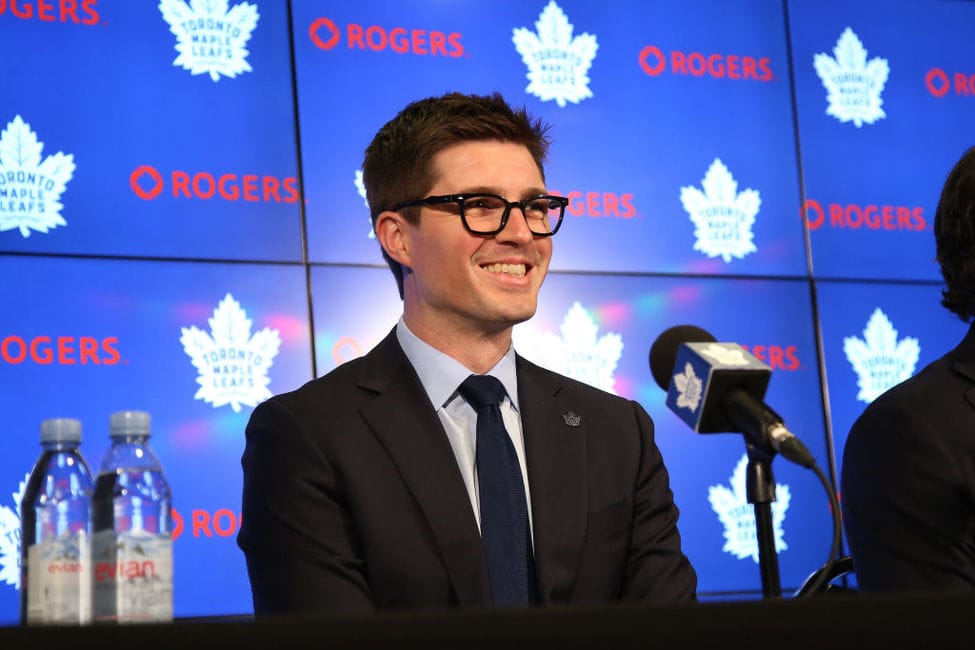 When it comes to the two centres which I have projected Toronto selecting, both McShane and Karlsson would add greater speed, skill, and lethality to an already potent Leafs lineup. In McShane, Toronto could be staring down a future third-line centre, while Karlsson could shift to the wing depending on his physical growth.
Lastly, there is Gravel. Although nabbing Gravel in the fifth-round could be a long shot, doing so would afford the Leafs with a viable option in goal if both Sparks and Woll were to stumble. Standing 6-foot-3 and 220-pounds at the age of 18-years, Gravel is an intimidating force who could become a brick wall at the professional-level if able to attain greater consistency.
The Final Tally
Round One: Mattias Samuelsson – D – (25th)

Round Two: Allan McShane – C – (52nd)

Round Three: Alec Regula – D – (83rd)

Round Four: Joey Keane – D – (118th)

Round Five: Alexis Gravel – G – (149th)

Round Seven: Linus Karlsson – C – (209th)

Round Seven: Riley McCourt – D – (211th)