The frenzy of 2016 NHL free agency has finally calmed down after a hectic few days of signings. In that time big names like Milan Lucic, Andrew Ladd, and Kyle Okposo were signed to massive contracts, while two star players in P.K. Subban and Taylor Hall were traded just days before the start of free agency. During that time the Toronto Maple Leafs were pretty quiet and it's something that needs to continue for the rest of the offseason.
The Matt Martin Signing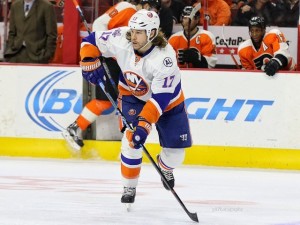 The Toronto Maple Leafs have made a few signings since the start of free agency, but nothing spectacular. The first signing was Matt Martin. For whatever reason opinions on Martin seemed to split Leafs' fans in a way that I honestly haven't seen happen in a very long time. With a $2.5 annual cap hit for four years it's not an anchor of a contract like what David Clarkson was to the Leafs, but the four-year term is worrying. Giving contracts longer than three years always seems risky when it comes to players in the bottom of the lineup since that's the easiest part of a team's lineup to replace.
What he does bring is some much-needed toughness to the Leafs, which they needed desperately when you consider that Nazem Kadri was the toughest player on the team after the trade deadline. Also this isn't like a few years ago when the Leafs were loading up on tough guys like Colton Orr to basically just go out and fight. Yes Martin can fight, but he is still an NHL player without having to depend solely on fighting. Martin will give the Leafs fourth line some defensive improvement and will also be a high energy player who has led the league in hits for four seasons.
This was a good signing for the Leafs, but still an overpayment. That's unfortunately just how free agency works with teams competing to sign a player which causes a player to end up signing an often massive contract that is worth more than the player's real value. Luckily with Martin they got his price down to $2.5 million instead of the reported $3 million to $4 million starting salary.
https://twitter.com/draglikepull/status/749416881333768192
There have been stats coming out about Martin that look favorable to his future with the Leafs, but we will only know once the season starts if he will last the full four years of his contract with the Leafs.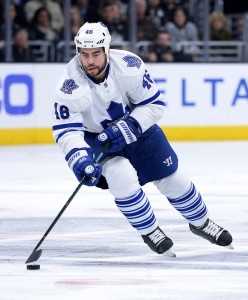 Welcome Back Roman Polak
The second and (currently) last major signing the Toronto Maple Leafs made was to bring back Roman Polak. This signing seemed to surprise everyone, including myself. Initially, it looked like the Leafs would have been better off giving a short-term contract to someone like James Wisniewski and hoping he can find a way to stay healthy. There were also rumors about the Leafs offering a contract to Kris Russell, which thankfully turned out to be false.
Bringing Polak back just makes sense. Everyone already knows him and what he brings to the team. Polak also helps bolster the right side on the Leafs defense with a veteran presence and a gritty defensive play style. This signing also challenges a couple of defensemen to prove they can stay or make the NHL with now Polak, Nikita Zaitsev, Frank Corrado, and Connor Carrick fighting for spots on the right side of the Leafs defense.
https://twitter.com/generalfanager/status/749756861398781952
The contract Polak signed is also very trade deadline friendly. So expect to see Polak shipped off to a contender again at the trade deadline for more draft picks. This is another good signing by the Leafs which gives the team more time to nurture young defensemen before thrusting them into the NHL. There are a lot of good defensemen that will be making their way up the Leafs organization over the next few years and Polak will be a good placeholder for the team next season.
The Toronto Maple Leafs Offseason
It really feels like the Toronto Maple Leafs won't be too active for the rest of the summer with maybe a few minor deals until the start of the season. The Leafs have already added a new starting goalie in Frederik Andersen and drafted an elite center in Auston Matthews. That was followed up by solidifying their fourth line with Martin and their bottom defensive pairing with Polak.
Lou Lamoriello feels too much money was spent around the NHL today. Sounds like the #leafs won't be too active now.

— Chris Johnston (@reporterchris) July 1, 2016
NHL teams spent a lot of money and years on players almost 30 years old or even slightly older. There were a bunch of great players that would have been great for the Leafs to get in free agency, but that's just not where they are at now in the rebuild. This year feels like it will focus on examining exactly where players are at in their development and once that's figured out then the Leafs can decide how to approach next years free agency and any future trades.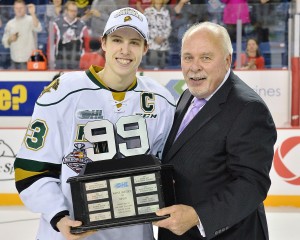 The Leafs have a lot of young players that will either be playing their first game in the NHL or their first full season. What needs to be figured out is where do all these young players fit in the lineup. Matthews is expected start on the third line, but how long will it take him to show he is better suited for the first line? Can Mitch Marner crack the Leafs' lineup despite all the detractors endlessly pointing out that he is small? Can William Nylander continue the success he had with the Leafs at the end of last season? The same applies for Connor Carrick as well.
The Toronto Maple Leafs have a lot of young players that will be playing their first season in the NHL which makes it difficult to predict who will make the team or the lineup. There are too many questions with their young players that need to be answered before making any trades or big long-term deals with players that would take opportunities away from the young players. A quiet offseason is the best option for the Leafs and to see where the team is at in the fall before making any big changes.