A preliminary word of warning: This is not a piece for faint-of-heart Habs fans. That's even if the main takeaway is the Montreal Canadiens are primed to compete for the Stanley Cup this coming 2016-17 season.
Stanley Cup Contenders?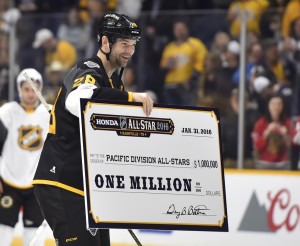 The fact of the matter is there are still plenty of reasons why the Canadiens won't win it all. At the top of the list? There are 29, soon-to-be 30, other teams looking to win hockey's grandest prize as well, giving the Habs, all things being equal, a 3.33% chance of coming out on top.
Then, there's the fact that they're coming off a pitiful performance over the final two-thirds of last season, over which they went 19-34-3, essentially wasting a perfect, historic 9-0 start to the season, missing the playoffs in the process.
So, rebounding to win a championship? It's possible. Such a miraculous turnaround would just make for Hollywood-movie material, and the Habs aren't exactly due in that regard following the whole John Scott story from last season. And, really, when does the team that mismanages that film's feel-good hero ever deserve its own happy ending?
In fact, all this season served to prove is the Habs badly need an actual superhero themselves, aka their star goaltender, Carey Price. In theory, there should be nothing wrong with that, leaning on your star players like most every other team in the league. Now that he's 100% healthy, the Habs should be primed to return to their previously vacated status as contenders relatively quickly.
Just spoke with @CanadiensMTL @CP0031 ,says he's 100% ready to go. Good to go for World Cup and regular season. Full interview on TH at 7et

— Gino Reda (@GinoRedaTSN) June 21, 2016
The Real Question for Montreal Canadiens Management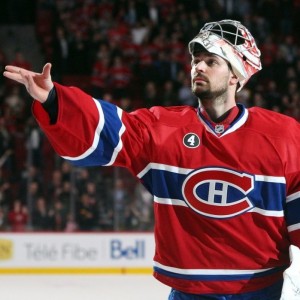 The problem is, or rather, the question is: Can the Habs win when it's their goaltender who is the most important player forming the foundation for the house of cards that is this team?
When the free-wheeling, speedy Pittsburgh Penguins just rode a rookie, however impressive he was, to a championship? When history in this current analytics era has consistently dictated teams with proven possession games will beat out rope-a-dope defensive squads nine times out of ten in seven-game series?
Don't worry, though. The one outlier to buck that trend, the 2009 Penguins, had been coached by current Habs bench boss Michel Therrien…before he was fired mid-season and replaced by Dan Bylsma, who promptly turned things around for the better.
Thankfully, in spite of Therrien's dump-and-chase reputation and the disastrous campaign overall, the Habs posted a decent season, even if only from a possession standpoint (a top-10 finish in all situations, after finishing in the bottom third in 2014-15). Then they went out and traded away their best defenseman who drives possession at an elite level, making him one of the tops in the entire league, just entering his prime. In exchange, they got a player who's exiting his and was maybe not even the best defenseman on his former team.
Weber Versus Subban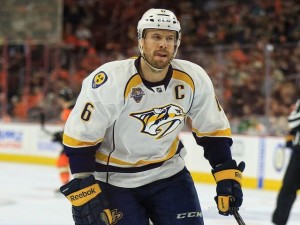 There's nothing wrong with Shea Weber as a defenseman. He's great. He plays physically and casts fear in opposing forwards as a result. He also owns a killer slapshot that has allowed him to regularly score 20 goals per season. It's just that, compared to P.K. Subban, there really is no comparison, especially due to their four-year age difference.
Add into the mix Weber's contract, which ends in 2026 when he will be 41. Recapture penalties that the Habs would theoretically avoid bedamned, that's a huge commitment. While Weber's $7.86 million cap hit is less than Subban's $9 million one, Weber's is likely to become much more of a nuisance now that he's 31 and already on the decline. Subban's will only last until he's 33. Based on their respective styles of play, it's hard to deny Subban is the one with the best chance of staying relevant well into his 30s if not 40s.
Look at it this way (if you dare): Weber's deal is so bad, Nashville didn't even want to sign him to it. They were essentially forced into it once the Philadelphia Flyers signed him to an offer sheet in 2012. They had to match it or they would have lost their franchise defenseman.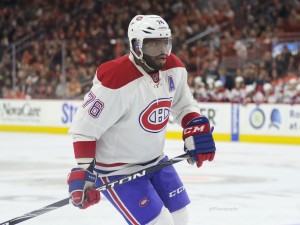 To them, the hypothetical compensation of four first-round picks just didn't make sense when weighing it against the prospect of losing their top defenseman who was just 27 at the time. Interestingly, the Flyers have drafted three first-round blue-liners since.
Forget the James Norris Memorial Trophy Subban won (to Weber's none). That's the value of a 27-year-old franchise defenseman just entering his prime to a given team. The Predators decided it was best to hold onto Weber and sign him to a nightmarish signing-bonus-laden deal, even with a lockout coming, despite the small-market nature of the club.
That deal entitled him to at least $13 million that next 2012-13 lockout-shortened season, even if the Predators ended up playing no hockey at all. That's how bad Nashville wanted to keep their franchise-cornerstone defenseman. They were willing to pay him $13 million to do nothing.
Well, even if the bulk, i.e., over three-quarters of the $68 million worth of signing bonuses, owed to him has since been paid out already, they apparently wanted theirs no longer. That should have been hint enough to Montreal that something wasn't exactly kosher here. They've done all the metaphorical legwork but were all too eager to pass the baton off and let the Habs cross the contract's finish line in exchange for Subban.
You should ask yourself why. Mainly because the Habs didn't seem to bother to ask why not.
Say What You Want About Subban
You can say what you want about Subban, how he's a giveaway machine, how he hogs the spotlight and thinks he's bigger than he is, how he's selfish.
Each of those points can be argued away:
Giveaways are a function of time with the puck. The more you have it, the more likely you are to give it away, like all the other top puck-possession defensemen in the league. Weber may be more reliable in his own zone, but, if you're in your own zone, you're not in the opponent's.
Take the bad with the good. Sure, he may have stepped on a few toes pledging a lot of money to the Montreal Children's Hospital, but we should all be so lucky to be showed up to that degree.
See point No. 2. Or, if you would prefer to keep this related to hockey, look to his overall point totals like his 215 career assists to 63 goals, including 45 helpers in 68 games this year, which put him on pace for new career-highs, in spite of rumors of a decline in offensive production.
You may argue instead that Weber is just a better fit for the organization, as a mild-mannered, physical defenseman who is more suited to protecting the area around Price. The problem is, even if Weber is the better fit, this organization, as it stands now, does not at all possess the right frame of mind to win a championship.
Entrenched in a copy-cat league, they're almost admirably marching to the beat of their own drum…potentially right off a cliff to one beaten to death a decade ago, in retro Lemmings style.
A Ruined Summer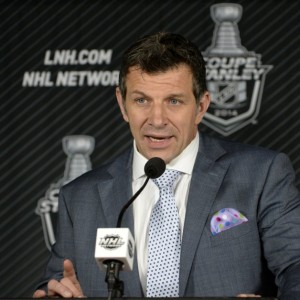 This was supposed to be a great summer for the Canadiens, during which the team should have been able to get general manager Marc Bergevin's theoretical five-year plan back on track. Technically this is Year 5, but there are maybe two left before Max Pacioretty and Price's contracts become due and that window slams firmly shut.
With Alexander Radulov now signed to a one-year deal that the Habs may not be able to re-up as a result of the raise Alex Galchenyuk will presumably be due next summer, this may actually be the year the Habs go for it or rather have to go for it. We'll know soon enough.
As such, the Subban trade is not all bad. Just mostly for those that made it. If they swing and miss, they'll have done it in spite of possessing the following:
A healthy MVP goalie,
Their star defenseman of choice in place,
The head coach they elected to stand by through thick and thin still behind the bench for whatever reason,
And a lineup loaded with character (code for mindless sheep, apparently)
That lineup now includes an overpaid pest, acquired at the expense of a fellow playoff-proven player who, by Bergevin's own admission, "gets you through." Now, in Bergevin's mind, he just gets you two future second-round picks (belonging to the Washington Capitals, so essentially third-round ones instead).
This is the lineup Bergevin based on his own gritty image of a Stanley Cup contender in his mind, picking and choosing proven winners as far as playing and (non-head) coaching talent goes, both in the NHL and on the international stage.
It's time for the team to put up or shut up, in other words, with "put up" in reference to another banner in the rafters, with anything less potentially serving as little more than an indictment of management's latest string of moves.
So, chin up Habs fans. This very well could be the year. For what exactly, that remains to be seen. As long as it doesn't mean hearing any more excuses come the end, we should be okay. There just aren't any left at this point.