It's easy to look forward to the summer if you're a member of the Montreal Canadiens or their fanbase, and not just because anything would be better relative to the nightmarish season that is in the process of winding down.
Just four more games to go, yay!
Moving Forward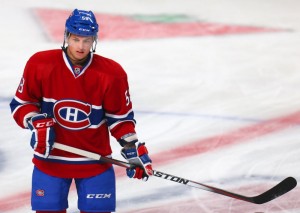 Granted, moving forward from all that's transpired this season is a big part of the reason to look forward to the postseason, from Carey Price's injury, to management's broken promise to finally play Alex Galchenyuk at center, to the mid-season mediocrity that derailed the team's historic start.
However, there's also a lot to move toward as well, like the NHL Entry Draft, with the Habs poised for a top-10 pick for the first time since Galchenyuk was taken third overall in 2012. A pick like that can certainly contribute to what many should expect to be a quick turnaround. After all, a team doesn't start a season 9-0 out of sheer luck. There is the foundation here for a great hockey team.
More than that, General Manager Marc Bergevin, either intentionally or by happy accident, has freed up his workload, with only three pending unrestricted free agents currently on the roster in Victor Bartley, Tom Gilbert and Mike Brown, none of whom should realistically be back.
Their roster spots could conceivably be filled internally by any of the young prospects who have been given a chance to impress due to the unexpected rash of injuries. That includes the likes of Daniel Carr, Sven Andrighetto and Lucas Lessio up front, each of whom is slated to become a restricted free agent.
Bergevin's Workload
That's where the lion's share of Bergevin's workload this summer will lie, with seven players currently in that category with the big club. Nevertheless, it's a far cry from last summer when the Habs needed to get Galchenyuk back under contract and get him to agree to a bridge deal.
Even with the impressive season put together by Mark Barberio, who has perhaps played his way into the role of Bergevin's top priority, there really isn't a single free agent that holds any comparable amount of sway over the team that Galchenyuk did. And that's saying a lot, seeing as it's almost as if the Habs actively tried to sabotage him—with some success—over his first few seasons to limit his negotiating power.
Of course, Galchenyuk's breakout campaign this year will take up a great deal of Bergevin's time in the Summer of 2017. For now, though, his stress should be limited to that caused only by a singular problem… one with which he should be very familiar: filling a single top-six-forward position.
With only $62,850,000 devoted to the 18 players currently under contract, who, in theory, should be back next season (and P.A. Parenteau's buyout), Bergevin could have as much as $11 million to work with to fill five spots.
Bill Daly said next year's salary cap will be at $74 million with the escalator and flat without it.

— Frank Seravalli (@frank_seravalli) March 16, 2016
The average NHL salary is around $2.6 million (2015 figure). However, if Galchenyuk is only making $2.8 million, none of the RFAs Bergevin needs to sign should make that much (except maybe Barberio, who's way past the bridge-deal stage).
That gives him a lot of wiggle room to work his magic meet a wizard, get some magic and work it to sign that white whale of his, with semi-realistic options like Loui Eriksson, Kyle Okposo and David Perron available.
It's obviously all easier said than done, but, man, if done right, Bergevin should have most of the summer to sit back and relax… and, well, assess—hopefully properly—his coaching staff for next season.
Marc Bergevin on #habs:"Even with all the injuries, I'm not happy with the situation and we're going to evaluate it at the end of the season

— Renaud Lavoie (@renlavoietva) March 14, 2016
That, if done right, should be more time-intensive, but you know what they say: There's no rest for the wicked and the Habs have been pretty bad. Things can only go up from here. That's also how they're looking from this vantage point.