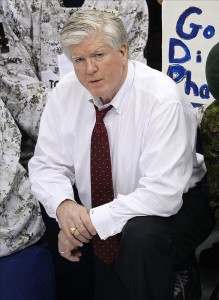 Since the NHL lockout, The Toronto Maple Leafs have been more recognized for their play on the the links than they are for their time around the rinks in the month of May.  In fact for the past 7 years, the Leafs have failed to qualify for the post season.  Brian Burke is trying to change that, but as we approach the middle of mother's day month, I wanted to highlight some Maple Leafs that are still playing.
The Farm Team
The Toronto Marlies made quick work of the Rochester Americans and the Abbotsford Heat and are now moving on to the Western Conference Finals against the Oklahoma City Barons.  The series will get underway in Oklahoma City on May 17th.  The Barons have home ice advantage in the series due to a 99 point season as the farm team of the Edmonton Oilers edging the Toronto Marlies out by a mere 3 points.  These two teams split the season series with a win a piece and are both on high as they head into this best of 7 series.  The Marlies have been a team on a mission and a few players stand out.
1 – Ben Scrivens is 7-1 and leads the playoffs with a 1.61 GAA and a 0.944 Save Percentage. He is on fire.
2 – Jerry D'Amigo leads the Marlies with 9 points in 8 games, leads the AHL with a + 10 and is tied for the playoff lead in goals with 6 and GWGs with 2.
3 – Phillipe Dupuis leads the Marlies with 31 shots in 8 games.  Let's remember that this guy didn't have a point in 30 games as a Maple Leaf.  He has really stepped up his game with the Marlies.
4 – Nazem Kadri has been one of the toughest Marlies to play against.  You get the impression that this post season is his coming out party and that he wants to bring home the Calder Cup for Leafs fans.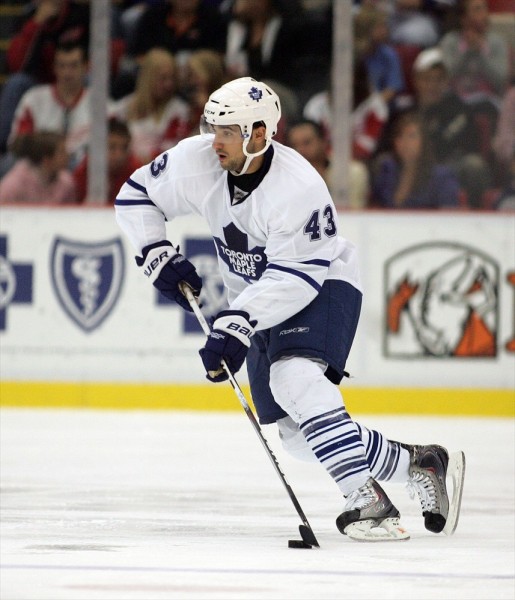 The IIHF World Championships
Canada
Luke Schenn and Dion Phaneuf are slugging it out for Team Canada at the IIHF World Championships being held in Sweden & Finland.  The two stand-up defensemen are on the ice for 13 minutes and 19.5 minutes respectively and have played a critical role in team Canada's success thus far as they try and improve on last year's 5th place finish.  Currently their record is 5-0-1 through 6 games.  The Canadians will play the Belarusians on Tuesday.
Belarus
Mikhail Grabovski has 1 goal and 3 helpers and 20 minutes per game in 6 games for Belarus as they prepare for the Canadians on Tuesday.  Currently they only have 1 win and 5 losses through 6.
Finland
Toronto Maple Leafs hopeful Leo Komarov has played well for Finland in a checking role.  Through 7 games he has 1 goal and he has averaged 13.5 minutes for one of the home countries.  The Finns will be a difficult team to beat down the stretch and they are the defending champ.  Komarov, although not a big player, plays big games and is expected to contend for a spot in September assuming the two sides can come to an agreement on a contract.  Here is a compilation featuring Komarov for Dynamo Moscow and Team Finland.
United States
Role Player Joey Crabb is still slugging it out for the Americans as he has 2 points in just over 10 minutes per game for the US, who are 3-1-2 through 6 games.
Russia
Nikolai Kulemin has managed 3 points in 7 games for the powerful Russians.  Although he had a down season with the Buds in Toronto, Nikolai is a solid sniper and a great backchecker.  He is averaging 15 minutes per game for Russia who is now 7-0.
The Memorial Cup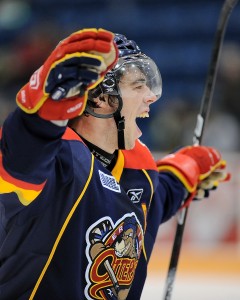 With Portland's elimination at the hands of the Edmonton Oil Kings, the lone Toronto Maple Leafs prospect to be participating in the CHL Championship will be St. Thomas, Ontario native Greg McKegg.  In 65 games with Erie and London this season, Mckegg managed 75 points.  He has also been a force in the playoffs with 4 goals and 11 points in 15 games.   This experience will do wonders for McKegg who hopes to fight for a spot with the Leafs or Marlies next season.
Ex-Leafs
It will be nice to see that at least one ex-leaf will make it to the Stanley Cup final this season in hopes to take home Stanley like Tomas Kaberle did last season with the Bruins.
Alexei Ponikarovsky
He played 477 games in the Blue and White, now he finds himself on his 4th team after being traded away from the Leafs in 2009-10.  With the New Jersey Devils, Poni has 4 points in 12 games.  None were bigger than his game 3 overtime winner at the hands of the Philadelphia Flyers.
Anton Stralman
Stralman is proof that it takes depth to win a Stanley Cup, not that the Rangers have won anything as of yet.  The Swedish blueliner has 5 points including 3 goals in 15 playoff games thus far.  He has been effective as a depth defenseman behind the top 4 studs that they have in NYC.
John Mitchell
Mitchell spent parts of 8 seasons with the Toronto Maple Leafs franchise.  He started his pro career playing for the St. Johns Maple Leafs and then played 3 more seasons with the Marlies before joining the big club.  Mitchell was then dealt to the New York Rangers.  He has been a key depth player for John Tortorella in these playoffs, winning key faceoffs and taking valueable time off the clock, killing penalties.
It may not be a magical run to the Stanley Cup which Leafs fans have been deprived of since 1967, but it's gotta count for something.
Twitter: @StonemanStephen | Email: stoneford@yahoo.com | Stephen's archive
For every Maple Leafs article on THW, follow @THW_MapleLeafs  on Twitter