Cristoval Nieves THW Close-Up:
Date of birth: 1/23/94
Place of birth: Baldwinsville, New York
Ht: 6'2″  Wt: 176 lbs
Shoots: Left
Position: Forward
Draft eligibility: 2012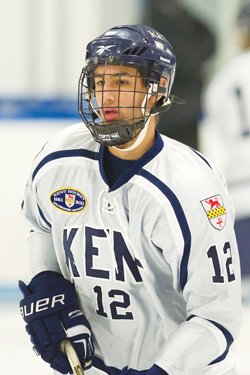 Despite his commitment to High School hockey, Cristoval "Boo" Nieves is still being talked about as one of the top prospects in this year's NHL draft class.  We here tons about USHL talent, CHL talent, and NCAA talent, but High School talent always seems to take a backseat to the other three leagues.  Don't let the talent level fool you, though.  Cristoval, or "Boo" as he has been referred to, has some serious top level skill that was only built during his days at Kent School in Connecticut.
Boo is, by far, one of the fastest players on the ice at any given time.  His poise when the puck is on his stick is one of his main attributes that sets him apart from other forwards.  Because of the confidence and puck control, it is rare to see Nieves make a poor pass or poor decision.  He's got the height of a hockey player without the physical size, but that has yet to stop him this season.  If there is an opportunity to lay a check, Boo isn't one to shy away from the play.  His lack of weight certainly propels him to speed by defenders with minimal effort and his hands in tight spaces in front of the net are a major asset in putting the puck in the back of the net.  His wrist shot is accurate and lethal, so when all else fails, it is a steady "go-to" in his bag of tricks.
A few slights in his game are his obvious lack of physical size, but more so his mental toughness.  It seems once you get into his head, it is difficult for him to play like his normal self and it is very noticeable as the game progresses.  It also didn't help much that he played so often for Kent, since he seemed to lose the speed by the end of the game, looking winded at times.  There might be a slight timidness to his game that he would need to overcome to secure a spot as a top draft prospect this year.
He has plenty of time to work on his skills when he suits up for the Michigan Wolverines next year.  You can't expect him to get the minutes he received at Kent, which will help in the long run as he needs to build the strength and stamina to sustain the rigors of the NCAA season against quality opponents.
Scout's Honor:
"Nieves is the class of the New England prep school circuit this year and the prospect with the most NHL upside. With tremendous size and a big frame, Nieves is a pretty good skater and can be difficult to neutralize once he gets up to full speed. He is offensively skilled and does a good job creating shooting lanes and getting pucks on net. Playing down against a lower tier of competition brings some concern when evaluating his body of work, but with his size and skill he does have some big upside if he can put it all together." – The Scouting Report
"A 2012-eligible, but excellent NHL prospect given his natural size, skating and offensive skills. At 6-3, 185 has the frame to be an attractive option in the pros when he fills out. Outstanding skater who accelerates quickly and is extremely agile and elusive. Explosive burst and separation gear; can turn defenders easily as he attacks with speed to the outside and isn't afraid to go into traffic. Excellent stickhandler; confident with the puck and wants it on his stick. Highly creative and just seems to have a knack for making plays all over the offensive zone." – Bruins Draft Watch
"I was able to watch Nieves play in a tournament in Toronto about mid way through the season.  Out of everyone in the whole tournament I would say he stood out the most. His size and speed were just phenomenal.  His skating stride is so smooth and effortless it looks like he is just gliding around. Every time he had the puck he would create something for either himself or his teammates.  Not many big players can skate like Nieves does and that is why the University of Michigan heavily recruited him during his minor midget season playing for Syracuse." – Aaron Hall of THW
 Bio/Interview(s)/Link(s):
International Tournaments:
Cristoval has suited up for Team USA in the 2011 Ivan Hlinka Tournament and accounted for 3 assists in 4 games.
ETA = 3-4 years
Risk/Reward Analysis:
Risk: 1/10   Reward: 7.5/10
NHL Potential:
Top 6 winger
Strengths:
Skating
Wristshot/Slapshot
Puck control
Poise
Passing abilities
Height
Flaws/Aspects He Needs To Work On:
Physical strength
Being able to bounce back from hits and poor plays
Conditioning
Fantasy Hockey Potential:
Offensive: 8/10   Defensive: 2/10
NHL Player(s) Comparison:
– Joe Thornton
Videos:
Follow Shawn Reznik on Twitter (@ShawnReznikTHW).
THW's The Next Ones prospect profile template design architect:Chris Ralph