Training camp is underway. The Toronto Maple Leafs announced their camp roster on Thursday  and will begin their preseason schedule on Monday, September 18 in Ottawa against the Senators.
With the regular season just over two weeks away, the Leafs will be looking to grow on the success of last season. But where will they end up? Who will lead the way? The crew of the Maple Leafs Round Table got together again to discuss their predictions for the upcoming season.
Joined by THW's Brett Slawson, Anthony Fusco and Branden Poelzer, here's a look ahead to the Leafs' 2017-18 season.
What Are Your Preseason Projections for the Leafs?
Forbes: With very little open roster spots, the Leafs enter the preseason looking to fill maybe two holes within their current lineup. One up front and one on the back end, there will be stiff competition amongst those at training camp vying for these spots.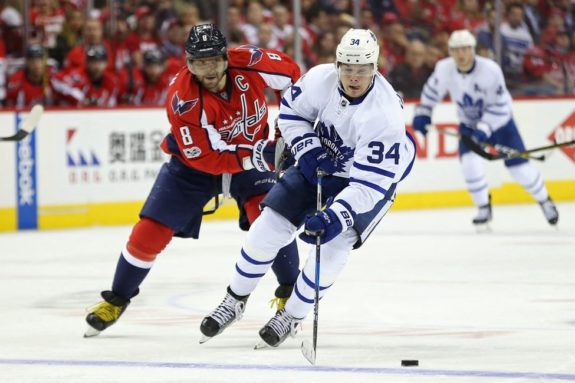 As for the season itself, it won't matter who climbs into those final roster spots as the Leafs are set to improve on last season's surprising results. Just a year after grabbing Auston Matthews with the first overall pick, the Leafs took the Presidents' Trophy-winning Capitals to six games in the first round. Still, the team and their fans had to be impressed. So, it seems only right that the Leafs take another step forward with their three star rookies from last season having more NHL experience under their belts.
Fusco: We all know that you can't put too much stock into preseason games. That being said, I do think we'll see one particularly interesting performer.
I think that Travis Dermott, the young defenceman, will step up and make his presence felt. He's right on the cusp of making the Leafs and I think his play in the preseason will force the Leafs to make a tough choice once the cuts begin.
Slawson: With the 2017 preseason set to begin shortly, I expect nothing other than success for the Leafs. Boasting a roster composed largely of highly talented prospects, there is no reason why Toronto shouldn't enjoy massive success prior to the beginning of the 2017-18 campaign.
Further, with a number of young players vying for a spot on the opening night roster, the Leafs' preseason roster should feature a group of fiery competitors desperate for a taste of NHL action.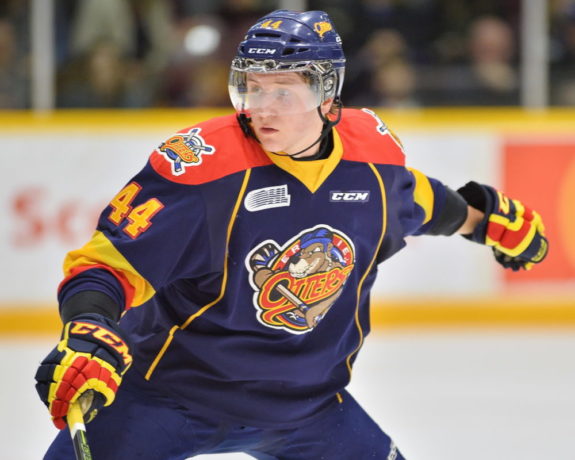 Poelzer: I expect the Leafs to be very competitive and confident, with a returning offensive core that can score at will. The Leafs will improve upon last season, while showcasing their youth.
Where Will They Finish in the Standings? Why?
Forbes: Some will argue that there are still a number of clubs that will better the young Leafs. Sure. That's what we play the games. Any team and beat any other team on any given day. That being said, the Leafs should land themselves a top three divisional spot and a trip to the postseason because of it.
While the Canadiens, Panthers and Senators should be good this year, the Tampa Bay Lightning are the only ones that should top the Leafs – without doubt and only if they can stay healthy. The Canadiens have a number of holes on defence. The Panthers have theirs in net and the Senators will likely be without Erik Karlsson until November. That leaves a gaping hole for the Leafs to take charge of the Atlantic Division.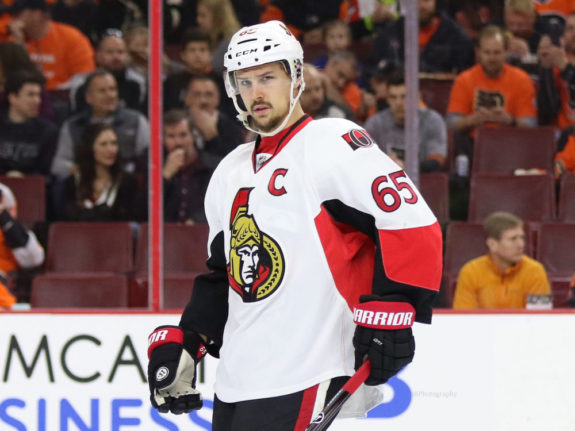 Fusco: I think the Leafs will finish second in the Atlantic. I can see the team taking the next step and building off of their surprise success last year. They added some good veterans like Patrick Marleau, Dominic Moore and Ron Hainsey, and all three will help balance the youthful firepower that the Leafs have.
Slawson: Well, based upon their success last season, it would be easy to argue that the Leafs will return to the playoffs with ease. Unfortunately, I don't see the 2017-18 campaign being an equally successful one for Toronto.
With a number of players coming off of career-best seasons and many youngsters entering their second years in the NHL, the Leafs' outlook is unpredictable at best. Further, it looks as though the Lightning, Montreal Canadiens, and Ottawa Senators will secure the three playoff spots within the Atlantic Division, with the Metropolitan strong than ever, I don't see a wild card spot going to an Atlantic Division contender.
Poelzer: Using last season as a stepping stone towards a very bright future, expect the Leafs to be very competitive this season, and possibly finish at the top of the division. I say possibly because it is quite possible, but there is a better chance of them finishing second to Tampa Bay.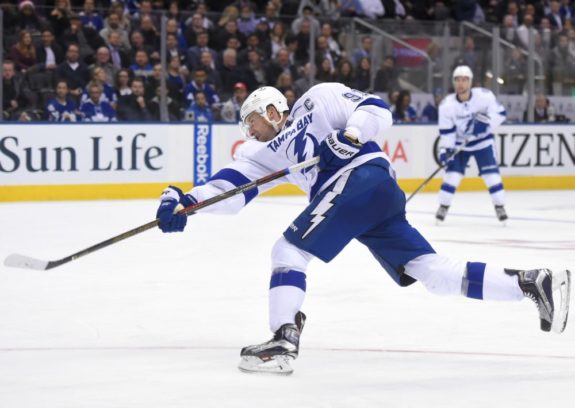 The Leafs have tons of firepower, but it's tough to beat a healthy Lightning squad. However, I do think it could be a closer race than people expect. Given the rapid improvement since finishing last place in the 2015-16 season, it's tough to put limitations on this Maple Leafs squad.
Who Will Lead the Way Offensively? Why?
Forbes: Is there really any doubt? Matthews will lead the way offensively and should better his numbers from his rookie season. While it would be smart for the Leafs to maintain his line from the 2017-18 season – alongside William Nylander and Zach Hyman – Matthews could get a chance to play alongside some better options on the Leafs' power play.
After leading the way for the Leafs last season with 40 goals and 69 points, Matthews will likely reach the 75-point plateau in his sophomore season. Anything less could lead the Leafs to a season without playoffs – keep that in mind.
Fusco: Offensively, I see Matthews leading the way once again. Matthews is a dominant force who will only get better as he continues to mature in the NHL. I'm not saying he gets 40 goals once again, but I could see him having more assists and breaking the 70 or even 80-point plateau.
Slawson: None other than Matthews will lead the way offensively for the Leafs. The first-overall selection in the 2016 NHL Draft, Matthews' immense size, strength and ability with the puck simply cannot be ignored.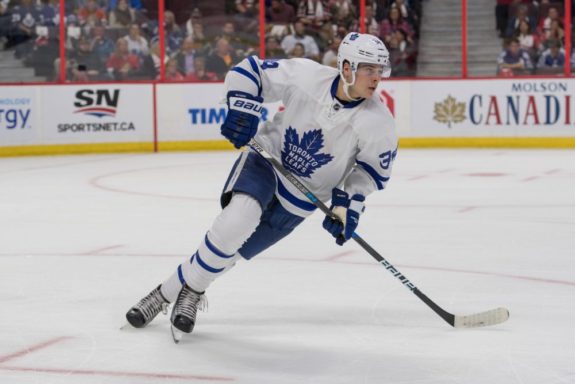 A 40-goal scorer in his rookie season and the Calder Trophy winner as a result, I don't expect Matthews to endure a sophomore slump and, as a result, he should reach new career-highs in his second campaign in the NHL. Further, his supporting cast continues to improve, as Nylander and the addition of Marleau should further inflate his offensive totals.
Poelzer: The answer is quite simple. The Leafs have a three-headed monster in Matthews, Nylander and Marner. Although the rest of the Leafs top-six were fairly close in terms of points last season, these three in particular have the best chance of leading the team because they haven't reached their offensive ceiling yet.
Finishing with 69, 61 and 61 points respectively, I fully expect all three to improve upon their successful rookie seasons. Matthews and Nylander will be linemates once again, and Marner at one point was leading the Leafs in scoring last season. If they all stay healthy, it's not out of reach for Matthews to hit 80 points, with Nylander and Marner right behind him with around 70-75.
Who Will Likely Be the Maple Leafs' MVP? Why?
Forbes: Matthews? Marner? For me, it's Frederik Andersen. The goaltender is coming off his first season with the Leafs in which he put up a 33-16-14 record in 66 games played. He gave the Leafs a chance to win against the Capitals in the playoffs and was just one of a number of reasons why the Leafs even made it to the postseason.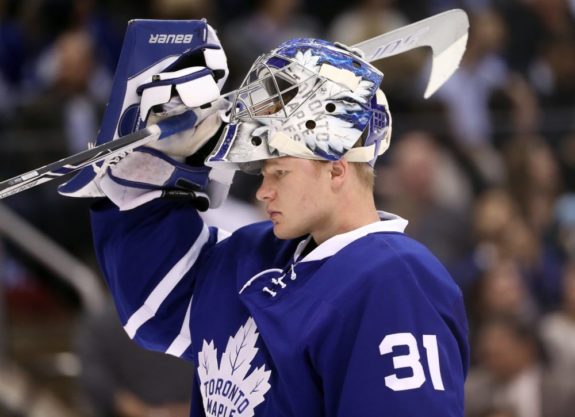 Now, he has a more experience team in front of him. He has players that have had time with Mike Babcock's system and he isn't starting the year dealing with an injury. With a good training camp, Anderson should come into the season healthy and ready to get the young Leafs squad back to the playoffs in 2017-18.
Fusco: I think that the MVP of the team is going to be the aforementioned Matthews. I have a feeling that he is going to be the popular choice. He's a talented, elite center that is only going to get better.
Slawson: It's tough to say, as Matthews would certainly be an easy option to argue. However, my choice is going to be Andersen. Every successful NHL team needs elite starting goaltending and elite is exactly what Andersen provided in his first season with the Leafs.
Consistent between the pipes and tirelessly competitive, Andersen has the ability to steal games for Toronto when he gets into a groove. Although he battled injuries in 2016-17 – an issue which the Leafs will need to be on the lookout for – if Andersen can play at the same level as he did this past season, Andersen could very well be Toronto's most valuable player this coming campaign.
Poelzer: If the Leafs are to be successful next season, their MVP has to be Andersen. He has to be a work horse, and steal games when the defensive play slips up. If the Leafs offence improves upon last year like it's expected to, and Andersen improves upon his first season as a Leaf, this team will be successful.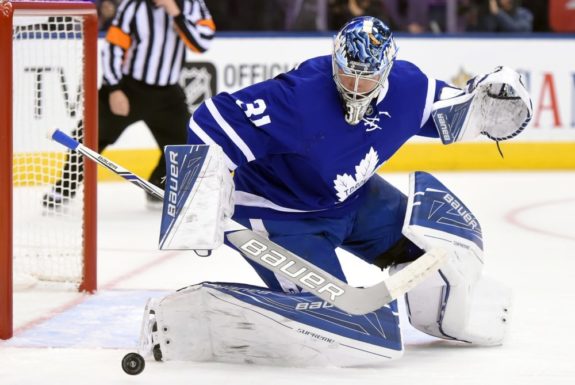 After a shaky start, Andersen proved to be up to the task. Expect the Danish goalie to improve upon last season's numbers. A 40-win season is not out of reach, but the Leafs will have to improve their shootout record for him to have a chance. If Andersen reaches anything close to 40 wins, that is considered an MVP worthy season in my books. He would also be considered an elite NHL goalie.
Who Is Your Surprise Standout from This Team? Why?
Forbes: This might be argued by some, but for me it's Nazem Kadri. Kadri's coming off his first 30-goal season (scoring 32) and added 29 assists. He finished tied for third in team scoring with 61 points. Still, some doubt that he can maintain that production in the upcoming season.
But Kadri's bought into what Babcock is feeding him. He's learned to be a two-way player and to play against the top lines of the opposing teams and because of that he's being rewarded with ice-time. That has led to an increase in his production. I'd look for a similar season from the 26-year-old forward. He should have no problem hitting the 30-goal mark and 60-point plateau again in 2017-18 – surprising all the remaining doubters.
Fusco: I'm going to go with the newly signed Moore for this one. Fans are going to love his style of play and how much veteran experience he brings to the team. He's reliable, a leader and will anchor the fourth line and penalty kill.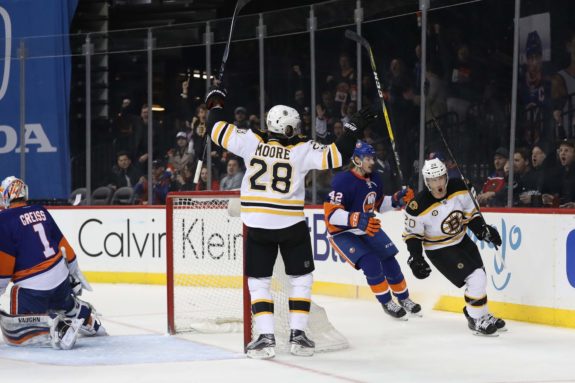 Slawson: Well, given the roster has not undergone significant changes since the 2016-17 season, my choice has to be Connor Brown. A shockingly successful rookie this past season, I feel as though Brown will thrive with his new contract in-hand. Surely confident in his future with the team, Brown's ability to produce offensively in a variety of situations makes him an incredibly valuable, yet underrated, player for the Leafs.
If he can continue to raise his point totals in 2017-18 while providing Toronto with the same level of defensive excellence, Brown could breakout into a player of immense value for the club.
Poelzer: It's so difficult to only talk about one specific player. Given the end of last season, including playoffs and the World Championships that followed, Nylander is in for a big season. In the last 47 regular season games, he had 37 points. He followed that up with four points in six playoff games against the Washington Capitals.
Clearly Nylander wasn't ready for his season to be over, as he exploded for 10 points in six games en route to an MVP performance for the gold medal-winning Swedes. With that wicked shot he possesses, I could see him scoring around 30-35 goals next season if he stays healthy. The clear, rapid progression of Nylander's game at the end of last season has me thinking fans are in for a big surprise as to how high his offensive ceiling actually is.
Decisions will be made over the next couple weeks as the countdown to opening night against the Winnipeg Jets continues. Here, the round table has provided you with their predictions and we're curious what you see for the Leafs in the season ahead. Be sure to join the discussion and leave any questions you'd like discussed in future editions of The Hockey Writers' Maple Leafs Round Table.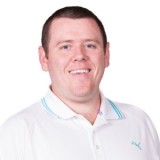 Andrew is in his 8th year reporting for The Hockey Writers covering the Toronto Maple Leafs. He began his broadcasting with CBC's Hockey Night in Canada team as well as being part of their coverage of the 2014 Winter Olympic Games in Sochi. He's the former play-by-play voice of the London Jr. Knights for Rogers TV and currently hosts the Sticks in the 6ix podcast. You can follow him on Twitter at @AndrewGForbes.