Ever since Mike Babcock came to the Toronto Maple Leafs organization, he has pushed his players to be better professionals, on and off the ice. Nazem Kadri is in an age group on this team where he is expected to lead by example, something that wasn't always clear before Babcock's arrival.
Kadri Learning from His Mistake
Kadri was suspended for three games by the Leafs near the end of the 2014-15 season for arriving late to a team practice. During this time, he was asked to mature and think about his mistake, and he delivered. He signed a one-year "prove it" contract that off-season worth $4.1 million, meaning that if he produced, he would prove to the team that he's worth a long-term contract.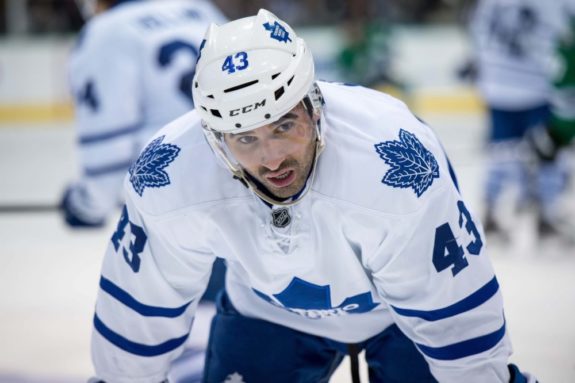 The 2015-16 season saw a much more dedicated and mature Kadri, who was 12th in the entire league in shots on goal (260) and led the Leafs in scoring with 45 points. He was rewarded for his hard work with a six-year contract, worth $27 million, meaning that he earned the right to be a part of the long-term plan.
Kadri used the following off-season to continue to work on his shot and add additional strength — and it seems to have paid off. He still throws questionable hits and plays like a pest, but he has also become one of the main leaders on this team.
A Season to Remember
The 2016-17 season saw Kadri complete the biggest transformation of his career. Babcock realized the greatest use for the pesky-side of Kadri would be in a shut-down centre role while still contributing offensively, and the former London Knight came through once again.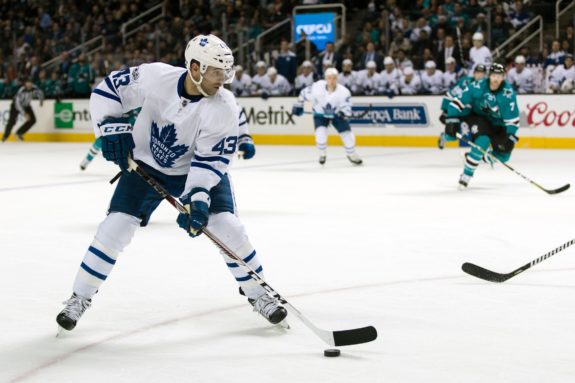 Not only did he succeed in shutting down the likes of Connor McDavid and Sidney Crosby, but he put up the best offensive numbers of his career while doing so — Kadri hit the 30-goal and 60-point plateau's for the first time in his career. These offensive numbers, plus his defensive success, led many to believe he was worthy of a few Selke Trophy votes.
Kadri Gets Under Opponents' Skin
Kadri loves to be a pest, but sometimes that trait can come back to haunt him. He has always been among the league leaders in penalties drawn, but takes his fair share as well. Kadri has the rare ability of being able to throw a huge momentum swinging hit in favour of his team, and then score a highlight reel goal right after. He can out work McDavid, the NHL's best player, while scoring the game-winning goal in overtime to give his team the win.
The OG Nazem Kadri stole the show from the young guns last night with 2 goals including this OT winner! #Beauty pic.twitter.com/bnpG03DjlH

— Tim and Sid (@timandsid) November 2, 2016
There are very few players who become better when playing against the best the NHL has to offer, Kadri may fit into this category. The goal above is a great display of hockey IQ, because he wouldn't out skate McDavid. However, by leaning in front of him while out muscling McDavid he makes sure to have somewhat of a breakaway where he still has room to fool the goalie.
Though not a big player, Kadri makes his presence felt on the ice. Sure, the hit below could be considered questionable by some, but the bottom-line is that he took out Alex Ovechkin and wasn't suspended.
Another look at the Nazem Kadri hit on Alex Ovechkin, his knee buckles back pic.twitter.com/RAiOFsG9K4

— Brody Logan (@BrodyLogan) April 22, 2017
When you deploy a line that has Kadri and Leo Komarov, even opponents as big as Ovechkin have to keep their heads up. The hit was very controversial at the time, but the NHL stated the hit was clean and hit's like these have the potential to change the momentum of the game.
Can He Score 30 Goals Again?
Without a doubt, it was a career year for Kadri last season. A 30-goal season makes fans wonder if it's possible to replicate this kind of success, especially when it's his first time doing so. In the 2015-16 season, Kadri fired pucks at the net from all cylinders, but had very little luck. He was usually shooting from the perimeter, which led to a very low shooting percentage.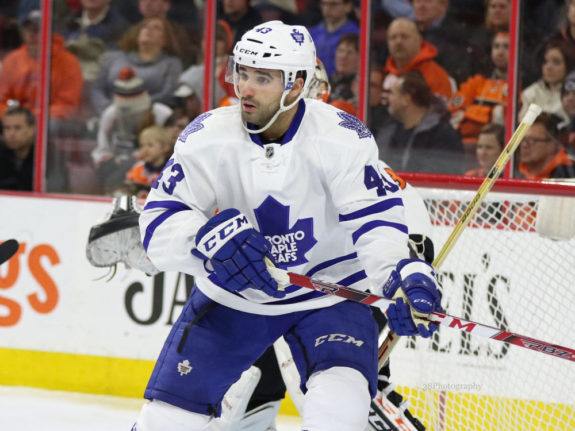 With a history of having bad shooting luck, one might worry about a dip in production. However, if Kadri continues to be deployed as the shut-down centre, there shouldn't be an issue. He thrived off of playing against elite competition, and it seems when he is focused on shutting down the opponents top line, he scores more goals.
If he continues to be used frequently on the power play, the goals will be there. I fully expect Kadri to continue his offensive production, and also take a leap forward in regards to defensive ability. Babcock has stated that Kadri hasn't reached his full potential. If that happens, expect Kadri to be a more serious candidate for the Selke Trophy as the league's top defensive forward.
I've been a Leafs fan since I was a little kid, and had to live through the painful collapse of the 2012/13 season against the Bruins. Most of the Leafs top players are my age. They light up the NHL and I write about it! The youth on this roster makes for very entertaining hockey. You won't want to miss a game!