There's just over a month before the first puck drops on the 2017-18 NHL season. The Calgary Flames kick off their season on October 4th against the Edmonton Oilers after an eventful off-season. General Manager Brad Treliving overhauled the goalies, re-signed key pieces and tightened up the defence in hopes of building off 2016-17's promising, but ultimately disappointing, season. There are, however, some questions that remain unanswered.
Will Mike Smith's Penalties Exceed his Shutouts?
This question is not as crazy as it sounds. Last season, Mike Smith didn't notch his first shutout until the Coyotes' 46th game, a 3-0 win in January against the Vancouver Canucks. A month before the shutout, however, Smith came unglued during an argument over Texas's lax fracking policies and attacked any and everyone in a Dallas Stars jersey.
Smith amassed 14 PIM in the 2016-17 season and three shutouts. Meaning he committed four more penalties than he notched shutouts, including the roughing penalty from the Stars brawl. Those 14 PIM were 3rd in the NHL for goalies. He is currently the active leader in PIM among goalies with 109 (this total is bolstered by the 2008-09 season where he paced all NHL netminders with a Hextalian 23 PIM).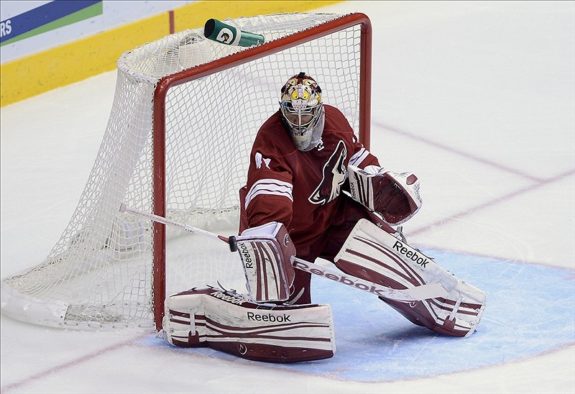 Now that Smith is playing behind one of the best defensive units in the league and will likely not see the onslaught he faced in Phoenix, it's possible his shut out total will improve. Smith's puck handling skills guarantee he'll spend time outside the crease, meaning he'll rack up a few penalties over the course of the season as well. I predict a push, optimistically, and could see five shutouts and five penalties.
Has the NHL Figured Out Johnny Gaudreau?
I've read that NHL teams and their defences have figured out Johnny Hockey. in a few places the past year. They often compare his point total from 2015-16 to 2016-17. There was a noticeable drop. He went from 30 goals and 48 assists for 78 points in 79 games to 61 points in 72 games. That's a point per game drop of 0.987 to 0.847 or approximately 14%.
Clearly, the league has figured him out and he is only a few seasons away from becoming a ticket scalper in the shadows of the Saddledome's parking lot. Unless we look deeper.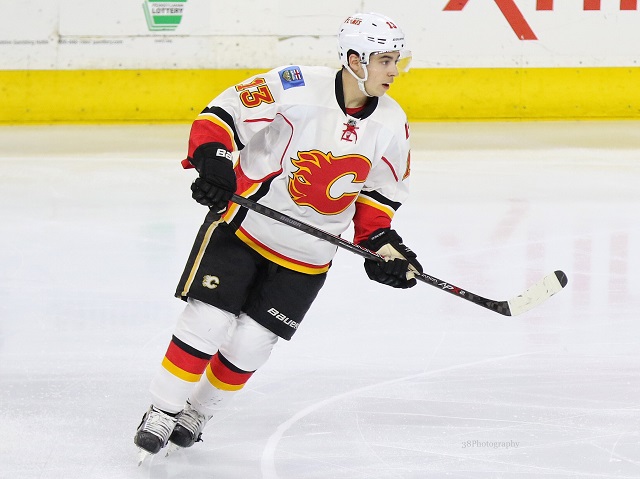 Gaudreau started the season badly. He fractured a finger in a November game against the Minnesota Wild after struggling early on a line that didn't mesh. It seemed like he was thinking too much on the ice and second guessing his instincts. But, as the season went on, he improved.
In 17 games in October and November before the injury, Gaudreau scored 11 points and was minus-11.  Over 14 games in March, he scored 17 points and was plus-7. In 42 games before the All Star break, he scored 31 points at minus-17 and in the next 30 games he scored almost as many points (30) and was a plus-10. Do you see a pattern here?
It wasn't a matter of defences figuring Johnny out. It was Johnny who figured out the defences.
Can the Flames Finally Beat the Ducks?
Counting the traumatic 2017 first round Playoff series, Calgary lost eight games to the Anaheim Ducks last season. The Flames beat the Ducks once. In the 2015-16 season, Anaheim won five games and Calgary won zero. I'm not done yet. In 2014-15, Anaheim beat Calgary in the playoffs (sound familiar) but Calgary, at least, managed to push the series to five games. The city will not be made whole again until every copy of the Emilio Estevez film is gathered and buried beneath Mount Andromeda.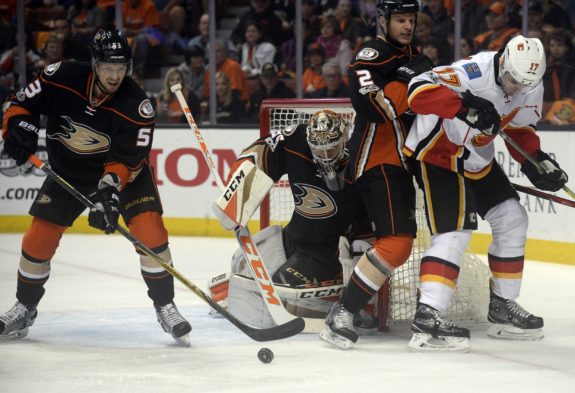 It's not all doom and gloom though. The Flames cut the weighty anchor gouging the sea floor in Dennis Wideman and bolstered it by adding Travis Hamonic. Ryan Getzlaf is 32 and has played in 982 games (including 121 playoff games). It's only a matter of time before he slows down. Right? Maybe he doesn't have to slow down, if his linemates do. Ryan Kesler will be 33 heading into the season and has played 897 regular season games and 97 playoff games. Corey Perry seems to have hit the veteran wall, posting his lowest scoring totals since 2012-13 (53 points on only 19 goals). Unfortunately, his defence appears to be holding steady.
Barring a curse, the Flames match up better with the Ducks this year. Calgary has had a year to become familiar with Gulutzan's tactics and a year – albeit fractured – to sort out their best line combinations. While the Flames may not sweep the Ducks in the season series, they have a good chance to split it and if forced to meet in the playoffs again, this is the year they could take it.