Nazem Kadri is far more than just a pesky player with a penchant for drawing penalties and infuriating opponents.
Aside from achieving the highest point total of his career this past season, with 61, his defensive game has grown in leaps and bounds under the tutelage of Mike Babcock.
While the likes of Patrice Bergeron, Ryan Kesler, and Mikko Koivu have rightfully earned their spots as finalists for the trophy, with classic stats such as faceoff win percentage, plus/minus, and blocked shots, it is the unsung hero from London, Ontario who deserves so much more recognition for his ability to stifle offence.
The Competition
In addition to posting an impressive 32 goals this season, which is tied for the fifth in the league regarding centres and 17th for all players, Kadri was tasked with some of the most difficult matchups, butting heads with Sidney Crosby, Connor McDavid, and other top-line centres on a nightly basis.
His role required consistent tenacity, as he attempted to go stride-for-stride with players who make a point of out-competing and embarrassing their counterparts, yet undeterred, Kadri often managed to get under the skin of some of the best players in the game, as seen in the playoffs with Alex Ovechkin.
Kadri's role this season was to aggravate, impede, and frustrate as many high-end opponents as possible, to play just barely within the limits, and to anchor the third line with Leo Komarov and Connor Brown, boosting the team both offensively and defensively.
Let's call him Ryan Kesler Lite.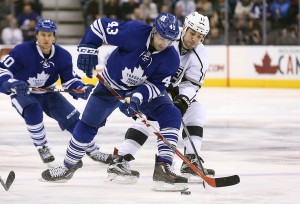 It is Kadri throwing the big hits, gaining momentum for the Maples Leafs, drawing penalties, smack-talking, back checking with fervour, and exasperating opponents to the point of losing their heads, while maintaining a Corsi-for percentage of 51.5, meaning that when he was on the ice, the team had possession more often than not.
What Kadri brings to the table in terms of defence isn't necessarily measured by the same statistics as other Selke finalists, but he certainly has a knack for aggressively antagonizing the exceptional players on opposing teams, and has the skill to back it up.
Earning His Spot
His success was due in part to his commitment to regiment. Fully buying into the new management's desire for off-ice professionalism, Kadri trained himself to become an indispensable asset, both physically and mentally.
This work was noticed by Babcock, who was clearly impressed by what the young centre had already accomplished in his career, and used him in many crucial situations throughout the season when the game needed to be locked down.
Through no small feat, Kadri had earned the trust of the new coach trust after just one laborious season together in 2015-16, and the 26-year-old has earned his paycheck through 2016-17, after GM Lou Lamoriello signed him to a six-year contract last April, carrying a $4.5 million cap hit.
Lamoriello said Kadri more than lived up to expectations in first year of new contract … still sees room for improvement …

— Mark Masters (@markhmasters) April 25, 2017
The Selke is a trophy offered to the league's best defensive forwards, and it was clear this season that Kadri was focused on stopping the puck from entering his own net, as much as he was on burying it in the opposing side's.
Nobody was quite sure if he'd turn into a star first-line centre with silky hands or a serviceable roster filler on the bottom lines, but this season under Babcock, the Maple Leafs discovered a healthy middle ground for the player.
With some improvement on draws, more consideration for his plus/minus statistic, and a touch more self-control, the young centre could potentially raise himself to a level where he consistently competes for the Selke with Bergeron, Kesler, and Koivu.
Though subject to the occasional fit and subsequently bad penalty, Kadri did more for this team defensively than any other forward on the Leafs, and he deserves some recognition.