This past week, the Montreal Canadiens held their annual post-mortem press conference and management was arguably priming itself to pass the buck after another disappointing season.
Whereas general manager Marc Bergevin famously said last season's collapse was on him at the time, he and head coach Claude Julien seemed cautious not to blame anyone, not yet anyway.
Don't worry, though. The other shoe is probably coming. He had also said last season that Michel Therrien and the players were staying put. Six months later, P.K. Subban was shipped out of town.
#Habs Bergevin: "All the critiques should be directed to me… It's on me, only." Michel Therrien and the players "are not going anywhere."

— John Lu (@JohnLuTSNMtl) January 21, 2016
In the spirit of general managers' time-honored tradition of finding scapegoats to deflect attention away from their own shortcomings, how about a list of the likeliest "volunteers." Of note, Bergevin, himself, is probably safe after making the switch behind the bench earlier in the season. So, who's going to shoulder most of the blame instead, though?
5.  The Team Itself (for Being Good)
It's admittedly a bit of an off-the-board pick. Bergevin seems eager to swing for the fences, essentially repackaging the "it's hard to win in this league" classic many NHL team apologists are so fond of. He gets style points for his wording, though.
Bergevin: "When you pick in the 20s year after year, it's hard to find core pieces unless you get lucky."

— Sean Coleman (@SColemanUFA) April 24, 2017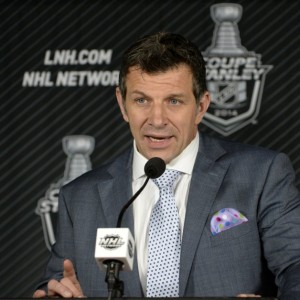 Indeed, Bergevin seemed to argue that the deck is stacked against the Canadiens to build a winner, because they regularly finish with 100 (or more) points. That's been the case in four of the five seasons he's been in town at least.
In the other (2015-16), they ended up picking in the top 10 at the NHL Entry Draft (Mikhail Sergachev, No. 9). In fact, that's the second time (out of five drafts) during Bergevin's tenure that they've had the "privilege" of so doing (Alex Galchenyuk at No. 3 in 2012, right after Bergevin was hired).
Perhaps he's testing the waters to see if anyone's buying what he's selling, that Montreal's drafting has been sub-par during the time he's been in the front office. That would imply his sights are set on Vice President of Player Personnel Trevor Timmins, who's already a popular scapegoat among many fans, despite his incredibly solid drafting record since starting with the team 15 years ago.
It should be noted it's hard to assess his record over Bergevin's tenure with the team, as many of the players selected are arguably still developing as we speak. It's nevertheless interesting that, in the 2013 draft, the Habs seemed able to pick several decent players well outside of the mid-20's.
They include Therrien-favorite Jacob De La Rose, Artturi Lehkonen and Sven Andrighetto, who scored 15 points in his last 19 regular-season games this year… with the Colorado Avalanche after Bergevin traded him away for unsuccessful-science-experiment Andreas Martinsen.
4.  Max Pacioretty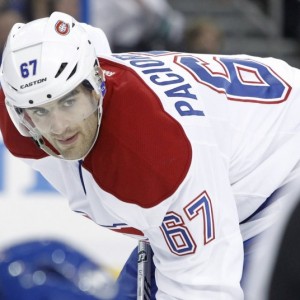 Sometimes you don't get the bounces and are the victim of recency bias. That's certainly seems to be the case with Max Pacioretty, who earned just a single assist in six games this spring. He takes the No. 4 spot because he obviously needs to take some ownership for the first-round defeat to the New York Rangers. He just doesn't seem to be on Bergevin's radar (yet). And justifiably so.
There's no denying that Pacioretty had a bad playoffs, but the effort level seemed to be there. To illustrate that fact, his 28 shots on goal average out to 4.67 per game. During his successful regular season, his 268 shots (35 games) average out to 3.3 per game.
Furthermore, despite the popular narrative that Pacioretty doesn't bring it during the playoffs, he scored 10 goals over his last two playoff runs prior to one. He played 28 postseason games in 2013-14 and 2014-15, translating to 29 goals over an 82-game season. During his regular-season career, he's averaged 30.
So, there's hardly good reason to throw Pacioretty completely under the bus. And to a certain extent the Habs seem to understand that.
"He fought. He did everything he could to show his leadership. He has our support and we recognize what he does." -Julien on Pacioretty

— Canadiens Montréal (@CanadiensMTL) April 24, 2017
"I was very happy with our leadership group. We struggled for a period during the regular season, but came back to find our game."- Bergevin

— Canadiens Montréal (@CanadiensMTL) April 24, 2017
Of course, Bergevin is more likely referring to Shea Weber, whom he brought in last summer, and is conveniently glossing over how even a leader of his caliber seemed incapable of turning the sinking ship around. The Canadiens only really saved their season after Therrien got fired and they went 16-7-1 the rest of the way.
Regardless, most fans can probably agree that it makes little sense to trade away a perennial 30-goal scorer who makes an average of $4.5 million during his prime seasons. Of course, it made little sense to trade away P.K. Subban, so anyone is fair game.
3.  Assistant Coaches
It's a bit cynical to suggest, but, if Bergevin is serious when he says he won't blow up the team and is happy with the core, there's no better way to move forward than to scapegoat Julien's assistant coaches. They're the most expendable resource in the NHL, especially when the head coach you just hired didn't have the chance to bring in his own people.
Julien will meet his assistant coaches Tues. Wants to know if they're comfortable working with him. Then he will make a decision. #TSN690

— Amanda Stein (@amandacstein) April 24, 2017
Sure enough, Clement Jodoin, who was brought on alongside Michel Therrien back in 2012, tendered his resignation this week. It remains to be seen if others will follow suit or if Bergevin will pull the trigger himself.
It would be hard to see Kirk Muller leave after a single season back with the team, but if he's the price the Canadiens need to pay to show some semblance of organizational change, so be it from Bergevin's standpoint. Assistants are the cheapest form of currency in the league these days and in this case they would buy more time.
2. Nathan Beaulieu
One of the Habs' pressing needs was to acquire an offensive defenseman this year (for reasons, let's say, unknown). Unless you count Nikita Nesterov, who quite possibly won't be back after a mediocre showing on the team's back-end, the Habs largely whiffed there. So, naturally, there's chatter that the Canadiens could deal away one of their remaining puck-movers in Nathan Beaulieu.
Bergevin on development, when asked about Beaulieu: "At some point players have to take ownership, know where their game is at." #TSN690

— Amanda Stein (@amandacstein) April 24, 2017
Beaulieu's time with the team has hardly been all sunshine and lollipops. He's no doubt had some tough games and made some bone-headed mistakes. However, he did post a career-best 28 points this season, putting him on par with Jeff Petry's output.
Trading him away would be the easiest course of action, almost literally, as there is most definitely a market for a 24-year-old, 30-point offensive defenseman with a first-round pedigree and room to grow. However, making it seem as though a defenseman who more often than not played less than 20 minutes a game is responsible for the disaster of this season?
That's (very) hard.  Stay tuned to see if the Canadiens continue to go down this path and how Bergevin fares.
1. Alex Galchenyuk
Galchenyuk is in a similar boat relative to Beaulieu, in that they're both pending restricted free agents. However, Galchenyuk's due for the bigger raise after a 30-goal season last year and 44-point campaign this one that had him on pace for nearly 60 over a full 82 games. You wouldn't know it, talking to Bergevin, though.
"Alex n'a pas eu une saison (conforme) à nos attentes" – Bergevin sur Galchenyuk

— Alexandre Gascon (@GasconAlexandre) April 24, 2017
Of course, there are issues with Galchenyuk's game. In the 25 games prior to getting injured in early December, he had scored nine goals and 14 assists. So, despite the near-60 points, it's not like his production, which fell off a cliff upon his return, was consistent throughout.
Furthermore, his defensive acumen is far from where it should be for a center in this league (if only there had been some way to properly ease him into the role over the first five years of his career… like playing him there). His effort level also seemed to dissipate come the playoffs. These are all legitimate issues.
However, compare and contrast his three assists against the New York Rangers to the zero points a guy like Andrew Shaw scored and worrisome double standards begin to arise.
Granted, you can't really compare the two as their circumstances are vastly different. But we're not talking about expected offensive production. Remember, Shaw was acquired largely for his reputation as being a clutch playoff performer (and, of course, how much he hates to lose; Poor guy, he must be inconsolable right now after how badly they went out in Round 1).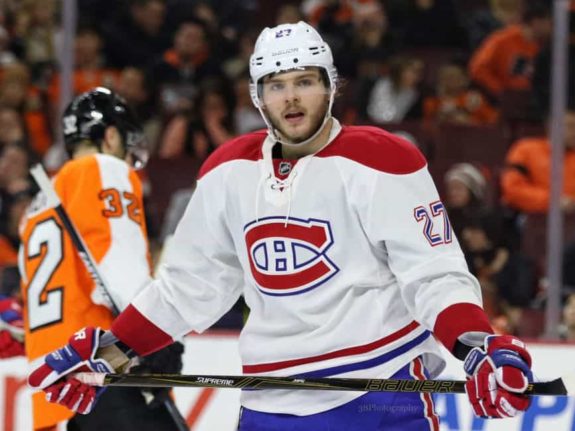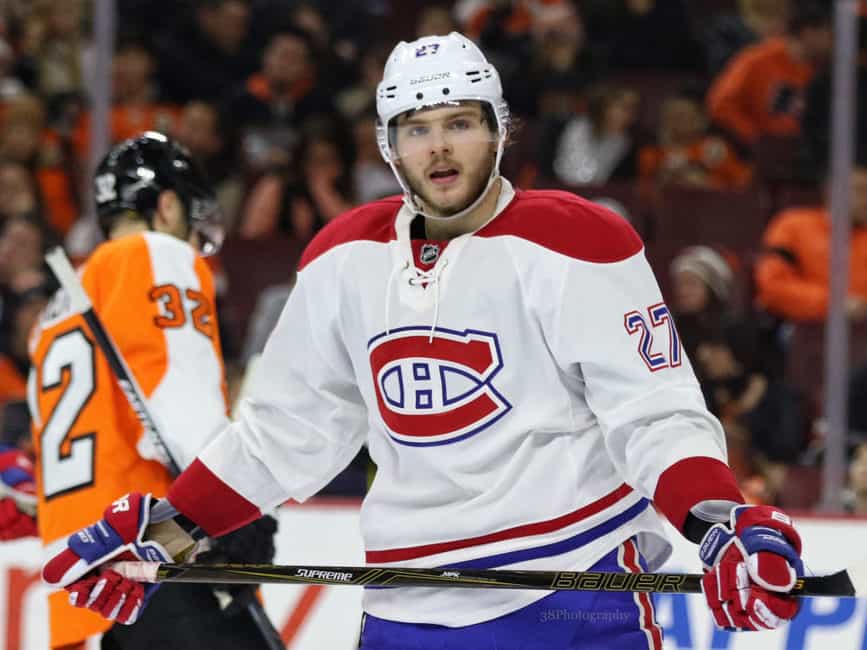 No, we're talking about their contract situations instead. It makes sense that Bergevin would be asked about Galchenyuk at the post-mortem because of his status as a pending RFA. In contrast, it makes no sense for Bergevin to volunteer an opinion on Shaw when the $23.4 million deal he signed him to looks kind of bad after the just the first of six seasons.
Bergevin similarly downplayed Galchenyuk's contributions a few seasons ago before signing him to a two-year, $5.6 million bridge contract. Could this be just more of the same, an attempt to minimize the 23-year-old's negotiating power? Or is this just Bergevin's way of bracing the team's fan base for a trade to come? Galchenyuk for that No. 1 center all teams seem to need? With Beaulieu thrown in for good measure? Fans should hope not.
Galchenyuk, who was drafted to be that No. 1 center, has been far from a bust and Beaulieu, while a let-down from a defensive standpoint, has shown flashes of the potential everyone knows he has. Considering, both have hardly been given chances to succeed long-term, there are only two reason Bergevin would have to dangle either or both as trade bait.
The first would be to move along the team's timeline to win now. That would point to desperation on his part, with the team's window closing rapidly, especially after Season 1 with Shea Weber was so disappointing, even by Bergevin's own admission. However, that can't be it, because he apparently doesn't believe in windows.
When asked about a 'window of opportunity', Bergevin states firmly: "I don't believe in that."

— Dan Robertson (@DanRTSN) March 1, 2017
Does he believe in doors, though? As in being shown one, because the second reason would be to hold those who failed to generate offense for this team accountable.
#Habs Bergevin: Tried to find more scoring, but could not find the right fit for what was available.

— Amanda Stein (@amandacstein) March 1, 2017