When a backup goaltender is traded in the NHL, the implications often aren't too significant. That changes when the backup goaltender has proven to be above-average throughout his brief career with one of the NHL's best teams. This was the case Friday when the Chicago Blackhawks traded goaltender Scott Darling to the Carolina Hurricanes for a 2017 third-round draft pick. This trade is interesting for a variety of reasons that span even beyond the two teams involved in the deal.
There are a few things to consider with this trade. For starters, Darling is a pending unrestricted free agent come July 1. After serving three seasons with the Blackhawks, Darling was going to have options to negotiate a new contract with any of the NHL's 31 teams at the start of free agency. Trading away the rights to an unrestricted free agent is nothing new in the NHL, but it isn't the most common practice in the league either. Whenever the rights to UFAs are moved, then, the assumption is that the acquiring team has had some sort of contact with the player ahead of time to see where each party stands. This wasn't the case for the Hurricanes, however.
Should also mention there haven't been any talks yet between Carolina and Darling's agent. This was news to the Darling camp just now

— Pierre LeBrun (@PierreVLeBrun) April 28, 2017
Another factor to consider is the upcoming expansion draft. With the Vegas Golden Knights getting the opportunity to draft one player from the 30 existing NHL rosters, goaltending has been at the forefront of the discussion. Each team, after all, can protect only one goalie on their roster. With the Hurricanes already having four goalies on the roster, the addition of Darling was a curious one given the timing. It's just one more implication in an already long list that has to be analyzed.
Blackhawks Choosing Crawford
With a franchise goaltender in place in Corey Crawford, the departure of Darling from Chicago wasn't a shocking one. Still, many expected Darling to simply sign with a new team on July 1 as most unrestricted free agents do. In his career, Darling has played in just 75 NHL games, but he's been outstanding when called upon. He's posted a respectable 2.37 goals against average and a .923 save percentage in his three years as a backup. When the Blackhawks needed to turn to Darling in the playoffs in 2015, the then-26-year-old Darling started four games and posted a 3-1 record with a 2.28 goals against average and a .936 save percentage.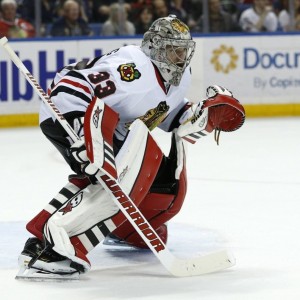 With the expansion draft upcoming, the Blackhawks saw an opportunity to get some valuable draft capital for a player they simply couldn't retain. It's no secret that the Blackhawks and the salary cap are not the best of friends. For this reason, the team couldn't afford to pay both Crawford and Darling to keep one of the league's best goaltender tandems. Additionally, Darling appears to be eyeing a starting role next season.
"Yeah, I feel like I've paid my dues as a backup," Darling said. "And when I've had a chance to play in consecutive games I feel like I've shown that I can do it."
After his impressive 2016-17 season, he certainly proved that he could be reliable in a starting capacity. The Blackhawks dealt with a multitude of injuries in the early goings of the season. One of those injuries sidelined Crawford, pushing Darling into a starting role until the Blackhawks No. 1 netminder could return. By season's end, Darling posted an 18-5-5 record with a 2.38 goals against average and a .924 save percentage and two shutouts.
Expansion Draft
When the Hurricanes traded a third-round pick for Darling, the move held significant weight. After all, the team is only going to be able to protect one goaltender in the upcoming expansion draft. The team will have to decide between long-time goaltender Cam Ward, Eddie Lack, Daniel Altshuller, Michael Leighton and the newcomer Darling. By trading for Darling now, it would appear that the team has already made the decision on who they are protecting should they find common ground on a contract prior to July 1.
For the Hurricanes, a solid goaltender will be crucial moving forward. The team is young and developing for the future. With Ward now 33 years old, he's likely no longer a part of the team's future plans. Lack is 29 years old and was signed to potentially take the reigns as a starter after his stint with the Vancouver Canucks. Unfortunately, Lack simply hasn't played up to his .921 save percentage that he posted in his final season in Vancouver in 2014-15. In two seasons with the Hurricanes, Lack has played in 54 games, starting 49, posting a 20-21-9 record with a 2.75 goals against average and a .902 save percentage.
With Darling, the Hurricanes aren't getting a goaltender fresh off of his draft years. In fact, Darling was drafted in the sixth-round of the 2007 NHL Entry Draft and is now 28-years-old and is currently in his prime years. If he is going to get an opportunity as a starting goaltender, it will be now, and not later. For this reason,  the Hurricanes jumped on Darling – a goalie that was bound to see a significant level of interest in free agency.
Instant Reaction
The Blackhawks are well aware of the talent of Darling. In a salary cap world, however, opportunities such as this one simply couldn't be passed up. It's a situation where a good, competitive team in the Blackhawks are looking to stay competitive while building towards their future.
"We could count on Scott in any situation as he was always reliable," Blackhawks general manager Stan Bowman said. "We appreciate his contributions to the Blackhawks organization — including a Stanley Cup Championship team — and we wish him well as he continues his career in Carolina."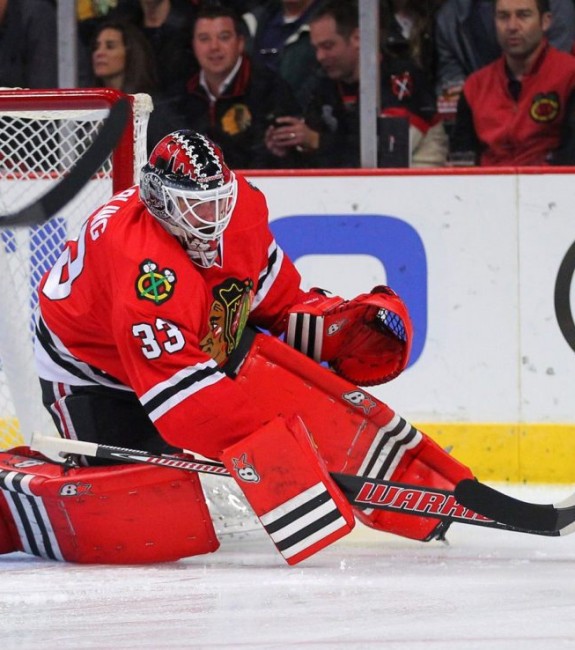 For the Hurricanes, the situation is different. The team has made its draft picks. Carolina has built up a cupboard of prospects, but right now, they need a legitimate starting goaltender. Though they aren't guaranteed to retain Darling ahead of free agency, the calculated risk was a good one. If anything, the timing was curious, but the decision to make a move now before another team tried to shows good foresight on the part of Hurricanes' general manager Ron Francis.
In the end, this deal makes sense for both sides. The Blackhawks needed to recoup some draft picks after failing to make a first-round pick in each of the last two years. The team did make three second-round picks last season, but there are no certainties that any draft pick will become legitimate NHL players. This move gives them a few more lottery tickets. The Hurricanes potentially get their starting goaltender for the next few seasons who will likely come at an affordable price, and both sides will ultimately be happy with the work they did at the end of the day.