The Toronto Maple Leafs were at it again Monday evening with a game against the last team left without a regulation loss in the NHL, the Los Angeles Kings. Although the win resulting from the game is important, I will focus my attention on the roster changes that were made before the game, their impact, and how forward Connor Brown is grasping his opportunity in a more offensive role.
Leafs Notable Roster Changes
On Sunday, the Leafs decided to make some minor changes to their roster, signing Roman Polak to a one-year contract worth $1.1 million. The native of Czech Republic was practicing with the team, often being paired with whatever defenseman was a healthy scratch as a fourth pairing in drills and scrimmages. He was recovering from a brutal leg injury which occurred during the playoffs of last year on a hit from Brooks Orpik.
With Polak playing his first game against the Kings on Monday, it's clear that his recovery was a success. With the signing, the Leafs were over the 23-player roster limit, so they sent Calle Rosen down to the AHL since he has a two-way contract. The Leafs also decided to waive Eric Fehr, indicating that Dominic Moore may have already won the battle for the fourth line centre position.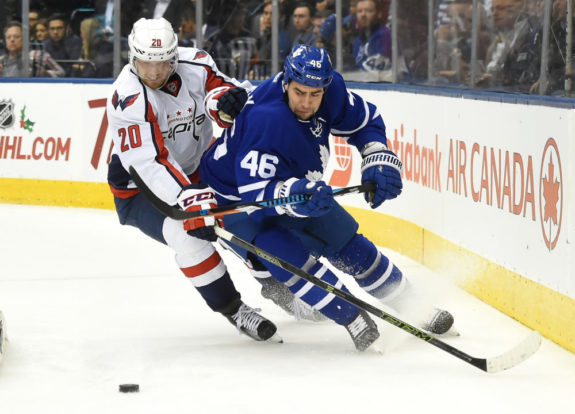 Polak was paired with Andreas Borgman, a Swedish rookie who has been known to play physical like Polak but has a lot more offensive upside. In Polak's season debut, it was Borgman who Mike Babcock spoke highly of in the post-game interview. He said:
Well I thought it was interesting, Roman's back tonight and Borgman had his best game. So it goes together, having someone to talk to and help you out too, so I thought that was positive. Obviously Polak hasn't played so it's going to take him a bit, but we're comfortable.
It's a little early for assumptions after just one game of being paired together, but maybe with a more defensive minded partner like Polak, we can start to notice the offensive upside in Borgman. So far this season he has been paired with both Rosen and Connor Carrick.
Neither are equal to the defensive presence of Polak, which may have limited the number of risks Borgman was willing to take. Perhaps, with a more reliable partner, he can show fans why he was the Rookie of the Year in the SHL last season. Even if his offensive potential isn't reached, Borgman has the physical presence for a shutdown role, meaning he's a great fit with Polak.
Related: Maple Leafs Early Season Storylines
Connor Brown Seizing His Opportunity
Much has been said about Mitch Marner being demoted to the fourth line. What I'd like to bring more attention towards is how Connor Brown temporarily replaced Marner on his usual line, and how well he's been playing in that role. Since Brown's promotion, he has had two goals and one assist for a total of three points in four games.
Brown is known by the Leafs as a Swiss Army knife because he can be useful in so many situations. He has seen success on the power play, penalty kill, or whatever line he happens to be on at a particular point in the season.
The Ontario native won't put up superstar statistics, but he did score 20 goals in his rookie season last year, indicating that he's effective on both ends of the ice. This earned him a three-year, $6.3 million contract extension this summer, proving that Brown is an important part of the Leafs core moving forward.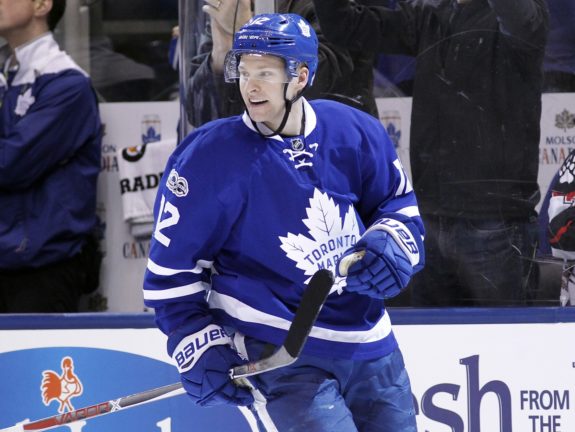 Despite this, Brown has been limited to a fourth line role due to immense winger depth until Marner's recent demotion. Brown's defensive skill set mixes well with Tyler Bozak and James van Riemsdyk who are not always reliable defensively, but it's not ideal to keep a potential superstar on the fourth line for the rest of the season. However, when their line becomes a defensive liability, then it makes sense to throw that Swiss Army knife into the mix to shake things up and motivate Marner to step up his game.
Since the former London Knight had his best game of the season against the Kings on Monday with two assists on the fourth line, I can't imagine he'll stay there for very long. The swap will happen and lines will return back to normal, but it's important to note that it doesn't make a big difference when Marner's on the fourth line because the Leafs have other players that can step up and fill the role like Brown. Marner can still see success on the power play and against other teams lower half of the lineup, making the Leafs even more difficult for other coaches to match lines against.
I've been a Leafs fan since I was a little kid, and had to live through the painful collapse of the 2012/13 season against the Bruins. Most of the Leafs top players are my age. They light up the NHL and I write about it! The youth on this roster makes for very entertaining hockey. You won't want to miss a game!