With the 2013 trade deadline less than a week away, Carolina Hurricanes' GM Jim Rutherford has a tough decision to make. His team started the season strong taking control of the Southeast Division, but injuries have begun to hurt the team.
With Cam Ward injured for the last 10 games, the Hurricanes have gone 3-6-1 including three straight losses and have fallen to 10th in the Eastern Conference. Ward is not expected to be back until near the end of the season and Carolina has been relying on Dan Ellis and Justin Peters to get the job done.
Rutherford now has to decide if his team can still make the playoffs or if he should sell some players to make a stronger push next season.
Previous Years
In past years, the Hurricanes have made more neutral trades rather than going all in for selling or buying. Last season, the team did not make a single trade in the month of February and signing their top trade chip in Tim Gleason.
In 2011, the Hurricanes were active at the deadline making four trades in seven days. Rutherford chose to add former-Hurricane Cory Stillman from the Florida Panthers and on the trade deadline made another trade with Florida for defenseman Bryan Allen for pending UFA Sergei Samsonov.
Those trades would signify that Carolina was buying and was making an effort for the playoffs, but the team also traded Ian White to the San Jose Sharks for a second round pick.
It is tough to imagine what Rutherford may do at this year's deadline based on the previous years. Generally the 'Canes will make trades to move players that don't fit the system, such as White, and adding players that fill a need.
If Carolina Sells
Even if Rutherford decides to trade for someone that will help the team this season, expect the GM to try to move Jussi Jokinen. Rutherford already attempted losing the Finnish forward's $3 million salary, but could not find any takers when he put Jokinen on waivers. Jokinen carries his salary through next season and may have scared off some teams with the salary cap dropping next season.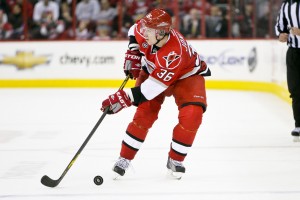 Rutherford could try moving Jokinen for a roster player that will help fill a need similar to the Allen-Samsonov deal he made in 2011. This would allow the team that takes Jokinen to lose some salary themselves.
Besides Jokinen, some other trade possibilities include upcoming free agents Chad LaRose, Tim Brent and Joe Corvo. LaRose has played in Carolina all of his career and most likely would not be traded. Corvo has been traded by Rutherford before and could happen again if the team falls out of the playoff race. While Brent has become an integral part of the 'Canes bottom six supplying skill and defensive help.
If Carolina Buys
If Rutherford decides to take the other route and trade for help, expect the return to be someone who is signed past just this season. Carolina does not often make trades for players that are signed for only one season, except for the additions made before the Hurricanes' Stanley Cup winning season in 2006.
The Hurricanes' biggest need is a defenseman. Unfortunately for them, Douglas Murray would have been a great addition, but the big defenseman was already traded to the Pittsburgh Penguins. Another possible option would be the Calgary Flames' Jay Bouwmeester.
While the Canadian native carries a big cap hit at over $6 million a season and has been the target of criticism for years, Bouwmeester is able to log close to 25 minutes a game and play in all situations. Bouwmeester is also signed through 2014. If the Hurricanes can include Jokinen in that deal or another, a sum of money would open up to pay Bouwmeester's salary.
Other options include Ryan Whitney and Lubomir Visnovsky. However both of those defenseman bring more of an offensive impact, while the Hurricanes could use a more defensive presence on their back end.
Besides the defense, Rutherford could choose to make additions on offense and add a fourth-liner that is better utilized in that position. Currently Carolina's bottom six employs a mix of skill and youngsters that could be helped by a veteran presence. A player like Ruslan Fedotenko or Jochen Hecht could be plausible candidates to fill that role.
However, do not be surprised if Rutherford decides to not make a single move. The team added Adam Hall through waivers, gained Tuomu Ruutu through the player recovering faster than expected and will be getting back Justin Faulk and Ward in the coming weeks. The team also proved when healthy, they could reach the top of the Southeast Conference.