Another trade deadline day has passed in the Buffalo Sabres rebuild. While the changes were even more drastic this year, the question is whether the day can be viewed as a success for the team? This was Tim Murray's first deadline day as general manager of the team and it may be years before we see the moves pay dividends, but based on what we know now, let's look at how the new manager did.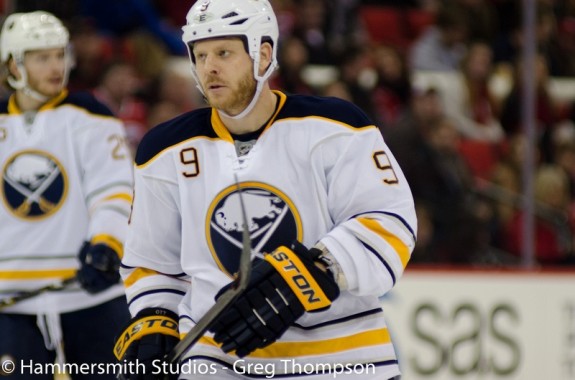 Ryan Miller/Steve Ott Trade
Things started off with a bang for the Sabres as Murray wasted little time in packaging two of the most beloved players on the team to St. Louis, on Feb. 28, for a pretty good haul. The Sabres sent goalie Ryan Miller and captain Steve Ott (both pending UFA's) to the Blues in exchange for Jaroslav Halak, Chris Stewart, prospect William Carrier, a first-round pick and a third-round conditional pick which could become a first round, if the Blues either make it to the Western Conference Final or resign Miller before he becomes a free agent. At this point, it is looking pretty likely that the Sabres will get another first-round pick because the Blues are 3/1 favorites to not only make the Western Conference Finals but win it.
In addition, Miller has already stated that he is open to resigning and he's only been in St. Louis for a week. He recognizes that his playing prime and the Blues' championship window are about the same and that this is his best chance to get his cup.
What makes this trade even better for the Sabres is that they acquired Stewart who has shown he can be a top-six forward. He has shown inconsistencies in his game but is only 26-years-old and has scored 28 goals in the past. He has struggled to play a full season, but he is young enough that he could be useful for the team moving forward. He has one more year on his contract, so the Sabres do get to audition him for the next year and then could decide to move him at the 2015 deadline.
This move needs to be considered a win for Murray and the Sabres because when no one thought that there would be a market for goaltenders, Miller turned out to be the first of many chips on the move. The Sabres got a good haul by making the move early because had they waited, the return could have been much less.
Miller Fallout, Halak flipped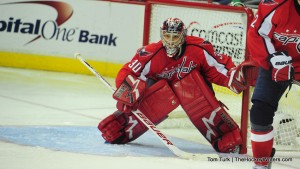 What cannot be forgotten about the Miller trade is that on deadline day, Murray was able to flip Halak and a third rounder to Washington for Michal Neuvirth and Rostislav Klesla. One of the questions the Sabres had knowing that it was only a matter of time before Miller was moved, was who would be the goalie of the future? While the verdict is still out, the Sabres now have two young goalies that can compete to try and fill that role in Jhonas Enroth and Neuvirth. Neuvirth is a 25-year-old Czech goalie who was thought of very highly by the Capitals at one point. However, he eventually fell out of favour for Braden Holtby. However, a reason for optimism for Sabres fans is that in 2010-11 he started 48 games and posted a record of 27-12-4, a goals against average of 2.45 and a save percentage of .914. He is signed through to the end of next season at a very manageable $2.6 million. Neuvirth, along with Enroth should create a healthy competition and the Sabres must be hoping one will emerge as a number one.
Not to be forgotten in the deal is Klesla who has fallen off the map a bit as of late, but could help the younger players develop on the blue line either in the NHL or for the Rochester Americans.
Moving Out Moulson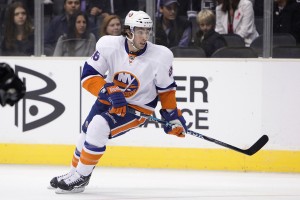 While everyone seemed to think that there was no market for goalies, at the same time they thought there would be a high demand for wingers like Matt Moulson and Thomas Vanek. At the end of the day that wasn't the case. Yet Murray was still able to pick up a pair of second rounders and Torrey Mitchell for Moulson and Cody McCormick. While Mitchell isn't a young prospect anymore, at 29-years-old, he is another good third-line option. While the Sabres do have many of those, Mitchell is a player who can play that grinding game but chip in about 20 points when given the opportunity.
While it is tough to see Moulson go, the Sabres could not risk having him walk for nothing. He has stated publicly that he enjoyed Buffalo so there is always the possibility that the Sabres could sign him in the summer because they will need to spend money to get to the salary cap floor.
When you consider that the Islanders only got a prospect and second round pick for Vanek, the fact that the Sabres got two seconds and a player, has to be considered another win for Murray.
Forward Prospects In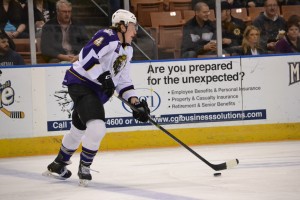 The only other move the Sabres made on deadline day was to send Brayden McNabb, Jonathan Parker and a pair of second round picks to the Los Angeles Kings for prospects Hudson Fasching and Nicolas Deslauriers. Deslauriers is the prize in this deal as the former defender was recently converted to a winger and has gone on to be second in scoring for the Manchester Monarchs this season with 39 points in 60 games.
As for Fasching, he is a 6'3 forward currently at the University of Minnesota. He is only 18-years-old and a third-round pick of the Kings in 2013. As a Golden Gopher he has 27 points in 31 games, but will only get better as he develops.
This is another pretty good deal for the Sabres because the picks essentially wash out from those they acquired from the Kings last season in the Robyn Regehr trade. They are a pair of prospects that are a few steps ahead of draft picks and should be ready a little sooner, when the Sabres are ready to start competing.
Overall, the day has to be seen as a success for the Sabres. They are not left with any big UFA's and were able to get a significant return. The overall analysis though, will come down to how they use the pick and develop the talent. Either way they are well on their way to stocking the system with multiple options as the team tries to regain form as a power in the Eastern Conference.