Ever since Adrian Dater sent out this tweet about the availability of Ryan O'Reilly, the other 29 NHL teams' fanbases have been foaming at their mouths to get a shot at the valuable two-way forward for the Avalanche.
https://twitter.com/adater/status/549106624955416577
Multiple trade scenarios have made its way onto HFboards' infamous Trade Rumors and Free Agent Talk forum and many have been shot down by Avalanche fans for one reason: Ryan O'Reilly is too valuable to the Avalanche.
The team is in desperate need of defensive help on its blueline but trading away one of its best young players for nothing short of a heist would be a big mistake.
Trading O'Reilly would just open up another hole in the Avalanche's top-six and one not so easily replaceable considering the poor state of the team's forward prospect pool. The previous Stanley Cup winners all had a defensive-oriented forward who can do the heavy lifting of shutting down opposition's top line. The Kings had Kopitar, the Bruins had Bergeron, and the Hawks had Toews. The Avalanche need O'Reilly to be that guy.
The state of the Avalanche's defense
It's easy to see the Avalanche need defensive help as they give up a healthy 2.86 goals and 34.1 shots against per game but the solution to their problems might be within their system. The right side of the Avalanche defense looks good long term with Erik Johnson, Tyson Barrie, and Zach Redmond all young and showing a lot of promise as well as Stefan Elliott waiting in the wings. The left side is easily their weakest side but in their prospect pool is a great wealth of left shooting defensemen.
Chris Bigras and Mason Geertsen can all make the jump to the AHL as early as next year to join Duncan Siemens, the Avalanche's first round pick from the 2011 draft who they selected 11th overall. Will Butcher has also shown a lot of promise after his performance in this year's WJC and still has three more years of college hockey, including the rest of this season.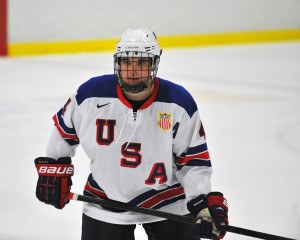 It's important to be patient with their prospects but also important to prevent a logjam for upward movement of its young players.
Moving O'Reilly back to center
O'Reilly showed last season that he is versatile in that he can be both a top line winger as well as a top-six center. In 80 games last year as Matt Duchene's left winger, he scored a career high 64 points including 28 goals.
After seeing Paul Stastny sign with another team as a free agent, the Avalanche thought Nathan MacKinnon was ready to assume full time duties as the team's second line center. As some suspected, MacKinnon was not ready to play one of the hardest positions in the NHL and has struggled this season.
Due to the forward group's scoring struggles, head coach Patrick Roy has been shuffling lines and for the past four games O'Reilly has been centering Alex Tanguay and Jarome Iginla and the team has won three of its last four.
MacKinnon has also scored three points, including two goals, in those four games after being shifted back to right wing.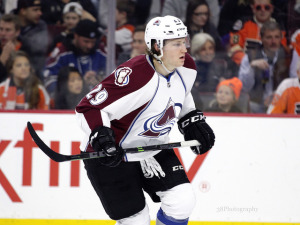 The four games may be a small sample size but the three wins are still three wins and are helping the Avalanche propel themselves back into the playoff conversation. The current lines seem to be clicking well and there's no need to change things.
If they maintain a similar pace, they could very well move past the slumping Los Angeles Kings for that last Western Conference wild card spot.
Contract negotiations
It's well known that O'Reilly hasn't been the easiest to deal with when it came time for both of his contract extensions. The first extension took an offer sheet from the Calgary Flames for a deal to get done and the second extension almost went to arbitration.
Where the blame lies is not so clear but it's best to assume it was 50/50. If this management group can mend fences, they stand a good chance of being able to extend O'Reilly to terms that would make both player and team happy.
The narrative during both extension talks was that the team was unwilling to sign O'Reilly to a cap hit higher than Duchene's, who the team sees as its best player and thus should be its highest paid. Currently, they both have identical cap hits but Duchene's contract takes him to the end of the 2018-19 season while O'Reilly's expires at the end of next season.
The idea that your best player should be your best paid looks good in theory but sometimes it doesn't work that way. Duchene took a massive discount to continue to play for his favorite childhood team. It would be nice if O'Reilly had the same loyalty, but you can't expect him to and to ask him to do so would risk alienating one of your best players.