The Game of Numbers is an exclusive THW series looking at upcoming milestones around the NHL. Each team will be looked at individually in three parts – individual player milestones, franchise player milestones, and players that rank in the top 100 in NHL history in any big statistical category.
Looking at the 2014-15 edition of the Dallas Stars, some would argue that it's a team right out of a fantasy draft. With players like Tyler Seguin, Jamie Benn, and Jason Spezza leading the charge, it's safe to say that the Stars should be among the league's best – should be.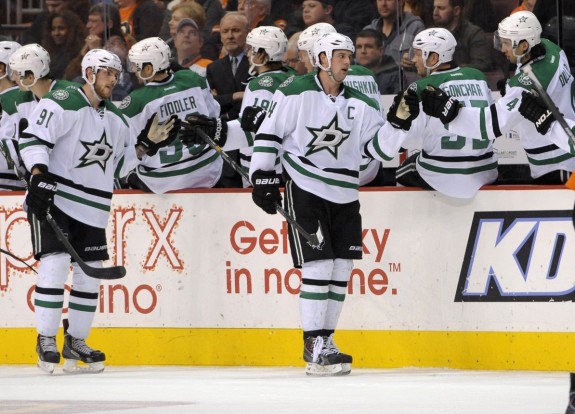 While the success of the team hasn't been exactly where management and fans would like to see it, one thing is for sure. A team with that kind of talent – both up front and on the back end – is surely accompanied by numerous upcoming milestones.
Dallas Stars Individual Milestones
Forget the Stars' top players for a minute – Seguin, Benn, and Spezza – and you'll find that the bottom half of their lineup is actually far more experienced than most NHL lineups. Guys like Erik Cole and Vernon Fiddler add a veteran presence to a lineup filled will skilled players – some a few years into their career and others just starting out. Either way, all of them are on the verge of their own individual milestones.
Games Played:
900 games played: Erik Cole (863)
700 games played: Vernon Fiddler (697)
500 games played: Kari Lehtonen (480), Patrick Eaves (463)
400 games played: Jamie Benn (385)
200 games played: Cody Eakin (197), Ryan Garbutt (164), Antoine Roussel (161)
100 games played: Anders Lindback (92), Valeri Nichushkin (83), Colton Sceviour (63), Jamie Oleksiak (50)
Goals:
300 goals: Jason Spezza (258), Erik Cole (253)
200 goals: Shawn Horcoff (174), Ales Hemsky (152)
100 goals: Vernon Fiddler (81), Patrick Eaves (77), Trevor Daley (60), Travis Moen (57)
Assists:
500 assists: Jason Spezza (458)
400 assists: Ales Hemsky (357)
300 assists: Erik Cole (258)
200 assists: Jamie Benn (180), Alex Goligoski (176), Trevor Daley (152)
100 assists: Jason Demers (88), Patrick Eaves (77), Travis Moen (71), Cody Eakin (50)
Points:
500 points: Shawn Horcoff (482)
300 points: Tyler Seguin (253)
200 points: Patrick Eaves (154)
100 points: Cody Eakin (84), Antoine Roussel (63), Ryan Garbutt (60), David Schlemko (50)
Dallas Stars Franchise Milestones
Mike Modano is, without a doubt, one of the greatest players to ever don a Dallas Stars uniform. During his time with the franchise (both in Dallas and Minnesota) he set franchise marks in numerous of offensive categories including goals, assists, and points. While every player on the current roster has a long way to go in search of these franchise milestones, long-term deals and consistent play could change things down the road.
Games Played:
Trevor Daley (729) needs 2 games played to pass Frederick Barrett (730) for 10th on the team's all-time list.
Kari Lehtonen (276) needs 32 games played to pass Ed Belfour (307) for 6th on the team's all-time goalie list.
Goals:
Jamie Benn (128) needs 3 goals to pass Ulf Dahlen (130) for 18th on the team's all-time list.
Game-Winning Goals:
Jamie Benn (20) needs 1 game-winning goal to pass Reginald MacAdam, Loui Eriksson, and Sergei Zubov (20) for 15th on the team's all-time list.
Wins:
Kari Lehtonen (137) needs 5 wins to pass Gilles Meloche (141) for 4th on the team's all-time list.
Shutouts:
Kari Lehtonen (16) needs 11 shutouts to pass Cesare Maniago (26) for 3rd on the team's all-time list.
'Top 100' Milestones
Kari Lehtonen started his career with the Atlanta Thrashers before finding his game with the Stars after joining the team in 2009-10. Since then, he's climbed the ladder among goalies in Dallas franchise history in both wins and shutouts. At 31, the former second overall pick ranks among the best of all-time in league history and continues to climb in each statistical category for goalies.
Lehtonen (480) needs 5 games played to pass Roy Worters (484) for 68th on the NHL's all-time goalie list.
Lehtonen (231) needs 4 wins to pass Eddie Johnston (234) for 55th on the NHL's all-time list.
Lehtonen (30) needs 2 shutouts to pass Tim Thomas (31) for 55th on the NHL's all-time list.
More from the 'Game of Numbers' series:
Eastern Conference: BOS | BUF | CAR | CLB | DET | FLA | MTL | NJD | NYI | NYR | OTT | PHI | PIT | TBL | TOR | WSH
Western Conference: ANA | ARZ | CAL | CHI | COL | DAL | EDM | LAK | MIN | NSH | SJS | STL | VAN | WPG
NOTE: The 'Game of Numbers' series is subject to updates as the 2014-15 season progresses. Individual marks will only appear if the player is within 50 of the specific statistical milestone, while franchise marks only recognize the top 20 in club history.
For more, follow Andrew on Twitter at @AndrewGForbes or his THW column at @Tape2TapeTHW.