With no games on the National Hockey League schedule last night, we take a look at happenings in and around the world of hockey.
Wings give Crozier a vacation
The Detroit Red Wings, concerned over the play of rookie goaltender Roger Crozier, yesterday bought the little netminder and his wife a plane ticket to Miami Beach, Florida.  Crozier was ordered to take the week off, and get some rest and relaxation.  The Red Wings don't play again until Saturday, so he will miss no actual playing time.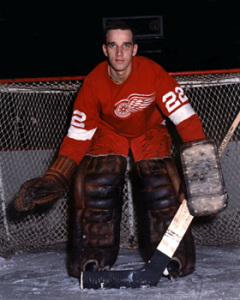 A Red Wing spokesperson said there is nothing to worry about concerning the slightly-built backstop.  "He has played every game except parts of two and we figured this would be a good time to rest him.  We figured a little rest would make him sharp the rest of the way in."
In a related move, the Red Wings sent backup goalie Carl Wetzel to their Pittsburgh farm club in the American Hockey League.  Wetzel has seen limited action with the Wings, but will get some solid work with the Hornets, whose regular goalkeeper Hank Bassen, has been out with an injury.
To replace Wetzel, Bob Champoux has been brought up from Pittsburgh.
NHL trade talk
As the second half of the NHL season gets underway, trade talks are beginning to heat up for several teams.
The New York Rangers are one team looking to make moves.  New general manager Emile (Cat) Francis is anxious to improve his slumping squad.  Sunday night against Toronto the Rangers put on their worst display of the season.  In a post-game news conference, Francis blew up at several members of the New York press corps who singled out defenceman Ron Ingram for a particularly poor performance against the Leafs.
Ingram down, Plager, Mikol up
Ingram was demoted to Baltimore of the AHL yesterday, while two minor leaguers were promoted.  Defenceman Bob Plager was brought in from Vancouver of the Western League, while forward Jim Mikol was summoned from St. Paul of the Central Professional Hockey League.  Those moves may be a  precursor to trades that Francis is allegedly working on.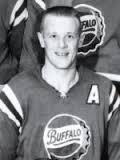 Francis realizes the natives are restless in Manhattan, and is working hard at making improvements.  It's not that easy, though.
"There are a lot of hockey players around, but you don't just replace those you have unless you can get better."
Shack for Hadfield?
Toronto general manager Punch Imlach offered Eddie Shack to Francis.  "If I can get the right person, Shack is available.  I wouldn't mind Vic Hadfield or Bob Nevin."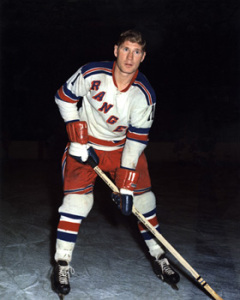 Francis' reply:  "So far it's no deal.  They want guys we can't afford to give up."
The Rangers may also be talking to the Chicago Black Hawks. Hawks are said to be interested in high scoring winger Camille Henry.
Rangers, Wings talking
Meanwhile, Detroit general manager Sid Abel says he is working on a deal with Francis as well.  Abel wouldn't name names, but said that a one-for-one exchange with the Rangers could be imminent.
"We're not that anxious right now to make a trade, but I'm listening to all offers.  We're looking for anything that might help the club."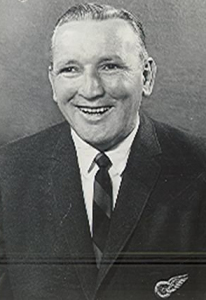 There are reports the Rangers had proposed a multi-player transaction with the Red Wings, but Detroit owner Bruce Norris nixed that notion, giving his approval for only the two-player deal.
Abel commented, "If this thing gets bigger, I certainly would want to consult with Bruce."   Norris has left town on a business trip and is unavailable to participate in any trade negotiations.    Abel said that when the two clubs meet Sunday in Detroit, they may reach agreement on a trade at that time.
Leafs offered Pappin to Wings
Abel also reported that Toronto had offered forward Jim Pappin to the Wings in a deal.  "If Pappin wasn't a right-hand shot, I'd be interested in him for  left side duty.  However, if Toronto puts him on waivers, I'll put in a claim.  The Leafs are not close to us in their requests for an exchange in a trade, though."