On June 22nd, 2007 the Boston Bruins selected forward Zach Hamill 8th overall in that year's NHL Entry Draft.
At first glance, the pick didn't look so bad. Hamill was coming off of a fantastic season with the WHL's Evertt Silvertips, where he scored 93 points in 67 games.
The very next pick, 9th overall, went to the San Jose Sharks, who took forward Logan Couture of the OHL's Ottawa 67's. Couture was also coming off of a solid junior season, with 78 points in 54 games.
Considering the two prospects came from similar leagues and scored at a similar pace, it would have been safe to assume that they would both have developed into similar players at the NHL level.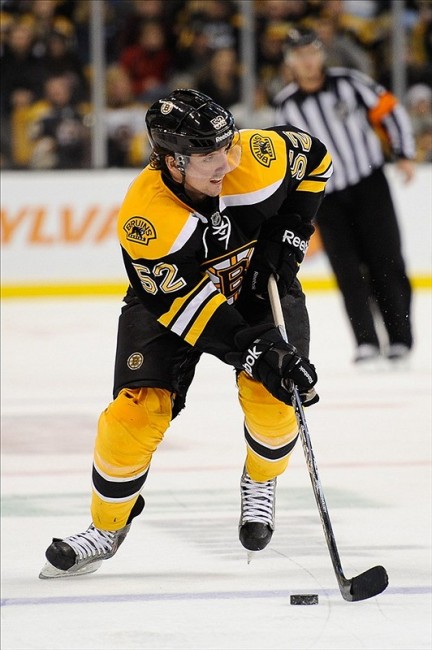 That assumption, however, couldn't have been farther from the truth.
Couture is off to a fantastic start to his career. One of the top players on the Sharks, he's been a Top 6 forward for the team since 2010 and has recorded 256 points in 340 games so far.
Hamill hasn't fared nearly as well. He was never able to successfully transition his junior success to the professional leagues, and after bouncing around in the AHL for years he recently moved his game to Finland. Hamill was only ever dressed for 20 total NHL games, and only managed four points in those games.
How did two players that came from such similar situations and got drafted right beside each other go down such drastically different paths? How did one team draft such a stud and the other such a dud?
The Ravages Of Age
While there are a large, varied list of reasons why a prospect's development never pans out, many of which that could probably be applied to Hamill specifically, I'm going to illustrate one key difference between the two draft picks that benefited the Sharks but hindered the Bruins: age.
As per NHL draft rules, players that turn 18 years of age by September 15th of that year are eligible for the draft. The flipside of that coin, however, is that players whose birthdays fall after the 15th are ineligible, and have to enter the draft the following year.
Hamill and Couture illustrate this key part of the draft rules. Both players were eligible for that year's draft, but Hamill (born on September 23rd, 1988) was older than Couture (born in 1989). If Hamill was a little more than a week older he would have been part of the 2006 draft alongside other players born in 1988.
Why is this important? Hamill's awesome draft-eligible junior year doesn't look as impressive considering it was his third year in juniors, while Couture's draft year was only his second. Naturally, a prospect in his third year of juniors is going to be further along in his development, and have an edge over, players in their second years.
Hamill looks less impressive when you look at his 2005-2006 junior season, which would have been his draft season if he was born a little earlier: 59 points in 53 games. Now, on their own those aren't bad numbers. But is that level of production good enough for a player to get selected 8th overall? Probably not.
To put all of this in other words: Hamill's draft value was inflated because he was a year older, and had an extra year of junior experience, than most other prospects that year. The Bruins weren't the only team to make this mistake at the draft, as this is something that is often overlooked with many late birthday draft prospects.
Let's take a look, coincidentally, at the very next player taken after Couture in the 2007 draft: Keaton Ellerby. Ellerby, a big stay at home defender, was taken 10th overall by Florida after potting 25 points in 69 games. However, Ellerby, like Hamill, was a 1988 birthday, and his 2006 season was also not particularly impressive: 8 points in 68 games. When was the last time that a defenseman scored so little but was drafted as high as 10th overall? Ellerby is having a respectable NHL career, appearing in 211 games, but is currently stuck in the AHL and on his third organization, so it looks like he'll never justify his high draft placement.
Looking back at recent drafts there is no shortage of other late birthday prospects that had an extra year of junior experience and were taken higher than they should have been: Karl Alzner (5th overall in 2007), Luke Schenn (5th overall in 2008), Alexander Burmistrov (8th overall in 2010), Joshua Bailey (9th overall in 2008), Sven Baertschi (13th overall in 2011), Chet Pickard (18th overall in 2008), Zack Philipps (28th overall in 2011), and so on.
Biological Draft Year vs. Effective Draft Year
Now, the point of all of this isn't to say that all prospects with late birthdays shouldn't be drafted high. Drew Doughty going 2nd overall in 2008 and John Tavares going 1st overall in 2009 are perfect examples of this. The point of this article is to illustrate that prospects need to be heavily evaluated by what I will term their biological draft years instead of only their effective draft years.
For example, Doughty was phenomenal in his biological draft year, scoring 74 points in 67 games, which is amazing for a defenseman. He slowed down next season, with only 50 points in 58 games, but that was still enough to justify the Los Angeles Kings taking him 2nd overall. Tavares destroyed the OHL in his biological draft year, with an insane 118 points in 59 games. Scoring 104 points in 56 games next season in his effective draft year was just icing on the cake.
With the NHL unlikely to change their draft eligibility rules any time soon a prospect's date of birth will continue to be an important piece of information that needs to be taken into consideration when looking at upcoming drafts.