The Game of Numbers is an exclusive THW series looking at upcoming milestones around the NHL. Each team will be looked at individually in three parts – individual player milestones, franchise player milestones, and players that rank in the top 100 in NHL history in any big statistical category.
When Ryan Miller left the Buffalo Sabres, the team's need to completely rebuild the franchise was extremely apparent. They were able to grab Sam Reinhart in the 2014 NHL Draft and handed the goaltending reins over to someone other than Ryan Miller for the first time in a long time.
Heading into the season, expectations for the team weren't high. And while they've lived up to those expectations to this point, their young players – Zadorov, Ristolainen, and Girgensons – are being given the opportunity to experience the big leagues. In doing so, the young players are duelling their way to individual milestones – on their way to fighting for Buffalo's all-time marks.
Buffalo Sabres' Individual Milestones
Drew Stafford – one of the few Sabres' veteran players – is more than just a leader on a young and inexperienced team. But like the young players that act as the supporting role in Buffalo, Stafford is looking to crack a few milestone marks in his 9th NHL season.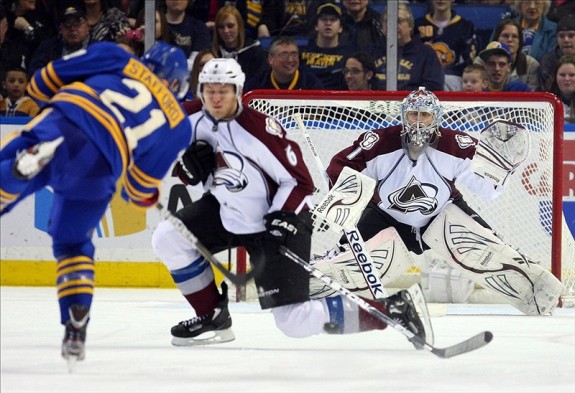 Games Played:
500 games played – Matt Moulson (474)
400 games played – Evander Kane (361)
200 games played – Marcus Foligno (192), Andre Benoit (164)
100 games played – Nicolas Deslauriers (99), Mark Pysyk (70), Johan Larsson (68), Nikita Zadorov (67)
Goals:
300 goals – Brian Gionta (262)
200 goals – Matt Moulson (154)
100 goals – Tyler Ennis (89)
Assists:
300 assists – Brian Gionta (258)
200 assists – Matt Moulson (162)
100 assists – Zach Bogosian (94), Josh Gorges (90)
Points:
100 points – Marcus Foligno (70), Cody McCormick (65), Zemgus Girgensons (52)
Buffalo Sabres' Franchise Milestones
When you think all-time Buffalo numbers, you think of Pat LaFontaine, Alex Mogilny, and even more recent Sabres like Thomas Vanek. But that will all change in the years to come – if some of their current young player can stay Sabres long term.
For now, it might surprise you to find other current Sabres among the top 20 spots in some of the Sabres all-time statistical lists. Stafford and Jhonas Enroth were two of the longer serving Sabres and are both gone.
More from the 'Game of Numbers' series:
Eastern Conference: BOS | BUF | CAR | CLB | DET | FLA | MTL | NJD | NYI | NYR | OTT | PHI | PIT | TBL | TOR | WSH
Western Conference: ANA | ARZ | CAL | CHI | COL | DAL | EDM | LAK | MIN | NSH | SJS | STL | VAN | WPG
NOTE: The 'Game of Numbers' series is subject to updates as the 2014-15 season progresses. Individual marks will only appear if the player is within 50 of the specific statistical milestone, while franchise marks only recognize the top 20 in club history.
For more, follow Andrew on Twitter at @AndrewGForbes or his THW column at @Tape2TapeTHW.
Last Updated: July 31, 2015