With a second consecutive dark night in the National Hockey League last evening, we have an eclectic assortment of tidbits from around the hockey world to discuss.  Topping the list is the continuing situation surrounding Toronto's Frank Mahovlich.
"Nothing new"
As was reported yesterday, the Leafs' big left winger was admitted to Toronto General Hospital with an undisclosed ailment.  Doctors and team officials would not comment specifically on the nature of Mahovlich's illness, its source or how long he will be missing in action.  After undergoing a battery of tests yesterday, Dr. Hugh Smythe said that there will be nothing new to report on The Big M until at least Monday.
"We will not have the results of the tests back until Monday.  Then we will have to study the results before we can make a definite statement regarding the Big M's condition."
Many rumours regarding Mahovlich's ailment, most of them outlandish, were making the rounds today.  Even Maple Leaf Gardens president Stafford Smythe got into the act, offering his opinion that he thought the star forward was suffering from mononucleosis, a blood disease that sidelined Terry Sawchuk in 1957.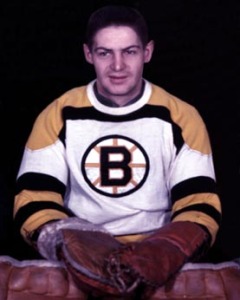 Sources at the hospital said it almost became necessary to build a fence around the location in the hospital where Mahovlich is resting.  He was in danger of being mobbed by nurses and patients when it became known that he was staying in the building.
Adams denies Leafs, Bruins trade
Weston Adams, owner of the Boston Bruins, is with his team as they visit Toronto to play the Leafs tonight.  Adams denies that there is a trade brewing between the Leafs and the Bruins, despite numerous rumours to the contrary.
"I hear from everyone but the teams involved when these rumours reach Boston.  Honestly, I think we have a better club than last season, but you can't prove it by our record."
Coach Milt Schmidt chipped in, "I'll trade headaches with Imlach (Leafs' GM – coach) any day.  He's crying with two loaves of bread under each arm."
Schmidt continued, "We won't have Tommy Williams, but there is a chance Murray Oliver will fly in for the game and see spot duty.  If Murray doesn't play here, he'll go against Canadiens at home on Sunday."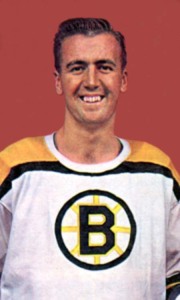 Toronto's injury list includes both goaltenders, Johnny Bower and Terry Sawchuk.  Bower has the flu, while Sawchuk has a pulled leg muscle.  If Bower doesn't recover sufficiently to play this weekend, the Leafs will summon young Jerry  Cheevers from Rochester of the Amercian Hockey League.
Habs also hurting
The Montreal Canadiens go into the weekend with their own list of player woes. Jacques Laperriere, Henri Richard and Charlie Hodge are not expected to see any action.
Hodge is still nursing a sore back, which means that Gump Worsley will once again start in goal for Montreal.  Richard's groin is not responding to treatment and he may be out of commission for several weeks.  The news isn't any better concerning Laperriere.  He was knocked down by Phil Esposito in the last Habs' game against Chicago.  Team physiotherapist Bill Head believes that the young defenceman will have to undergo surgery for torn knee cartilage, but he said that decision won't be made for another day or two.
Delvecchio's games streak ends
Yet another star player seems likely to miss time due to injury as well.  Alex Delvecchio suffered a hairline fracture of the jaw against Toronto the other night.  He was accidentally struck by a Red Kelly shot, but the injury wasn't discovered until Friday evening.  Detroit GM Sid Abel says that Delvecchio will likely miss three games.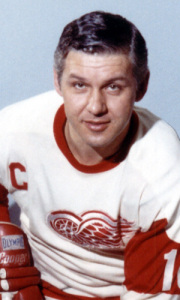 Delvecchio has been one of the most durable NHL players.  He has a streak of playing in 548 consecutive games, which sadly will come to an end tonight.  The last time Alex did not suit up for a Red Wings' contest was December 13, 1956.  He missed that game and the next 22 with a broken leg.
The present iron-man record is held by Andy Hebenton, now playing in the Western Hockey League.  Hebenton played in 630 straight games with New York and Boston.
The Red Wings will also be without forwards Ron Murphy, Eddie Joyal and Floyd Smith.  Joyal and Murphy are both out with shoulder injuries while Smith has a bruised ankle.
Red Storey to testify
Former NHL referee Red Storey has been subpoenaed to appear as a witness in a libel suit against Montreal Canadiens coach Toe Blake.  The suit was brought by former NHL official Eddie Powers, who resigned last year.  Storey quit the NHL five years ago.
The suit is slated to begin Monday in Ontario supreme court.  It was initiated by Powers on the basis of remarks attributed to Blake about the officiating in a game in which Powers refereed on January 31, 1963.  In the game, Toronto defeated Montreal 6-3.
Powers resigned about two weeks later after NHL president Clarence Campbell fined Blake $200.  Powers blamed insufficient support from the league office for his resignation.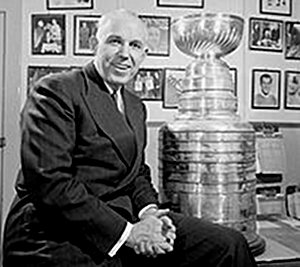 Storey's involvement in this case stems from the fact that he resigned from the NHL under similar circumstances in 1959.  After a wild playoff game between Montreal and Chicago, Campbell was quoted as saying Storey had choked up.
Storey was subpoenaed by Powers' legal team.
OHA action
Three games were played in the OHA Junior A league on Friday evening.  Toronto scored five in the third period to down Hamilton 6-3, Peterborough battled Niagara Falls to a 2-2 draw, and Kitchener clobbered St. Catharines 10-2.
A crowd of over 5,500 fans saw the Marlies go through the motions for two periods before catching fire in the third.  Paul Laurent led the Dukes with a pair of goals.  Singles came off the sticks of Brit Selby, Gerry Meehan, Wayne Mosdell and Wayne Carleton.  All three Hamilton goals were scored on the power play.  Real Lemieux had two, with Jim Mair netting the other.
Ken Gratton and Tom Miller paced the Rangers with three goals apiece in their lopsided victory over the Black Hawks.   Dave Sheen, John Beechey, Billy Hway and Terry Ball scored the others.  Ken Hodge and Ken Laidlaw tallied for St. Kitts.
Peterborough twice held one-goal leads at Niagara Falls but were unable to hold.  Garry Monahan and John Vanderburg were the Petes' marksmen.  Jim Lorentz and Don Marcotte replied for the Flyers.
Baltimore clips Indians
In the only American Hockey League game, the Baltimore Clippers whipped the Springfield Indians 5-1.  The win ended a five-game losing streak for Baltimore.
Bryan Hextall led the Baltimore attack with two goals.  The others came from Dick Meissner, Jean Ratelle and Gord Labossiere.  Roger Cote had the Springfield marker.
Howie Young stars on offence
Howie Young of the Los Angeles Blades of the Western Hockey League is commonly referred to as "Puck's Bad Boy."  Last night he assumed a different role as the oft-penalized defenceman scored two goals to lead his team to a 6-3 win over the Portland Buckaroos.  Young's goals were the first two of the game and were scored within the first six minutes.  His first goal came only 23 seconds after the opening faceoff.
Retired police detective, involved in hockey at all levels for over 50 years. Member of Society for International Hockey Research and presently a video analyst for the leader in advanced hockey analytics (we work exclusively for 2 NHL clubs, and provide advice on an ad hoc basis to many other clients). Currently the Assistant General Manager for the Pelham Pirates of the Greater Ontario Junior Hockey League. Previously owned the Faceoff computer hockey simulation and also provided all player ratings for the EA Sports series of NHL computer games from the late 90's into the mid 2000's.