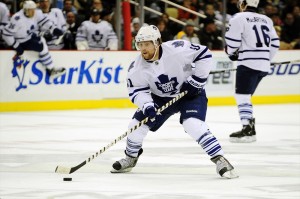 Monday, Toronto Star sports columnist Damien Cox wrote a column which suggested the Toronto Maple Leafs may want to consider trading away sniper Phil Kessel. I wrote a similar column back in August, weighing the pros and cons of making this move, with varying views from the Leafs Nation coming my way.
On the surface, the thought of giving up on a player that cost you two first round draft picks (which turned out to be Tyler Seguin and Dougie Hamilton) and a second rounder (which turned out to be Jared Knight) would seem to be an act of insanity.
That said, with the future of the Maple Leafs still very much in doubt and with several holes yet to be filled up front, on the backend and between the pipes, it appears as if the Maple Leafs will be hard-pressed to make the playoffs anytime soon.
It should be noted that Kessel is about to enter the world of free agency for the first time in his career in 2014-15. With that in mind, there is every reason to believe that he may chose to explore his options rather than re-signing with the Blue and White.
Through Kessel's three year tenure with the Maple Leafs he has had to endure tough media scrutiny, massive changes throughout the lineup, a lack of a true number one centre to pass him the puck, a general manager change and the ongoing comparison (fairly or unfairly) to Seguin and more recently, Dougie Hamilton.
With Seguin quickly evolving into a star forward and Hamilton showing tons of potential, Kessel is unlikely to ever escape the comparisons. Despite finishing sixth overall in the scoring race and seventh in goals scored last season, Maple Leaf fans and management seem content on expecting more from Kessel.
With 82-points in 2011-12, many experts believe Kessel (one of the games' purest goal scorers)may have already peeked. Kessel's struggles in the defensive zone are well documented, as are his disliking of the media spotlight, which may be holding him back in the ultra-media focused Toronto market.
Kessel may not have reached his ceiling offensively (there may be a 50-goal season in the not so distant future) but many experts believe in order for him to reach the next level he will need an adequate supporting cast and a coach that will let him run loose in the offensive zone with little or no recourse for ignoring his defensive responsibilities.
With defensive-minded Randy Carlyle firmly entrenched as the Maple Leafs head coach, Kessel and Carlyle are bound to lock horns at some point. When that happens, Kessel can add another reason to leave Toronto to an already long list of issues on and off the ice.
With the man that brought Kessel to Toronto (former GM Brian Burke) gone, Kessel may feel he owes Toronto nothing, making it that much easier for him to leave the Maple Leafs' organization. Kessel knows the heat Burke took for bringing him to Toronto, which may have implanted a psychic debt on the 24-year old forward. With Burke gone, he owes nobody anything, which could influence Kessel's decision to leave.
Of course, should newly appointed general manager Dave Nonis decide that the best long-term course of action is to trade Kessel there will be plenty of suitors. The trick for Nonis will be to bring back enough of a return for Kessel that he can justify what Burke gave up for the talented sniper, which may be impossible to do.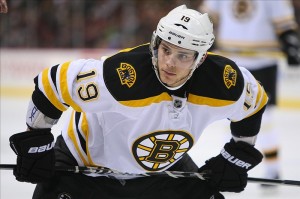 Experts are suggesting the Maple Leafs could easily pull off a deal like the one that sent Jeff Carter from the Columbus Blue Jackets to the Los Angeles Kings in return for highly-touted defenseman Jack Johnson and a first round pick.
Ultimately, the price of Seguin, Hamilton and Knight was steep, getting anything near equal value will be next to impossible.
The question is, would a package of an up and coming NHL star and a pick be enough for Nonis to turn the page on the Phil Kessel saga or will he attempt to re-sign him at a price tag that will surely be north of $7 million per season on a five to eight-year deal?
Which begs the question, is Kessel worth a $35-$56 million commitment?
With the salary cap slowly eroding, Joffrey Lupul is already signed to a 5-year/$26.25 million extension. Mikhail Grabovski is still owed $27.5 million over the next five-years, James van Riemsdyk is signed to a six-year/$25.5 million deal, which means the Maple Leafs already have a huge amount of money committed to three players. Not to mention the fact that both Nikolai Kulemin and captain Dion Phaneuf will be looking for new deals in 2014-15 as well.
Phaneuf will command a salary upwards of $5-$6 million per season and if Kulemin finds the scoring touch which saw him register 30 goals in 2010-11 he will command a salary in the $4-$5 million range. Add them all up and the Maple Leafs would be on the hook for roughly $34 million in salary per season in order to employ Lupul, Grabovski, JVR, Kulemin, Phaneuf and Kessel.
That $34 million will represent more than half of the projected $64,300,000 salary cap in 2014-15. Is anyone out there willing to commit that kind of money to those six players? Are those six players worth $34 million per season?
From the outside looking in, something will have to give in order for Nonis to fill out the lineup, compensate his up and coming prospects (Jake Gardiner, Nazem Kadri, Morgan Rielly, Carl Gunnarsson, Ben Scrivens, James Reimer) and keep the likes of Phil Kessel in a Maple Leaf uniform. That is, IF Kessel is willing to stay in Toronto, which there is no guarantee.
Perhaps Nonis' best move is to trade Kessel?
With all this in mind, let's take a look at five teams that should consider trading for Kessel and what they could potentially give up in return.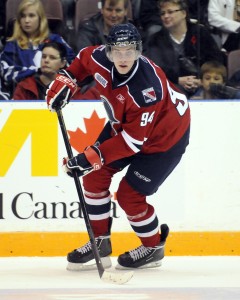 Dallas Stars:
With budding super-stars Jamie Benn and Loui Eriksson making up a formidable 1-2 punch on the Stars' top line, it would seem that the only thing they are missing to take the next step is a sniper on the right side. Clearly, Kessel more than fits the bill.
The Stars have several prospects that the Maple Leafs would be interested in including Kitchener Rangers centre Radek Faksa and Texas Stars goaltender Jack Campbell.
Faksa could turn into the first-line centre Toronto has longed for, while Campbell is a promising netminder.
Giving up both Faksa and Campbell would be a tough pill to swallow, but Dallas would be the perfect market for Kessel to thrive in, allowing him to perform at a peak level on the ice with Benn and Eriksson on his line, while affording him near obscurity off of the ice.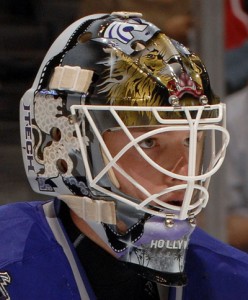 Los Angeles Kings:
Despite winning the Stanley Cup last season, the Los Angeles Kings finished the season ranked 17th overall in goals scored. While still very early, this season the Kings' offense has dipped to 28th overall, and while there is every indication they will not finish there, the Kings could still use a shot in the arm offensively.
The Kings biggest trade asset is goaltender Jonathan Bernier, who is stuck on the bench behind Conn Smythe Trophy winner (Playoffs' MVP) Jonathan Quick.
Felt by many to be an NHL-ready goaltender, Bernier could address the Maple Leafs' goaltending needs for the next decade.
While a straight-up trade of Kessel for Bernier would be lop-sided in favor of the Kings, if Los Angeles was willing to throw in a Tanner Pearson (LW), Andrei Lokitonov (C) or Tyler Toffoli (RW), the Maple Leafs would be getting decent value on Kessel. Sure, Toffoli might be a stretch, but a man can dream, right?
Meanwhile, the Kings would still have goaltending prospects Chris Gibson and Martin Jones waiting to fill a need between the pipes should Quick's game diminish, and they would get the scoring they will need to continue to win Cups down the road.
Much like Dallas, Kessel would fit in well in Los Angeles and likely benefit from the veteran leadership of Mike Richards, Dustin Brown and Simon Gagne.
New York Islanders:
The Islanders already feature an impressive threesome down the middle in John Tavares, Frans Neilson and Josh Bailey. With that in mind they could afford to send highly-touted prospect Ryan Strome to the Maple Leafs, giving the Maple Leafs a shot at a number one centre and giving the Islanders some much needed depth on the right side.
Admittedly, Strome alone may not be enough for the Maple Leafs to pull the trigger on this deal, but if the Islanders were willing to trade their first round draft pick, the deal could easily come to fruition.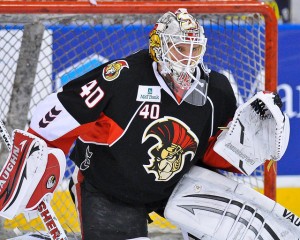 Ottawa Senators:
With long-time star forward Daniel Alfredsson set to retire in the not so distant future, the Ottawa Senators will be looking to fill the void when he leaves.
The Senators have a duo of prospects in goaltender Robin Lehner and right winger Mark Stone that would interest the Maple Leafs, addressing the Leafs need between the pipes and replacing some of the offense the Leafs would endure in giving up Kessel.
While trading Kessel to a Division rival might not be the smartest move, Nonis would have to think long and hard about a return of Lehner and Stone.
Philadelphia Flyers:
If the Philadelphia Flyers believe their time to win the Stanley Cup is now they might be open to making a trade for today at the cost of the future. Adding the likes of Phil Kessel to the Flyers' lineup would help fill the void left behind when forward Scott Hartnell went down with a broken foot which will keep him out of the lineup for 6-8 weeks.
While nobody is suggesting Kessel's game is anything like Hartnell's, he would be an excellent addition to an already deep lineup which includes Claude Giroux, Brayden Schenn, Jakob Voracek, Wayne Simmonds, and Danny Briere.
The players of interest for Toronto would be left winger Matt Read or centre Sean Couturier. Moving Couturier would allow Schenn to make the move to centre in Philadelphia, while the addition of Read to the Toronto lineup would be intriguing.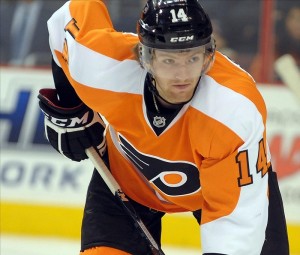 Are we dreaming on Couturier? Maybe, but Couturier is projected to be a second line centre behind Giroux, Kessel is a top line forward who will net you 35-40 goals for the next decade.
Couturier straight up for Kessel might just get it done, while a deal involving Read would likely need some additional pieces being thrown in.
The thought of trading Kessel is a hard pill to swallow for Leaf fans. That said, when you consider the direction of the club, the number of prospects coming down the pipe and the long-term goal of the club, Toronto general manager Dave Nonis will have to give trading Kessel some serious thought, especially when you consider what the return might be.
We have only looked at five potential deals, but there are plenty of other teams that Kessel would look good on including, the Pittsburgh Penguins (imagine Kessel playing alongside Sidney Crosby or Evgeni Malkin?), Montreal Canadiens, Vancouver Canucks and the Colorado Avalanche.
Time will tell if Nonis will act on a Kessel trade. In the meantime, what would your team be willing to give up for Phil Kessel?
Or, as a Maple Leaf fan, what would you accept in return for Kessel???
(please try to keep it realistic)
Known as an honest, opinionated and trusted writer, Mark Ritter brings a unique view on the Maple Leafs and the NHL in general. Mark has been writing about hockey for almost ten years and is known for bringing an honest view on the Maple Leafs. You can view more of Mark's work at www.theslapshot.com
Please follow Mark on Twitter: @theslapshot