New York City has certainly seen its share of power outages over the years. The city lost power for two days in 1977, resulting in massive rioting and looting. More recently, the blackout of 2003 kept the city in the dark for nearly two days.
Broadway's longest running power outage, though, is inside the Rangers' locker room. The team continues to struggle with the man advantage, and it looks to be getting worse.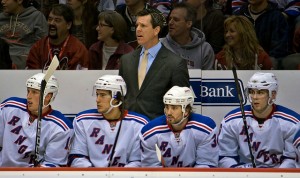 Assistant Coach Mike Sullivan is in charge of the Rangers' special teams. He joined the club in 2009 after spending a season in Tampa with head coach John Tortorella.
Since then, the power play has been in a freefall.  In 2009-10, Sullivan's first season with the club, the Rangers' power play was ranked 13th. Their 18.3% power play percentage was mostly thanks to newly-acquired winger Marian Gaborik's 14 power play goals – third-best in the league. It was all downhill from there.
The Rangers fell to 18th the following season. Ryan Callahan was the only Ranger with double-digit power play goals. In 2011-12, they fell even further, down to 23rd. Callahan (13) and Gaborik (10) led the team in power play goals; no one else had more than four.
Even though it's early this season, the anemic power play has looked every bit as awful as its 26th-place ranking in the NHL. The team has converted only twice despite multiple opportunities, including two-man advantages in each of their first four games. They spent a combined total of 5:15 on five-on-three power plays and were only able to convert once. During a full two-minute five-on-three against the Flyers, the Rangers mustered only two shots on goal. With just over ten minutes to play in a 2-1 game, it was a huge opportunity lost for the Rangers, who went on to lose the game by that same 2-1 score.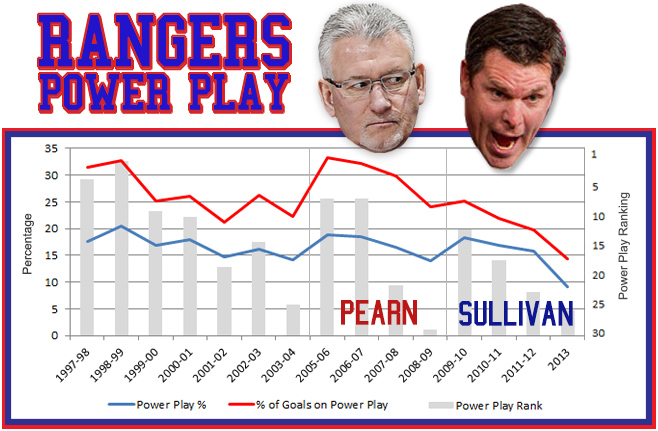 Another concern about the Rangers' lack of power play success is the added pressure it puts on the team to put up goals at even strength.  In 2005-06, one-third of the team's goals were posted with the man advantage thanks mostly to Jaromir Jagr's team-record 24 power play goals that year.  This season, less than 15 percent of goals have come up a man. Thankfully, the goals per game has continued to creep up, showing how the team is holding steady despite their inept power play.
The worst part about these struggles is that John Tortorella has plenty of experience coaching special teams. Under head coach John Muckler, he ran the Rangers power play. Back in 1999, Tortorella had some thoughts about the team's power play — thoughts that are very relevant to the 2013 Rangers.
"There are a couple of things that are key to a good power play. First and foremost is puck movement. Our puck movement has been too slow. And when we do get into a situation where we can move it, we're holding on to it too long and the penalty killers can adjust. Then there's also movement without the puck. Players need to jump into spots. We're all sitting on the outside and we're not jumping into holes to make the penalty killers react."

"The whole key with a power play is reading the defense and taking what they give you. And you can't even get to that step if you're all on the outside. The penalty killers aren't going to move. They're going to keep to the middle and keep you on the outside."

"You do those things and then your talent level takes over. We have some quality people on that unit, so it's going to come. It's going to come. It's a matter of, once the movement starts, making the right decision: reading the defense and taking what they give you. Then things will open up." – John Tortorella, then Rangers Assistant Coach, in a 1999 Daily News Article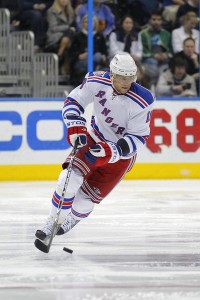 The Rangers boast an offense-heavy first power play unit, sometimes going with a five-forward unit made up of Gaborik, Brad Richards, Rick Nash, Ryan Callahan, and Derek Stepan. Only in their recent game against the Maple Leafs did they put a pair of defensemen on the blueline.
Perhaps the overly-talented group is trying to be too fancy and make the perfect play. Perhaps they feel that they can out-skill opponents on the power play. Perhaps they're so worried about their power play that they're all trying too hard to make something happen. Whatever it is, it's not working.
The Rangers need to follow their coach's thirteen-year-old advice — move the puck and get shots to the net. Keep it simple and get back to basics. If that means a change behind the bench, so be it.
The power outage in the Rangers' locker room has gone on far too long. It's time for someone to flip the switch.
---
Follow Josh on Twitter – @joshsmith29
---