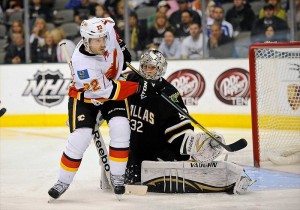 After an abbreviated training camp, the Calgary Flames began the 2012-13 NHL season on a Sunday afternoon, a little less than 24 hours after most of the rest of the league. Almost in keeping with that odd start to the year, the Flames played four games with varying results.
The constant in that turbulent opening week? The steady, reliable and occasionally excellent play of Lee Stempniak.
Through the first four games, the Flames boast a record of 1-2-1 and sit among the bottom-four teams in the NHL's Western Conference. However, the 29-year-old Stempniak (a week shy of his 30th birthday) has quietly emerged as Calgary's best forward through the first week. He presently leads the team, or is tied for the lead, in goals (3), points (5), plus/minus (+2), power-play goals (2) and game-winning goals (1). He's one of two Flames with a positive plus/minus rating (the other is Matt Stajan) and lies just behind the team leaders in shots and shooting percentage.
Acquired in a trade last August that sent veteran center Daymond Langkow to the Phoenix Coyotes, Stempniak had his worst offensive season in his NHL career last year with the Flames, with 28 points in 62 games. That said, he was used in a "utility-man" role by former Flames head coach Brent Sutter last season. To be blunt, he played everywhere and with everyone.
Flames head coach Bob Hartley was full of praise for the winger following Monday's practice.
"Lee has been probably one of our most complete players," said Hartley. "Gave us some big, timely goals. Defensively, playing the penalty kill… Lee has been a big, big part of this team and I'm really happy at his offensive contribution and his two-way play."
"Obviously it's early, but pretty happy with how it's gone so far," added Stempniak. "I feel good, have been getting some chances and fortunately they've been going in so far."
The big question surrounding the winger is whether or not he can keep this up. The short answer is probably "no." Based on his career points-per-game to this point (0.53), the realistic 48-game points projection is 25 or 26 points. The optimist would likely respond that he's already produced 20% of his projected points in less than 10% of the season and will probably perform above expectations. The pessimist would note that history indicates that Stempniak is likely to go cold offensively for a stretch between now and the end of the regular season.
Whatever happens from here on out, the Calgary Flames are likely very happy with the winger's production thus far in the 2012-13 season.
QUICK QUOTES
"The system that they played in the KHL, they were always inter-changing and everything. Right now, I just want to ease him in. In our system,  I think there are less responsibilities at right wing."
-Bob Hartley, Flames head coach, on weighing playing forward Roman Cervenka at center or on the wing for the time-being
"He's got a great first two steps and he reads the play really well. You just look at Stempy's goal [against Edmonton]. I know it was on the power-play, but the play he made there for that play to happen – I don't know if a lot of guys saw it – but he lifted their D-man's stick. If he doesn't do that, Jay Bouwmeester never gets the puck, and who knows, there's a breakdown in that play. But that's just great hockey sense."
-Matt Stajan, Flames center, on the skills and first-game performance of NHL newcomer Roman Cervenka
QUICK NOTES: Earlier this week, the Flames re-assigned 21-year-old Roman Horak back to the AHL's Abbotsford Heat. Horak began the year with the big club for the second straight season but was a victim of a log-jam of skilled forwards up-front. He had one assist in two NHL games this season to go along with 21 points in 37 AHL games. Depending on which role needs to be filled, expect Horak or centerman Ben Street to be among the first call-ups in the event of injury.  // Flames goaltending prospect Laurent Brossoit has been excellent since getting cut from Team Canada's entry at the World Junior Hockey Championships. He boasts a 10-2-0 record, 1.26 goals against average and a .955 save percentage. On Sunday evening, he added something else to his repertoire – a bout with Lethbridge Hurricanes goaltender Ty Rimmer.
Abbotsford Heat captain Quintin Laing and goaltender Barry Brust are representing the Flames organization in the AHL's All-Star Game. Technically neither is under a Flames contract (as both are signed directly to the Heat on AHL deals), but they're close enough, right? // The key to beating the Boston College Eagles this season? Keeping Flames prospect Johnny Gaudreau off of the scoresheet. In a weekend series against the last-place Maine Black Bears, Gaudreau had zero points and Maine won both games. The weekend represented the first two-game stretch that Gaudreau has been held off the scoresheet since January 13 & 14, 2012. // While rumours swirl that goaltender Karri Ramo could potentially join the Flames once the KHL season ends, his team is making a case to extend their season as long as they possibly can. Avangard Omsk padded their lead on the top of the Eastern Conference on Saturday night with a 2-1 shootout win over the second-place club, Ak Bars Kazan. Ramo made 30 saves through regulation and overtime, and then stopped two of three shooters in the shootout for the win. The KHL's regular season ends on February 17.

Ryan Pike has covered the Calgary Flames and the NHL Draft extensively since 2010 as a Senior Writer for The Hockey Writers and Senior Contributing Editor of FlamesNation.ca. A member of the Professional Hockey Writers Association, he lives in Calgary.