This is a guest post written by Adam Williams
Scott Niedermayer sits at a table at the head of the Kamloops Blazers board room, on his right sits Mark Recchi, on his left the Memorial Cup. His number 28 hangs around the room on vintage Blazers jerseys and plastered on pucks and t-shirts.
Niedermayer looks slightly uncomfortable with the attention being bestowed upon him – the board room is bursting with local media – which is indicative of his personality. Niedermayer is the only player to ever win every major North American and international hockey championship and despite being a future Hall of Famer he is still just a humble guy from Cranbrook, B.C.
He's is in Kamloops to see his number 28 retired by the Blazers on Jan. 25, 2013. Niedermayer is the fifth Blazer all-time to be honoured with a number retirement, following in the footsteps of Greg Hawgood (4), Mark Recchi (8), Dean Evason (20), Greg Evtushevski (26) and Rob Brown (44).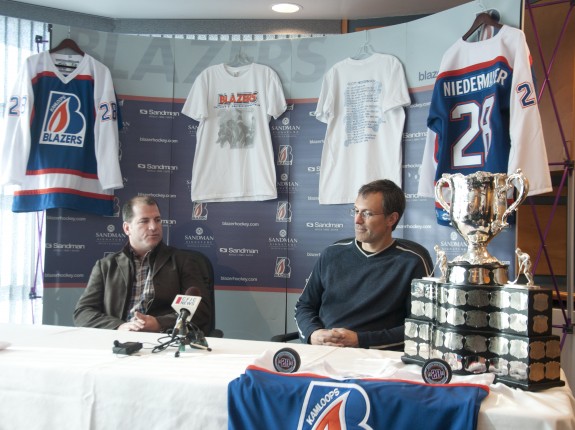 In his 156 regular season games with the Blazers, Niedermayer amassed 47 goals and 143 assists. He helped the franchise win its first Memorial Cup in 1992 and was named tournament MVP.
"It's very special," Niedermayer said. "I guess in a way I owe a lot to the organization here.
I mean I benefited as a hockey player, as a person coming here and learning about the game, learning about myself, moving away from home and all those things. So for the organization to honour me by retiring my number tonight is very special."
Niedermayer left home in 1989 at the age of 16 to play for the Blazers. At the time the team was coached by Ken Hitchcock and they were just closing the door on Mark Recchi's tenure in Kamloops. Luckily for the Blazers, as one iconic franchise cornerstone left another came along – Niedermayer had just begun playing for the Blazers when the team retired Recchi's number 8.
"I remember every day skating in Memorial Arena looking up at those numbers," Niedermayer said. "I'm sure there wasn't a time that I was on the ice that went by where I didn't look up and just recognize those guys whose names were up there and what it meant."
Recchi, now a part of the Blazers ownership group, spoke at length about Niedermayer's contribution to the Blazers in his time with the team. He described Niedermayer as a wonderful person off the ice, but his recollections of playing against Niedermayer in New Jersey were not quite as fond.
"It drove me nuts because I could never actually hit him," Recchi laughed. "He was always such a great skater and so smart. Obviously he's a winner, he's won everywhere he's been and he's just a wonderful person. Being around him he brings success and he knows what it takes to win and be part of a winning team."
Blazers owner Tom Gaglardi, WHL commissioner Ron Robison, former Ducks general manager Brian Burke, former Blazers general manager Rob Brown and Niedermayer's brother, mother, wife and four kids were all in attendance for the ceremony and joined him on the ice.
Ken Hitchcock and former teammate Darryl Sydor were not able to attend but congratulated Niedermayer on his honour during a video montage.
Robison also presented Niedermayer with the WHL's Alumni Achievement Award in the professional category as part of the ceremony.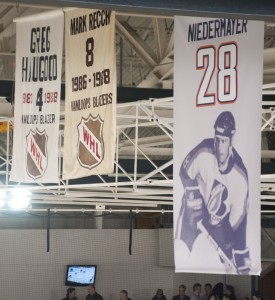 After leaving the Blazers Niedermayer wore 27 for the rest of his career – 28 already belonged to someone when he arrived in New Jersey and upon changing he never went back. The Devils retired 27 in 2011. Though he already experienced a similar honour with the Devils, the significance of having his WHL number retired was not diminished.
"It's quite similar in a lot of ways and really has very special meaning for me just like it did in New Jersey," Niedermayer said. "Like I said when an organization thinks that highly of what you've tried to accomplish and the things you've done in your career, it's pretty special. It doesn't happen a lot."
Niedermayer now spends majority of his time in California and is an assistant coach with the Anaheim Ducks. He enjoys being able to remain involved in the game, but is glad he's not involved in decisions like who's on the power play. In his time away from the Ducks he is also involved in coaching hockey for his kids.
Since his retirement, Niedermayer has also become involved in a number of environmental initiatives, including being the Freshwater Ambassador of the World Wildlife Fund – Canada.
Doing his part to help the environment is important to him. He joked that living in a place like California was ironic because though there's a bear on the flag you could probably only ever see one in the zoo.
Though Niedermayer doesn't visit Kamloops very often, his impact is still reverberates throughout the Blazers organization. As the team raised his banner he received a standing ovation from the sell-out crowd of 5,464. The Blazers went out and won that game – on the strength of a solid first period – beating the Prince Albert Raiders 4-1.
"It's definitely pretty cool," said Blazers alternate captain Colin Smith. "You look at a guy like that who's so humble and what he's done over his career. I remember watching him play during the Cup finals. For him to come back, sold out crowd, it was pretty cool to be a part of it and it's definitely an honour for him."
Niedermayer will long be remembered for bringing Kamloops its first Memorial Cup championship and as possibly the best player to ever suit up for the Blazers, but as one would expect he's quick to shine the light on those around him instead.
"I was very fortunate to be a Blazer for three years," Niedermayer said. "I learned a lot from the coaches we had here, from the teammates I had and really, I probably couldn't have picked a better place to play junior hockey as a young kid."