September is here and thus signals the start of the hockey season. The World Cup of Hockey is in full swing and rookie tournaments have begun league-wide. While the weather outside will soon make its predictable turn, the NHL trade climate is anything but usual for this time of year.
Trade Winds Blowing
There are three major factors that point to trades occurring before the start of the season.
Roster Imbalance
Like the Earth's continental plates, an imbalance of rosters creates tremors through the NHL trade market. Many teams remain with a surplus at one position and deficit at another. Take the New York Rangers, for example. The recent signings of Jimmy Vesey and Brandon Pirri leave them with fifteen NHL-caliber forwards. The Dallas Stars are in a similar boat with the addition of Jiri Hudler to an already potent offense. The Rangers need to add to their prospect pool and everyone is familiar with Dallas' goalie situation. Something has to give.
Contract Holdouts
CSKA of the KHL has announced a two-year deal with Valeri Nichushkin. https://t.co/hO1h6P0dXY

— Mark Stepneski (@StarsInsideEdge) September 20, 2016
While there are always a few unsigned players going into camp, this year there are an inordinate amount. Valeri Nichuskin took matters into his own hands this week and Ryan Strome and the New York Islanders only just came to terms on a contract extension. Here's the list of remaining restricted free agents (RFAs):

Recognize some of those names? The Tampa Bay Lightning and Anaheim Ducks are tight against the cap and will need $6 million and up to get their stars Hampus Lindholm and Nikita Kucherov signed.  Cam Fowler and Ben Bishop are names that keep resurfacing to free up some of that space. More than ever, cap space is at a premium. The New Jersey Devils and Arizona Coyotes have already used their vacant cap space to gain significant assets by taking on bad contracts. Look for another general manager (GM) to use a similar tactic and exploit the Ducks in a trade for Clayton Stoner.
Las Vegas Expansion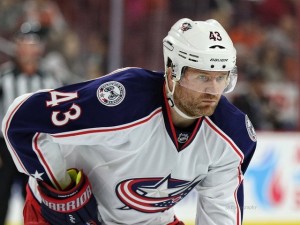 Trades based on NHL expansion to Las Vegas are not a question of if, but when. No movement clauses (NMCs) are the plague that teams will try to purge, and general managers will not let young, valuable assets get stolen from them for nothing. Columbus leads the way with the most NMCs, so look for them to be active in this regard. Teams that are deep up front and on the back-end will have the difficult decision to either protect eight skaters or seven forwards and three defensemen.
For example, the Minnesota Wild would prefer to add assets and expose someone like Jason Zucker and not lose someone like Jared Spurgeon or Marco Scandella for nothing. Pittsburgh will have to choose one of Marc-Andre Fleury and Matt Murray in another example of expansion forcing a GM's hand. While most of these deals will happen near the trade deadline, it wouldn't be surprising to see GMs seize this opportunity early if they find their team lacking in a certain area during the preseason or if an untimely injury occurs.
Transaction Possibilities
While it's likely none of these will come to fruition, the factors above indicate the following teams will be active in the trade market in the coming weeks – especially the Anaheim Ducks.
Winnipeg – Arizona
Jacob Trouba + Joel Armia for Jacob Chychrun + Martin Hanzal + Rights to Tobias Rieder
Among the many teams interested in Trouba, ARI has been and will likely continue to be a serious suitor. But it'll be a long list.

— Bob McKenzie (@TSNBobMcKenzie) September 24, 2016
Why Winnipeg does it: General managers have been calling on Trouba all summer because of his contract demands. His recent trade request will only amplify these offers. Overpaying him would set a precedent for their remaining young talent that could lead to future cap problems. Winnipeg's greatest needs are a left-handed defenseman in the mold of Trouba, as well as depth at center. This trade solves both. Including Rieder is what seals this for the Jets.
Why Arizona does it: You have to give to get, and Arizona gets the best player in the deal. While each piece going to Winnipeg is valuable to the 'Yotes, they come with their own unique uncertainty. With their plethora of young talent, Arizona can afford Trouba's high acquisition price. He is the perfect partner for Oliver Ekman-Larsson, giving the Coyotes a top-tier defense pairing for years to come.
Anaheim – Toronto
Simon Despres for Brendan Leipsic & Conditional Pick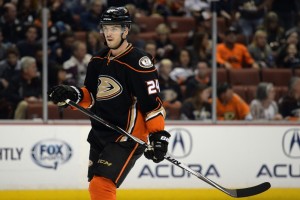 Why Toronto does it: Toronto is thin on the back-end and would jump on an opportunity to buy low on a solid, young defenseman. Though he is a left-handed shot, Despres has shown success playing a shutdown role on the right side with Fowler – a player that is stylistically similar to Morgan Rielly. Leipsic is a promising player but the Leafs have enough young forwards to deem him expendable. The conditional pick would vary depending on how many games Despres plays next season.
Why Anaheim does it: With both Lindholm and Rickard Rakell needing contracts and only $7.5 million in cap space, a move is imminent. Despres carries a $3.7 million hit for the next five years and struggled when he returned from a concussion at the end of last season. The Ducks also boast an embarrassment of riches on the back end with players like Shea Theodore and Brandon Montour set to force their way into the lineup. Along with the necessary cap space to sign their remaining RFAs, the Ducks acquire a promising young left winger in Leipsic who could slot in next to Getzlaf and Perry if Nick Ritchie isn't a fit.
Columbus – New Jersey
Scott Hartnell for 4th Round Pick
Why New Jersey does it: The Devils have already used cap space to their advantage earlier this summer and this move is no different. New Jersey is thin up front and should be looking to acquire some cheap forward help before the beginning of the season. Hartnell brings experience, grit, and can create space for the new top line of Hall and Henrique. If the Devils are on the outside of the playoff push, Hartnell could pay further dividends at the trade deadline.
Why Columbus does it: The Jackets need to move one of their NMCs up front or be forced to expose a more valuable player in the expansion. Hartnell is the obvious choice. His departure leaves a hole in the lineup but also creates an extra $4.75 million in cap space to use on improvements next off-season. A fourth round selection isn't much, but the market is dry with cap space at a premium. This obviously all depends on Hartnell waiving his no-movement clause to play in New Jersey.
Rising Action
The stagnant salary cap and impending expansion to Las Vegas have resulted in one of the most interesting off-seasons in recent memory. These tremors have carried over into September and with the NHL season only weeks away, many important roster decisions remain uncertain.
Predicting trades is anything but an exact science. One can, however, liken the league to the stock market and identify certain trends that point to player movement. While it's debatable who exactly will be on the move, it is inevitable that teams like Anaheim and Tampa Bay will be active due to their salary cap situation. With the trade market as abnormal as it is for this time of year, it should make for an interesting few weeks heading into the 2016-17 NHL season.