They are household names – maybe not to NHL fans – but OHL fans know the number-one draft picks that have come through the league. One of the hardest parts of fandom in any league is watching your team fall to the lowest point possible – last place. The only reward is the potential associated with the high-end talent that comes with the first overall pick.
In the 2016-17 season, there are four first overall picks from the OHL past priority selection drafts who could potentially suit up for their teams – Ryan Merkley (Guelph Storm), David Levin (Sudbury Wolves), Jakob Chychrun (Sarnia Sting), and Travis Konecny (Sarnia Sting via trade from Ottawa 67's). Each of these players are different from one another, both in the positions they play but also in how they play the game, which makes comparisons challenging. The advantage that exists is that players can always be compared to performances of players that came before them.
With that in mind, let's look at each of these players to deduce what are some reasonable expectation for their 2016-17 campaigns.
Ryan Merkley – Guelph Storm
Of OHL 1st pick Ryan Merkley, Guelph GM said – "He has exceptional Hockey IQ, creativity & skill. He's elite in all those areas" #hockeyiq

— Tony Gruba (@HockeyiQAcademy) May 5, 2016
Merkley, being both a rookie and a defenseman, is not expected to put up points for the Guelph Storm this season. It is important to note that Merkley is projected to be an offensive defenseman, but this is a league where 16-year-olds seldom make a mark offensively, especially as a blueliner. Aaron Ekblad, a former first overall OHL pick (who was drafted at 15 years of age due to receiving exceptional status from the league) had only seven goals while putting up 27 assists as a 16-year-old. Obviously, those are very good numbers for that age, but it is also unrealistic to think Merkley will have that kind of output in his first full season in the OHL.
While we are comparing Merkley to OHL defensemen we would be remiss to ignore the similarities between the Guelph first-rounder and Ryan Ellis. Ellis potted 15 goals with 48 assists for a monster 63 points as a 16-year-old defenseman for the Windsor Spitfires back in 2007-08. That said, Windsor finished the season in third place in the Western Conference with 94 points on the season. The Guelph Storm are a far cry from a top four team. Merkley's path will be much tougher.
At the end of the day, the Guelph Storm is not expected to be an extremely competitive team this year. That fact will allow Merkley the time needed to grow before he is expected to start producing.
David Levin – Sudbury Wolves
This season will be one in which David Levin tries to elude the excruciating 'sophomore jinx'. Levin, who only played 47 games last year due to injury, is looking to lead the Sudbury Wolves back to the playoffs for the first time since 2013-14, when the team finished in fifth place in the Eastern Conference. For a 17-year-old, this is a monumental task.
He grew up playing roller hockey in Israel.

Now, David Levin looks to achieve his dream.https://t.co/qNOV4JUHhW pic.twitter.com/sCwL5q5mWT

— NHL (@NHL) August 15, 2016
Last season, Levin scored nine times while dishing off 21 assists to his Wolves teammates. A small total, considering fellow first round picks Gabe Vilardi (17 goals, 21 assists) and Matthew Strome (16 goals, 22 assists) had breakout seasons, but not an abnormal total for a young player entering the OHL. Levin's backstory, he was born in Israel and learned the game of hockey on roller blades, obviously steepens the learning curve for the 5'10″ forward.
For argument sake, we can look to Travis Konecny, the 2013 first-overall pick who scored seven times in his rookie season to go along with 38 assists on a non-playoff Ottawa 67's team, as a reasonable comparison for Levin's sophomore season. In year two of his OHL career, Konecny upped his goal scoring to 23 while seeing his assists dip slightly to 33. If Levin can elevate his game, we may see Sudbury in the playoffs for the first time in years.
Jakob Chychrun
According to some, Jakob Chychrun has a shot at the NHL as an 18-year-old with the Arizona Coyotes. Being an 18-year-old defenseman in the NHL is extremely rare – Aaron Ekblad, Noah Hanifin, Nikita Zadorov, and Oliver Kylington are the only players who have accomplished the feat since 2010. Overall, only 76 blueliners have ever donned an NHL jersey at the age of 18.
Jakob Chychrun may be a dark horse to make the Coyotes this fall, but @awalters789 believes he can do it: https://t.co/KASjba4loe

— Howlin' Hockey (@HowlinHockey) September 19, 2016
When (or if) Chychrun returns, the Sting will be looking for a bump in his output from the 11 goals and 38 assists he contributed last season. More importantly, he will be the leader on the blueline for the Sting and will be expected to play against other teams' top forward groups while increasing his already decent +/- statistic (yes, I realize there are more detailed possession-based statistics but the OHL website does not offer such statistics).
When looking for a comparable The Hockey Writers Joseph Aleong referred to Drew Doughty in his 2016 draft prospect profile. Looking at Doughty's statistics in his third year in the OHL, you can see a drop off in almost every statistical category, highlighting the challenge of accumulating offensive statistics for defensemen in the OHL. For Chychrun success will be measured in team success in 2016-17 rather than individual statistics.
Travis Konecny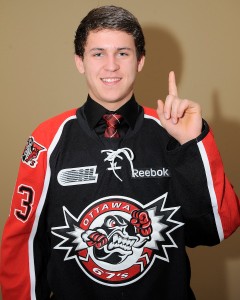 Travis Konecny with some slick hands burned around an Islanders D. Really talented and creative. Fun to watch.

— Bob Rotruck (@BobRotruck) September 21, 2016
The puck has dropped on the OHL season but we still don't know if we will see Travis Konecny back in the league as he struts his stuff for the Philadelphia Flyers' brass at NHL training camp. If Konecny returns to Sarnia he will be a massive goal scoring threat every time he hits the ice for the Sting.
A great comparable, both stats-wise and in play style is Logan Couture, even though he wasn't drafted first overall in the OHL. Couture played OHL hockey for the Ottawa 67's, the same team that drafted Konecny, with a similar first three years on that stats sheet.  As a rookie, Konecny scored 26 goals compared to Couture's 25. In their sophomore years, Konecny topped Couture 29 to 26 goals.
Last year, Konecny was traded to Sarnia from Ottawa and had a small bump in production with 30 goals while Couture struggled in his third OHL season, only scoring 21 times.  In his final year, Couture roasted opposition goaltending putting 39 pucks behind them and added 48 assists for a strong 87 points on the season.
For Konecny that 87 points is the bar. If he comes back to the OHL he will have high-end talent alongside him, in Pavel Zacha, Jordan Kyrou, Josh Jacobs, and Jakob Chychrun.  Is it too  much to ask for a 9 goal bump for Konecny this year?